The atmosphere was electric on the balmy Los Angeles evening of August 27 as we gathered to celebrate the 9th Annual LMGI Awards together and in-person!
by Diane Friedman
Photos by Craig Doherty. Party photos courtesy of LMGI members
---
Spirits were high as nominees, honorees, members, presenters, sponsors and friends assembled at iconic LA Center Studios in downtown LA for this year's awards show gala. Hundreds more around the world watched the livestream.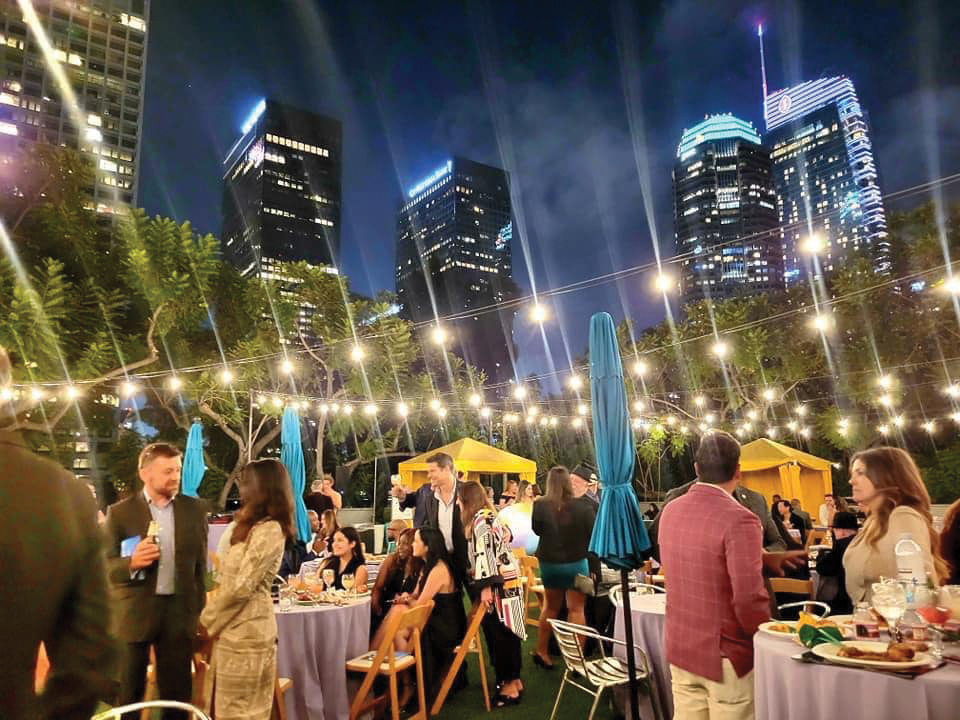 Walking the red carpet in suits and elegant attire that hadn't left the closet for two years, were nominees from Jordan, Canada, Australia, Amsterdam, London, Berlin, New York, Oklahoma, New Mexico, Hawaii and California. Those who could not attend sent well wishes shared during the online pre-show and thank-yous that rolled into the awards ceremony. 
While honoring the creative work of international location professionals and film commissions bringing stories to life in the real world on television, movies and commercials, the Guild's commitment to diversity and inclusion also shared the stage. From nominated shows to this year's honorees, the importance of who gets to tell the stories and where they are told resonated throughout the proceedings.  
LMGI President John Rakich set the tone, welcoming those in the packed auditorium "back from the Zombie Apocalypse" and acknowledging those who had first inhabited this place: 
"We come to you tonight from the ancestral, traditional and contemporary lands of the Tongva, Chumash and Kizh peoples… We recognize them as original historic Indigenous communities of the Los Angeles basin. In offering this land acknowledgment, we affirm Indigenous sovereignty, history and experiences."
---
AND THE WINNERS ARE…
From Showtime's Black Monday, the FX hit The League and HBO's Veep, comedic artist Paul Scheer warmed up the crowd before presenting the first award of the evening. "Most people were still stuck at home… You went boldly into the world and allowed us to vicariously visit some of the most breathtaking spots on the globe," he said. "If you doubt the 'I' in LMGI, then tonight's first category makes it clear that this year's nominees are truly international."
From London's lavish Regency Period in Bridgerton, the rise of the Guadalajara Cartel in the 1980s in Narcos: Mexico, the family saga that unfolds in Korea, Japan and NY in Pachinko, the colorful showbiz world of mid-century New York City in The Marvelous Mrs. Maisel, to the visually stunning apocalyptic Canadian landscape of See, the award for Outstanding Locations in a Period Television Series went to season four of Stranger Things, as it ventured from Atlanta and the fictional world of Hawkins, Indiana, to New Mexico and Lithuania for its supernatural dive into the "Upside Down." 
LM Tony Holley/LMGI, with colleagues Kyle A. Carey/LMGI and John Lucas/LMGI, accepted giving credit to his Lithuanian counterparts, Jonas Spokas/LMGI and Vytautas Riabovas. "This is the third year I've been to the awards show, having been nominated two previous times for Stranger Things," he later commented, "and while it's certainly a bit sweeter when you win—OK, a lot!—I think the show gets better every year!"
Most of the nominees for Outstanding Locations in Contemporary Television were regional western and southwestern landscapes of the US: Better Call Saul in Albuquerque, Reservation Dogs in Oklahoma and Yellowstone in Montana and Texas. Atlanta expanded its complex examination of racial bias by traveling to London and Amsterdam. But it was season three of Succession's over-the-top New York, Virginia and Italian locations epitomizing the excess of the uber rich, that took the win. 
Known for her performance in Inventing Anna, actress Alexis Floyd presented the award to location professional Jonathan Knapp, accepting on behalf of LM Paul Eskenazi and LM Enrico Latella/LMGI. "I want to thank the Location Managers Guild, not just for this recognition, but for this event and the chance for us to come together. The pace and the pressure of this work can sometimes blind us to how magnificent this work is. We get to explore and work in the most beautiful places around the world!" 
The nominees for Outstanding Locations in a TV Serial Program, Anthology or Limited Series with narratives played out in Appalachian Virginia, New York, Morocco, Georgia, Washington DC, the Australian Outback, Nova Scotia and the Canadian Rockies, were Dopesick, Inventing Anna, The First Lady, The Tourist and Under the Banner of Heaven.
Station Eleven, lyrical, poetic and compelling, with locations in Chicago and Ontario, Canada, beautifully imagining a post-apocalyptic world where art and theater endure, landed the award. Judy Chui/LMGI accepted for the team of Srdjan Vilotijevic/LMGI, Elmer Jones, Stefan Nikolov and Stuart Berberich/LMGI from 40-year veteran of the Young and the Restless, actress Kate Linder. "Thank you LMGI. Thank you for elevating all our work!" said Chui.
Introducing the nominees for Outstanding Locations in a Commercial, Linder commented that she had once "appeared in a Super Bowl ad … it was 60 seconds long and had production values that major features would envy … which is why more and more commercials are recognized as both a pop culture phenomenon and an art form!" 
Nominees filmed in the California desert for Hyundai's Spider-Man: Only Way Home, the Netherlands for Dutch insurance company OHRA's Don't Worry About Ending Up Sleeping with the Fishes, Buenos Aires for Renault's Megan E-Tech and Liverpool for Rolls-Royce's Embrace the Night. The award went to Crown Royal's Kickoff with Crown. 
Accepting virtually from Maryland, LM Caprice Ericson/LMGI thanked the client and Lovesong Films for bringing the project to Baltimore, where she and her team were able to capture the atmosphere of multiple cities across the United States as football fans anxiously awaited kickoff. "I truly love what I do," shared the 35-year location veteran, "and I'm very touched to be recognized by my peers here tonight!" 
Magnum PI star Amy Hill introduced nominees for Outstanding Film Commission. "They are the people who are the true allies of every location pro, who go out of their way to anticipate problems and offer solutions before they happen!" Hill said. The Royal Film Commission of Jordan for the commercial series Zara Man, the Hawaii and Maui County Film Offices for The White Lotus, the city of Brantford, Ontario, for The Handmaid's Tale, the Kingston Film Office, Ontario, for Mayor of Kingstown, and Jamaica Promotions Corporation for No Time to Die were all worthy contenders for going above and beyond to help the productions filming in their jurisdictions. The Award went to the Oklahoma Film & Music Office for its support of the groundbreaking TV series Reservation Dogs. 
As the first full-season scripted series to be entirely produced in Oklahoma and featuring Indigenous writers, directors, cast and crew, the film office liaised with Native communities that had never hosted filming before. 
Accepting on behalf of the state of Oklahoma, director Tava Maloy Sofsky, and the Department  of Commerce, was outreach and production manager Yousef Kazemi. "I've been with the office for 13 years and it's been amazing to see the growth of film and television in Oklahoma," he said, thanking producers of Reservation Dogs and location professionals  Chris Kucharski/LMGI and Shane Brown, who were nominated in the Contemporary TV category. 
Acclaimed actor and social activist James Cromwell took the stage to introduce nominees for Outstanding Locations in a Period Movie, noting how during the pandemic, they all "brilliantly swept us away from the nightmare of our lives to a variety of delightfully terrifying times and places—somewhere else!" 1973 San Fernando Valley in Licorice Pizza, 1960s swinging London in The Last Night in Soho, Northern Ireland playing for the lands of 10th-century Vikings in The Northman, and New Zealand doubling for 1920s Montana in The Power of the Dog—all provided the landscapes for serious escape. 
It was the luxe locales and seductive style, wealth and excess of one of Italy's most legendary fashion houses that netted the award for House of Gucci. Elisabetta Tomasso/LMGI and Piernicola Pinnola/LMGI accepted remotely from Italy. Tomasso thanked "Our amazing location teams throughout Italy, in the Alps, Milan, Como and Rome." Added Pinnola, "We couldn't have done this without you guys!" 
 The nominees for Outstanding Locations in a Contemporary Film, also announced by Cromwell, were just as satisfying. Oscar winner CODA told the story of a deaf family fishing Cape Anne, Massachusetts; Drive My Car, a foreign film Oscar winner, traveled the roads of modern-day Hiroshima; Everything Everywhere All at Once unraveled the multiverse in the suburbs of LA; In the Heights sang and danced through the diverse LatinX community of Upper Manhattan. And Top Gun: Maverick pulled G's over locations in California, northern Washington and Nevada. 
The exotic locations for explosive, treacherous missions and death-defying stunts are the staple of any Bond film. No Time to Die prevailed in the category. "Incidentally, they're casting a new James Bond and I'm available. Cromwell… James Cromwell," quipped Cromwell much to the crowd's delight, before announcing the winner.
Accepting via video were location professionals Mandy Sharpe and Duncan Broadfoot. "To be part of this franchise is something rather special," said Broadfoot. "We share this award with all our 007 location colleagues across the globe, including Italy, the United Kingdom, Jamaica, Norway and the Faroe Isles… And thanks to the LMGI for everything they are doing to support the location community and recognizing our work."
•••••
This year's LMGI'S Humanitarian Award was presented by KTLA anchor Megan Henderson to actor Orlando Bloom. "I'm closely aligned with UNICEF," Henderson said. "They take their mission seriously, and only those with that same absolute passion are allowed to join as Goodwill Ambassadors. Bloom has dedicated his life and celebrity to improving the lives of children throughout the world." 
As a star of film and stage, Orlando Bloom has taken audiences to exotic locations in the blockbuster Pirates of the Caribbean films and the Academy Award-winning trilogy, The Lord of the Rings. As a Goodwill Ambassador for UNICEF since 2009, he's traveled the globe advocating for the rights of children and women in underserved vulnerable communities such as South Africa, Niger, Bangladesh and Mozambique.
Genuinely touched by the honor, Bloom accepted the award remotely. "Emergencies tear families apart. They turn children into refugees, they turn childhoods into nightmares and their futures into uncertainty. UNICEF is there helping them learn, laugh, stay healthy and stay safe."
Most recently, Bloom has focused on the plight of Ukrainian children trapped in the ongoing Russian invasion. Having visited eastern Ukraine during its 2016 conflict, Bloom was uniquely positioned to travel to Moldova to meet with children escaping across the border just a month after recent war started.
"There I witnessed hundreds of refugees staggering into their new reality … not knowing where their final destination would be. UNICEF was there, just as UNICEF always is in situations like this," he said. "I'm immensely proud to be part of my UNICEF family just as I am proud and grateful to be part of our film community."
•••••
The 2022 LMGI Trailblazer honoree is the Red Nation Celebration Institute (RNCI)  and its founder, Joanelle Romero. Alison Taylor/LMGI, 1st Vice President and Co-chair on the Diversity, Equity, and Inclusion (DEI) Committee, said, "It's the mission of our committee to extend LMGI membership and share our expertise with new and diverse voices, voices too long marginalized or worse, ignored. Red Nation has worked tirelessly to change the depiction of natives on screen, presenting them with honesty, dimension and authenticity." 
"We are handing out an award to a woman who's dedicated her life for the advancement of all of us, but especially First Nations," said actor Edward James Olmos in a video tribute to his friend of many years. "She is so consistent with her understanding of what she is here to do. Bless your heart for being tenacious, understanding, disciplined, with a sense of integrity and dignity in everything you do. This 2022 Trailblazer Award could not go to a better human being." 
From the Quechan Reservation of Winterhaven, California, Bird Singer Zion White performed a native song to honor the RNCI. "The work that they continue to do to perpetuate Indigenous culture through media is truly inspiring," he said. 
Romero accepted the award from Taylor and Kristin Dewey/LMGI, and took a moment before thanking her ancestors "who have paved the way for me to stand here. My determination to see Native and Indigenous talent represented in all areas of the industry—on camera, above and below the line, is based on nothing more than the absolute knowledge of how much talent we have in our community that has been ignored—that is no longer being ignored—we have Reservation Dogs, we have Dark Winds and Wild Indian. We have another film, Martin Scorsese's Killers of the Flower Moon, soon to be released. We are here. And it is because of support of organizations like the LMGI."
•••••
The skilled and consummate location manager John Panzarella received the 2022 Lifetime Achievement Award. Said Panzarella, "My sincere thanks to the LMGI for this honor. It's wonderful to be in a room with so many friends and colleagues I admire and respect. I've got to say, it's really gratifying being recognized by your peers and it fills me with love for all the incredible people I've met and worked with over the years."
In a career spanning almost 40 years, Panzarella's credits include many of cinema's most unforgettable films: Midnight Run, LA Confidential, The Italian Job, Vice, 12 Monkeys, Lethal Weapon, Elizabethtown, Hail, Caesar! and Jason Bourne. 
With a keen photographer's eye and a passion for architecture, Panzarella delivered distinct locations for accomplished directors Cameron Crowe, the Coen brothers, Blake Edwards, Mike Nichols, Nancy Meyers, Adam McKay, Barry Levinson, Curtis Hanson and Larry Kasdan. 
Production designer Clay Griffith introduced Panzarella, whom he called the "Doctor of Music"—or just "the Doctor" for short. "My fondest memories of working with him—are those days I spent riding 'shotgun' in his car. It's a safe bet he'd have spent many hours the night before crafting the definitive playlist for the ride. A fistful of rare bootlegs and musical artists he's chosen for the feeling of the places you'll be traveling," he shared.
"It has always been my distinct joy to work with this man. He's personable, honest, friendly and speaks the plain truth. His team is always the best—and he's a leader who knows exactly what needs to be done and makes it happen perfectly. He also has a great eye. A unique vision that has always produced results. John's knowledge of architecture and history are impressive to say the least. His ability at merging the creative with the practical is the stuff of legend."
Panzarella made a career working logistic miracles for the perfect shot: He shut down Hollywood Boulevard for several days and squeezed Mini Coopers into Metro stations for The Italian Job and teamed up with local authorities to close part of the Las Vegas Strip for a week to film Jason Bourne.
Presenting the award to Panzarella was his wife of 23 years, production designer Caty Maxey. "He worked through pretty much anything you could throw at a person—and he always took the job seriously and with grace. He took care of huge issues and minuscule annoyances and then came and took care of me every day, thick or thin, in sickness or health."
Panzarella was effusive in praise for his many collaborators over the years: production designers, location managers, scouts, keys and assistants. Working with his son, KALM JT Panzarella, "was a great joy of my life," he said. He gave a special mention to friend, LM/scout and former LMGI President Lori Balton, and saved a final thanks to his longtime work partner, Leslie Thorson/LMGI.  
"LT and I did about 35 pictures together. She was the glue that held our department together, and my closest collaborator. I can't possibly thank her enough, although I try. 
"You end up spending as much—if not more—time with the people you work with than your family, and in time the people you work with over and over become family. You do your best to have each other's backs and, not to surprisingly, have a lot of fun together while working your ass off."
•••••
"The LMGI Eva Monley Award is given to an industry professional who has demonstrated—quote—'above and beyond' support of the work of location professionals," said Mike Fantasia/LMGI, introducing acclaimed director Martin Scorsese.
One of the most influential filmmakers in film history, Scorsese has enraptured generations of moviegoers to the streets of New York, Las Vegas, Boston, 1920s Hollywood, and modern Wall Street in films such as Taxi Driver, Raging Bull, The Last Temptation of Christ, Goodfellas, Gangs of New York and The Departed.
Monley was a pioneer location professional, scouting and logistically paving the way for filmmaking icons John Huston, David Lean and Otto Preminger to realize their big-screen epics in some of the most dramatic and remote landscapes on the planet.
Her credits include Lawrence of Arabia, Exodus, The African Queen and The Man Who Would Be King. Her ingenuity, resourcefulness and creative instincts set a high bar for the craft.  Recipients of the award bearing her name have embraced their location colleagues as true collaborators.
Scorsese is currently in post-production on Killers of the Flower Moon, a story set in Osage County, Oklahoma, where he scouted and filmed locations with supervising location manager Mike Fantasia. 
"The movie was offered huge incentives to film elsewhere," Fantasia said, "but this was where the story happened, and this is where the story was to be told. When Martin Scorsese wants to make a movie, what matters most is authenticity," he attested. "Which is why Taxi Driver wasn't shot in Biloxi, or why Casino wasn't shot in Miami."
Fantasia had to turn the clock back 100 years to tell the story of a dark chapter in tribal and US history, and find what remained from the era. They filmed on Oklahoma oil land, much of it on Osage Nation land. Crew took over the town of Pawhuska and parts of Fairfax, Oklahoma, where much of the story actually took place. 
"Marty was so dedicated to getting this epic American saga perfect," says Fantasia, "he met with Osage tribal leaders and their congress to assure them he was there to tell their story." 
"I am very, very pleased and honored to receive this award particularly since it's named after Eva Monley, who played a crucial role in bringing some of the finest films I've ever seen to light. She was a remarkable woman," said Scorsese, as he graciously accepted the award via video. 
"For me, a location manager is a role, as crucial as the jobs everyone talks about. You know, the location manager must know the movie, to see the movie from every possible angle. I rarely have time to thank them, the right way, properly. All the great location managers I've worked with over the years, you've helped take an image I see in my mind's eye and help create the finished product on screen. And I thank you from the bottom of my heart."
•••••
LET'S PARTY!
"Congratulations to all of our winners, thanks to all of our presenters, thanks to all of you!" said LMGI President John Rakich, as the ceremony concluded. "And now two words we've waited three years to hear: LET'S PARTY!"
Against the skyline of downtown Los Angeles, with lights sparkling, the bar flowing, the DJ spinning, and the buffet piled high with assorted delicacies, award attendees converged on the theater's outdoor upper deck to party.
LM Markus Bensch/LMGI, nominated for Inventing Anna, flew in from Germany. From the UK was LM Naomi Liston/LMGI, nominated for The Northman. "Thank you so much for having us —it was a brilliant night!" she said.
LM Chris Kucharski/LMGI, nominated for Reservation Dogs, commented, "It was great to be in a room full of folks that understand everything that goes into the locations of a show. Especially coming from a smaller market, it was wonderful to be around so many of my peers. It was also an honor to hear so many people say such great things about Reservation Dogs. I will share those thoughts with my team who deserve so much credit."
"It was so much fun, and I was really impressed by John's opening and the recognition of the RNCI—that was very heartfelt," said LM Sally Sherratt, in from New Zealand for The Power of the Dog. "We of course, honor and respect our Indigenous Māori filmmakers who tell amazing stories also, so I really felt deeply the respect and honestly that was shown."  
The Atlanta location team turned out in full force, including the members from Amsterdam.  Said LM Rehya Young/LMGI, "It was also nice to meet my European cohorts, Benjamin Hendriks and Maarten Buurlage and compare war stories about working on our show. I can't wait to submit for season four of Atlanta … and maybe something else. Who knows?"
"I'm so glad I made the trip to Los Angeles," said Jonathan Knapp, who had earlier received the award for Succession for LM Paul Eskenazi. "I had a chance to meet other location professionals from around the world and celebrate the work we get to do. Thank you to Location Managers Guild International for all your hard work, and with any luck, we'll see you next year."
"Thanks so much! We had a blast, and thanks for putting on such a great show," said Stranger Things SLM Tony Holley/LMGI. "I loved the Los Angeles Center Studios venue, and meeting so many colleagues, as well as a number of the sponsors."
LMGI President John Rakich was thrilled with the night's turnout, packed house and astounding reception. "As of now, there are over 2,000 views on YouTube. Next year, we will celebrate the Guild's 20th anniversary, and we hope to come up with a really spectacular event. We hope everyone will come. There is nothing that can compare with being together in a beautiful place. It's very powerful."