PASSION AND PERSISTENCE:
 

BRINGING MANK FROM SCRIPT TO SCREEN
SLM/Co-Producer Bill Doyle partners with director David Fincher to bring
 

Hollywood's Golden Age to life

by Shaun O'Banion

All photos courtesy of Netflix
---
Mank, director David Fincher's much anticipated take on the behind-the-scenes drama that shaped the making of Citizen Kane, was released last November after a journey to get it made that began almost two decades ago.
Is there any reason to believe that a story about the making of a movie about the making of a movie is any less intriguing than that of its fabled subject?
Hooray for Hollywood!
Distributed by Netflix and written by Fincher's late father Jack, Mank examines a period in the life of Herman J. Mankiewicz, played by Oscar winner Gary Oldman. Mankiewicz may be unfamiliar to the average moviegoer, but in the screenwriting community, the name is legend.
"Mank" was regarded as a self-destructive genius, brilliantly banging out contributions on some 80 films. Practically crippled by alcoholism, his career was on the skids and he had pretty much been "shown the door" by Hollywood's power elites no longer amused by his antics. 
 Yet his fall from grace did not deter a radical young first-time filmmaker to come a-knockin' with a blank check in hand and carte blanche to hire whomever he wanted. That filmmaker was Orson Welles. And the movie he wanted Mank to write with him was Citizen Kane.
It was the so-called "Golden Age" of Hollywood, yet the 1930s were a complicated time. The world was climbing out of the Great Depression and America was navigating the rise of political fascism. Hollywood, with its newly minted "talkies" and the introduction of Technicolor, was there to help people through the tumult. 
Filmgoers lined up for a mixture of glitz and glamour from the likes of Spencer Tracy and Katharine Hepburn, or swashbuckling adventures starring Errol Flynn, the genius comedic antics of the Marx Brothers and even a scare or two with the introduction of Universal's Dracula and Frankenstein, played by Bela Lugosi and Boris Karloff, respectively. 
Telling stories about Hollywood's early days presents many challenges for the storytellers who must find ways to recreate the era, and one can confidently assume that none will pay more attention to period detail than Fincher's Mank.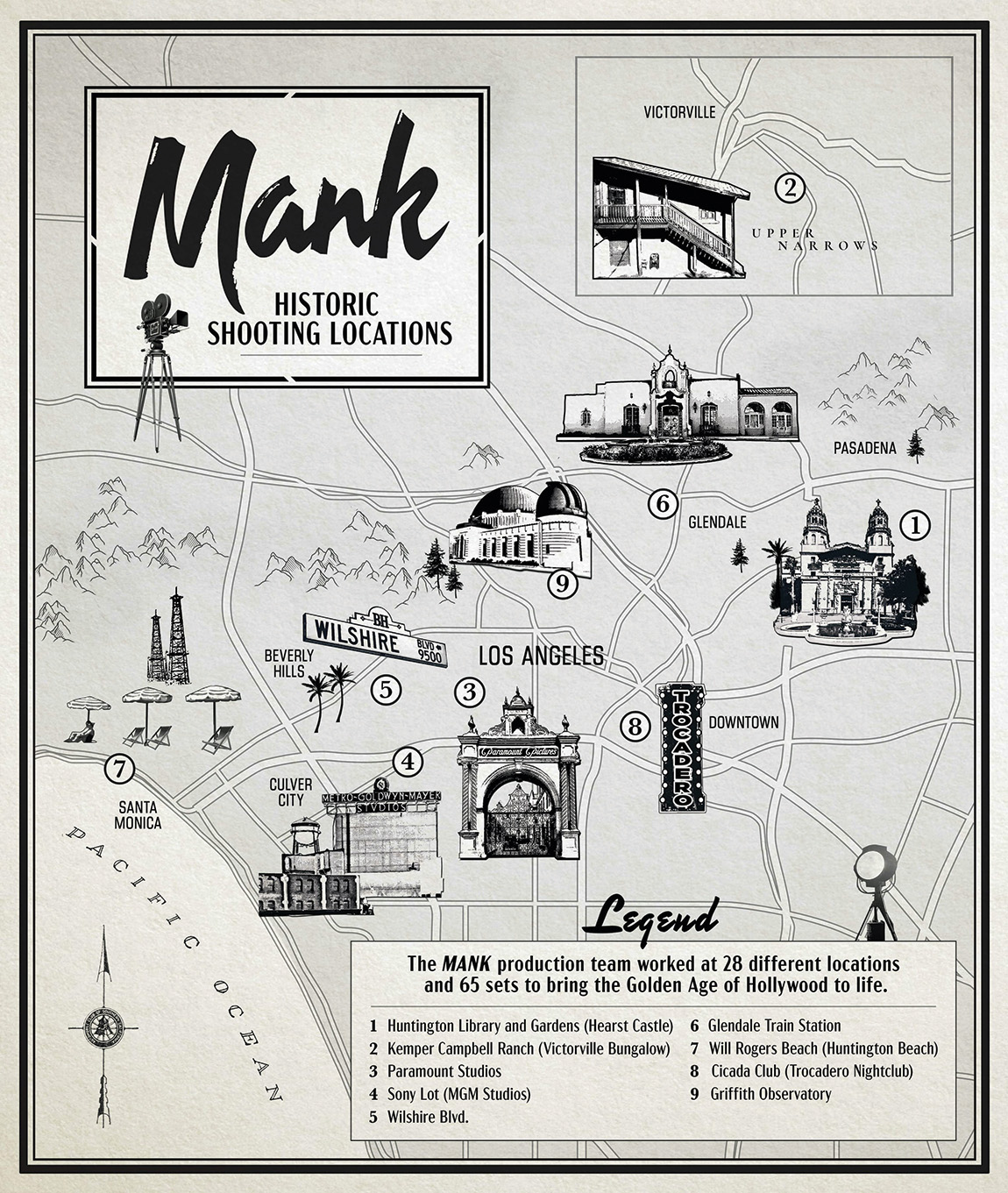 The Location Manager
In terms of finding classic locations in Los Angeles that have survived the moving hands of time, Fincher couldn't have found a better guy for the job than LM William "Bill" Doyle/LMGI. L.A. is a classic example of a city in a near-constant state of reinvention, but despite the years, some amazing original sites still remain, and Doyle knows most of them.
"I've always loved reading about how cities develop," Doyle says. "Understanding a city… How it was developed or why it was founded, how it was built and when it expanded… Knowing how these things happened can help you make sense of any city anywhere in the world when you're looking for something specific."
Mank, of course, is very specific, and Doyle and his team were ultimately able to put their mark on the film with a variety of stunning locations, but it wasn't easy. It also helped that both Fincher and production designer Donald Graham Burt have lived in the city for decades as well.
"David knows the city the way most LMs know it," Doyle says. "He knows what's gone. And he understands how we can massage what's left into working for us…"
Like many before him, Doyle took a circuitous route to the Location Department. He had studied film production, broadcast news and photojournalism in college and believed that would be his path, but he became disillusioned with the news business early on and began searching for something else.
"I came to L.A. from the East Coast with no real contacts and got the only job I could find at the time, working as an assistant carpenter at a company called Sunrise Sets," says Doyle. 
He didn't know it then, but he was about to jump on a roller coaster ride that would eventually lead him to David Fincher. And it wouldn't take long.
Just a few months after starting at Sunrise, an on-the-job injury nearly sent him packing. Fortunately, he had developed a reputation as a hard worker and was well-liked. His supervisors offered to move him into a new position and Doyle became a runner for the company. 
"I would drive all over Los Angeles going from location to stage and back to location, delivering materials to the construction crew," he says. "I got to know the city and county very well doing this, including frequently filmed locations and backlots." 
He also got to meet with the producers and production coordinators on the commercials and TV shows the set company was building for. It was through one of those contacts, a coordinator named Peter Abraham, that Doyle got an offer to work as a PA on a spec commercial. It was an unpaid gig, but he jumped at the new opportunity. 
"I became a regular PA for this company immediately after that," he recalls.
One day, a location for a Hertz commercial the company was doing fell through and an emergency replacement was needed, and needed fast. Abraham summoned Doyle.
"He sent me out with my trusty Pentax K1000 to find a new location," says Doyle. Excited by the options Doyle came back with, the spot's director, Mark Story, began using him on every job as his primary location scout and the rest, as they say, is history.
Within six months of that first job as a scout, Doyle was working as an ALM on his first feature, 1990s Heart Condition, a comedy starring the late Bob Hoskins and a young actor named Denzel Washington. "That's where I met location manager Barry Gremillion who happened to be visiting the set. Later that year, he hired me to do The Doors with Oliver Stone," recalls Doyle.
The Doors gave him his first taste of working on a period film, in this case, replicating Los Angeles in the 1960s and '70s with a very exacting director. After that, Doyle bounced around a bit, diving back-and-forth between the feature and commercial worlds. 
The Director and the First Iteration
By the early '90s, David Fincher was a much-in-demand music video and commercial director, and he became big news when he was plucked from the world of MTV to direct the third sequel in the Alien franchise for Fox. The stories around the difficulties of making that film are also legendary and could easily make a pretty dramatic film by themselves!
Fincher would eventually disown the movie and, despite it becoming the second most financially successful film in the franchise, he turned back to the music video and commercial world, working for artists like Michael Jackson and Madonna and clients like Nike. 
As it turned out, Fincher's feature career was far from over, and was in fact, just getting started. Three years after the disappointing Alien 3 experience, his vision of two detectives, one on the verge of retirement, and one bright-eyed and eager to make a difference in a very dark world, took the box office by storm: Se7en was a rain-soaked auteur piece starring Morgan Freeman and Brad Pitt as the two detectives searching for a serial killer. The shocking ending even made the nightly news when audience members at screenings around the country were reportedly seen running from the theaters.
Perhaps having learned from the critical reception of Alien 3, Fincher didn't wait for Se7en to open before booking his next film. With Se7en a smash hit with critics and audiences alike, and The Game with Michael Douglas and Sean Penn set for release, Fincher was in the early planning stages for his next film: a Hollywood tale called Mank. 
It was 1997 when David and Jack Fincher first began pitching the project around town, but the twosome quickly hit a stumbling block—likely due to David's insistence that the film be shot in black-and-white, a vision that was not embraced by the top studio brass. They were turned down everywhere, and with little hope of moving the project forward, pre-production ground to a halt.  
A Fortuitous Pairing
Around that same time Doyle, who was by then married with two kids, had turned his back on features.
"Features just take away most of your personal time," he says. "I mean, it's not news to anyone reading the Compass, but 60- to 90-hour weeks for months at a time, sometimes far away from family, are the norm." The hours were taking a personal toll, and Doyle wanted to be able to work closer to home more often.
 He focused on getting in-town commercials only, but less than a year later, the plan to stick closer to home began to fall away as bigger national and international commercials began to call … and it just so happened that on a few of them, he was scouting for none other than David Fincher.
"Before I knew it, I was averaging 250-plus days a year on commercials into the early 2000s," Doyle says. "Then, after my marriage failed in 2003, I found myself in need of a cathartic journey."
A pivot back to features was just what the doctor ordered. By diving deep into larger and more challenging projects, Doyle was able to focus on moving forward. 
As if on cue, David Fincher came calling again. "He made me an offer I couldn't refuse, to go on the road scouting for a movie he ended up not making called The Lookout," Doyle says, "and that work led directly to my working with him on The Curious Case of Benjamin Button."
Bill would spend nearly the entire four-year period between 2004 and 2008 on Button. 

The Golden Age in the Digital Age
Obviously, with the rise of streamers, the movie business has changed, but many forget that it was David Fincher who led the charge with Netflix. Fincher produced and directed a large portion of their first-ever original series, House of Cards. That series, which debuted in 2013, would go on to run for six seasons and garner a host of nominations and wins. Fincher himself was Emmy nominated and won.
He would return to Netflix in 2016 with a new series, Mindhunter, which, like House of Cards before it, went on to receive a number of Emmy nominations over its two seasons.
Mindhunter would be the first time Doyle would work with Fincher and his producing partner Ceán Chaffin in a new role. In addition to being the SLM for the series, Doyle would function as associate producer. Doyle had just completed work as a production supervisor on Batman v Superman and relished the opportunity to step up as part of Fincher's team.
Of the connection between his work as location manager and producing, Doyle notes that the intersection between the two roles is quite clear. 
"Working as a location manager is great training for the multiple hats a producer wears on and off the set," he says. "As a location manager, you are constantly working with and balancing the needs of all the different departments, as well as the local government, neighbors and business owners. You are doing some serious multitasking with many different kinds of people, along with problem solving every day. Producing is very much the same."  
Halfway through Season 1 of Mindhunter, Doyle's credit was upgraded again, this time to co-producer.
Building on an extremely successful partnership with the streamer, Fincher took Mank to Netflix just as Mindhunter Season 2 was winding down. Netflix agreed to make the film—in black-and-white—though for far less money and time than Fincher was used to. With Season 2 wrapped, Fincher approached Doyle again. 
"They were like, 'Here are a couple of bankers boxes with all the stuff from when we were going to do it in '97—off you go. Figure it out for us,'" remembers Doyle.
Fincher wanted to use all of the modern techniques available to trick audiences into feeling like Mank was a lost movie from the period; like it had actually been made in the '30s or '40s. And a huge part of that would be finding practical locations that would evoke the period. 
In addition to working as SLM on the film, Doyle would once again take on the role of co-producer, having earned his stripes on Mindhunter.
The Production Designer
Like Doyle, production designer Donald Graham Burt got his first job after college working in a scenic warehouse. 
"My career and Bill's were sort of running in parallel in the sense that we each ended up being runners, which is how we both got to know the city of Los Angeles," says Burt. "There's nothing like being in a truck and driving all over L.A. trying to find things to give one a sense of the city."
Doyle and Burt initially met on Benjamin Button and the two had a great rapport by the time Mank got on its feet. 
"We have that ability to look at each other across a room and know instantly what the other is thinking, so it's great," says Burt.
Burt recalled a moment early on in prep when Fincher came into his office with a box of photographs. "They had taken a lot of pictures when they were doing some surveying in the late '90s," he says, "and what you realized as you were looking at these photos was how quickly things change. There were so many locations that were just gone … places that I knew like Perino's Restaurant on Wilshire … The Brown Derby … The Ambassador Hotel. It was kind of shocking."
Shocking and challenging. With all that change, you might realize that the amazing 1920s location you just found is now directly across the street from a modern glass and steel structure. That's where having someone like Fincher leading the charge is key.
"He's basically his own VFX supervisor," says Doyle. "We do have Peter Mavromates, who's also a co-producer on the film, and works as the post supervisor/VFX producer, but Fincher is the guy who knows what he needs to make something work and he frames his shots in such a precise way that it's actually very freeing."
Fincher's film plays out on two timelines, with Mank at a bungalow in Victorville writing "American," the first draft of what would become Kane, while flashing back to show his life in the 1930s. He interacts with Hollywood titans Irving Thalberg and Louis B. Mayer and meets sultry movie star Marion Davies and her lover, William Randolph Hearst. The notorious press baron would become the model for Charles Foster Kane. 
Once scouting really got going, it quickly became apparent that their options for practical locations might be fairly limited. One very specific scripted location, Hearst Castle at San Simeon, was never even considered. 
"We knew from the start that we wouldn't be able to shoot at Hearst Castle because not only would they not want us there in the first place, but also because we were telling the story of the guy who was kicking Hearst while he was down," explains Doyle.
"From a functional perspective," adds Burt, "we were an L.A.-based film, and we were working with a lower budget, but even if we had been able to go there, we knew it would've been a situation where they'd be telling us, 'well, you can use this room, but you can't move that chair,' or 'you can't light candles.' There would have been too many restrictions, so that was always going to be the challenge."
There are two key scenes in the film that were, as Burt put it, "The tail that wags the dog for the whole thing," and both were set at Hearst Castle. One was a birthday party for Louis B. Mayer, and the other was the final scene in the film, a lavish dinner party.
As the start of principal photography grew close, they were still searching for a location that could approximate Hearst Castle. 
"Bill and his crew dug up so many amazing places for us to try to approximate the scope of Hearst's property as best you could in Los Angeles," said Burt. One such location was a stunning home in Beverly Hills. 
"It was this beautiful old house that started out as a hunting lodge in 1910 or so and later, I think, Douglas Fairbanks lived there," Doyle adds. "But when you looked at what it would take to shoot there, it might as well have been the actual castle … so you just kind of go, 'we should build this!'" 
Burt began designing a kind of grand dining hall. "I had discussed a way of transforming this one room with David. By keeping the form of the room and changing out the fireplaces, reconfiguring doorways, architectural details, adding or removing windows, we could use the same set for two different scenes and make it feel ambiguous to the layout of the real San Simeon."
Burt's crew would have six weeks between shooting the Mayer birthday party and the final scene to reconstruct and recreate the room. For the final dinner scene, they even added a hallway for a walk-and-talk. "You just wanted it to be able to be a continuous shot," says Burt. "It was a bit of a game of Tetris."
Finding vs Creating
With the Hearst interiors handled, Doyle and his crew, including LM Walter Roshetski/LMGI, a 30-year veteran of film and television, would turn L.A. upside down searching for locations that would work for the rest of the film, including the stunning gardens at San Simeon
"The thing about working for David and for Bill is that they both share a very specific approach," Roshetski says. "I've worked with a variety of directors and location professionals over the years, observing, learning, contributing and incorporating along the way, but neither David nor Bill will accept anything that compromises their vision. That can be challenging, but when you see the finished product on the screen, the results speak for themselves."
Another linchpin location the team found was what was once known as the North Verde Ranch, where Mank spent much of his time writing. Astonishingly, it still exists and is virtually unchanged. Now called The Kemper Campbell Ranch, the property is located in Victorville, California. Getting access to film there meant they would be shooting in at least one location where the events of the story actually took place!
The ranch's main house dates back to1929. Designed by architect John Byers, well-known for his Spanish Colonial Revival style, the house is built of adobe bricks made of materials harvested directly from the ranch itself. 
To get the location picture-ready, air conditioners were removed from windows, exposed electrical lines were taken out and lighting fixtures were changed. Renovations included tearing out the ranch's concrete patio and replacing it with a flagstone patio, as well as completing post and beam woodwork on the exterior. 
In a 2019 interview with the Desert Sun newspaper, ranch manager Peggy Shaughnessy said she and owner Scott Campbell initially had some trepidation about allowing the company to shoot there. In the end, she gave the entire crew high marks, saying that Netflix had hired "the best of the best," and noting that Doyle and his team were "true to their word" about returning the ranch to its original state.
To double for the exterior of Hearst Castle, as well as for the pyre scene featuring Marion Davies, Doyle and his team found a variety of beautiful locations at the Huntington Gardens in San Marino, California. The property features approximately 120 acres of landscaped botanical gardens, along with a library and vast art collection. 
The pyre scene was later reshot at Ventura Farms when scheduling prevented a return to Huntington. The trick to filming there was that the field where the cowboys and horses were to charge down firing their pistols was riddled with ground squirrels and their tunnels.  
Doyle's team spent the better part of a week finding and filling holes along the pathway to make it safe for the horses without harming any squirrels. "The squirrels just moved uphill and would pop out of their burrows and watch the action themselves while we were filming," laughs Doyle.
They also shot at the elaborate Villa de Leon. Perched overlooking PCH, the Classical Mediterranean property was built in 1927 and sits above the entrance to the Getty Villa Museum.
To complete the illusion of being at the actual Hearst Castle, a few scenes were lensed at the old Dovie Beams De Villagran property on South Oakland in Pasadena. The 10,500-square-foot mansion, built in 1913, boasts 20 rooms, two libraries and five fireplaces. Formerly owned by the eponymous B-movie actress and self-described mistress of deposed Philippine President Ferdinand Marcos, the 4 1/2-acre estate also features some 30 statues, fountains, a paved walkway lined with stone columns, as well as oak, eucalyptus, cypress and palm trees. 
For the scene in which Mank makes his first trek up to San Simeon, stumbling off the train in a drunken stupor, the company shot at the historic Glendale Train Station. 
"The train station, for me, was just amazing," says Burt. "It was scripted as Union Station, but I had read something about how Hearst would reserve tickets for people in Glendale, so I asked Bill about it and he said, 'oh, yeah, it's still there.' We went to take a look and that was it." 
Built in 1924, the facade of the train station is still intact and has a Spanish-revival look that Burt says was "a great surprise."
Another unique location was the Art Deco Cicada Club inside the James Oviatt Building, used for the scene in which Mank attends an election night celebration after Sinclair loses and Louis B. Mayer gives a big speech. Completed in 1928, the building is on the Historic Registry and is located in the heart of downtown L.A. It originally housed the Alexander and Oviatt Men's Haberdashery which outfitted the likes of Clark Gable and John Barrymore. Renowned Parisian designer René Lalique crafted some 30 tons of glass for the building's opulent lobby.
Being centered around the movie business, key scenes naturally played out on several studio lots, including Sony (originally MGM Studios), Warner Bros. and Paramount. "It was pretty fun to see the old studio equipment, cars and talent in various costumes walking around the streets of the old 'Film Factories' again," says Doyle.
The (renaissance revival-style) First Unitarian Church, located on 8th Street, doubled for the Wilshire Boulevard Temple where Thalberg's funeral actually took place. The company had intended to shoot at the synagogue, but the site was undergoing a major expansion and construction had unfortunately already begun. 
"First Unitarian can play for either a Christian or Jewish facility with ease," says Doyle, "and the high windows also helped our DP and his team create an amazing shaft of light that dramatically shines down onto Thalberg's casket!" 
Lastly, the oft-used majestic ballroom at the Biltmore Hotel in downtown was used as the setting for the 14th Academy Awards.  
Movie Magic
Hollywood is a bubbling cauldron of creative energy, sparked by collaborative genius and the clash of larger-than-life personalities, mixing fact and fantasy, steamy romance and back-stabbing betrayal into an intoxicating brew. And so has the Mank team delivered a visual feast that approximates the world where giants like Mank, Welles, Louie B. Mayer, Thalberg, Hearst and Davies can stride out of the past and into the collective imagination. 
Hollywood has never shied from turning the lens on itself, perhaps as a way to figure out what made the moviemaking of yesteryear tick. The stories that are told, and the stories about those stories, fuel the endless hunger for a glimpse into the intrigue and drama that produced some of the greatest films ever made.
It is the creative relationships and trust forged by the making of these stories that make the telling possible. 
"I think trust is built on thousands of moments, big and small," shares Doyle. "In the end, I think David trusts my preparation, work ethic, and perhaps how I see the job equally with both the left and right sides of my brain. The ability to see the script and the world creatively, but also have a clear plan on how to get it done." 
As for a plan of his own, Doyle intends to keep producing for the rest of his career. "I'm a producer on another feature for Netflix now," he says, "and I love the challenge. Being part of all aspects of production, creatively, logistically and financially is exciting." 
Mank garnered 10 Academy Award nominations, including Best Picture and Best Director. For his work on the film, DP Erik Messerschmidt took home an Oscar, as did Donald Graham Burt, his second—the first being for Fincher's Zodiac in 2007.
The film is available now on Netflix.