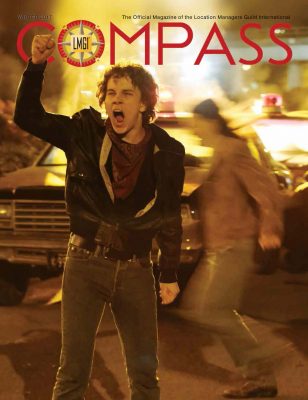 "Never doubt that a small group of thoughtful, committed, citizens can change the world. Indeed, it is the only thing that ever has." — MARGARET MEAD
"Nothing strengthens authority so much as silence." —  LEONARDO DA VINCI
"The ties that bind us are stronger than the occasional stresses that separate us." — COLIN POWELL
As the United States continues to reel following a contentious election, we implore you to find your voice and stay engaged, regardless of your place in the political spectrum. With the start of 2017, we welcome our many new international members and look forward to nurturing friendships and working with our colleagues around the globe. Our shared love of the art and challenges of this wonderfully creative industry of ours transcends politics and borders.
Our cover story this issue takes a look at the historic fight for LGBT civil rights and location manager Matt Palmer's herculean efforts to remain true to the period, actually many periods, with Vancouver standing in for San Francisco in the upcoming ABC miniseries When We Rise.
From there, we traverse the continent as we head into Africa. Frequent contributor Martin Cuff reexamines "The Scramble for Africa," this time with international filmmakers vying for a place in the sun. "In Our City: Cape Town" features the dynamic, diverse world of location managers Robert Bentley and Deon du Preez. Finally, "Career Focus: Our Man in Morocco" enters the world of international location professional Christian McWilliams, who has made a name (and a family) for himself in the Western Kingdom.
Co-editor Lori Balton traveled with colleagues to Poland and shares a unique look at a country steeped in history, culture and fascinating locations. Nick Carr contributes his location insider savvy with his piece on go-to New York locations. And co-editor Ken Haber provides a unique look at the Korean border in our "Martini Shot."
"In the News" details our groundbreaking new Industry Partnership with the Directors Guild Canada, Ontario and the Directors Guild Canada, British Columbia. We report on the successful LMGI presence at the Location Guide's FOCUS show in the UK. We also took center stage at the California On Location Awards (COLAs), as well as our meetings in Stone Mountain, Georgia, and at the Santa Anita racetrack in Arcadia, California. Additionally, we applaud the talents of member Steve Andrzejewski who recently produced a compelling documentary on the Writers' Strike. This issue also marks the return of the popular feature "Tech Talk" from the LMGI Compass' newest contributor, assistant location manager Sasha Denisoff. We are excited to have Sasha join our Compass family and look forward to her ongoing contributions in future issues.
Please hold the date: The 4th Annual LMGI Awards take place in Los Angeles on Saturday, April 8. This is our opportunity to shine. If you have seen or worked on a location-driven story, let us know. We hope you all take advantage of the privileges of membership by casting your vote for submissions, and again, for nominees.
Always a pleasure, never too busy,
Ken Haber, Lori Balton and Stevie Nelson