Desert Blooms
LMGI Sends Top Talent to Jordan
for a New Location Management Workshop
by Rachel Llewellyn

All photos courtesy of Andrea Keener/LMGI & Kim Dillinger Davis/LMGI except as noted
---
From the otherworldly sands of Wadi Rum, the lithic art of Petra, the pastel Mediterranean beaches of the Dead Sea, and the palm-lined shores of Aqaba to the high-rise cityscapes in the capital of Amman, the spectacular landscapes of Jordan have captivated and inspired filmmakers for more than 60 years.
Centuries-old desert castles, bustling towns and natural wonders like hot springs, expansive dunes, coral reefs, nature reserves and rugged mountains all lie within an area the size of Indiana.
Its gorgeous, sere backdrops appear in blockbusters like Transformers, The Martian, Indiana Jones, Dune, The Mummy and Star Wars, along with international films from South Korea, India and Europe and Jordan's own Oscar-nominated desert saga Theeb. 
But Jordan is more than the sum of its Instagram-perfect scenery: The kingdom is also a diversified filmmaking powerhouse supported by a tightly integrated infrastructure offering streamlined support services, strategic accessibility, creative resources and financial incentives. 
Building on their longstanding friendship, the LMGI partnered with The Royal Film Commission Jordan (RFC) to develop an innovative pilot program: a workshop series aimed at training location management professionals and inspiring local artists to flourish within their own rich cinematic ecosystem. 
LMGI Education Committee Chair and former President Mike Fantasia says the need for formalized training has grown exponentially in recent years. "There's such an explosion in production worldwide because of all the streamers and all the networks. People get into the business, and they move quickly up the ladder. With the crazy timeframes that we all seem to be under, there isn't a lot of time to teach. So, the Guild has been working with film commissions and government agencies to try to increase the level of education."
Rawan Hijazi, training and community programs coordinator for The Royal Film Commission Jordan, says the joint educational initiative is part of the Commission's long-term plan to broaden and enrich its filmmaking industry. 
"Since its establishment, The Royal Film Commission Jordan has worked to introduce youth in Jordan to the many professions and economic opportunities available in the film industry. We were pleased to partner with the U.S. Embassy in Amman and the LMGI to hold a series of location management workshops. The workshops aimed to identify new talents and engage them in the film and television job market. We believe having an educated and highly professional crew is one of the most important elements of marketing Jordan as a filming destination for projects from all over the world," says Hijazi.
Enter U.S. LMGI members Andrea Keener (Ant-Man, Scandal) and Kim Dillinger Davis (Office Space, The Amazing Race), veteran location professionals based in Georgia and Dallas respectively; each bringing a diverse slate of big-name project experience and a taste for adventure. 
Their collective travels have taken them around the world in search of the perfect shot, and the prospect of touring the Middle East for the first time was an easy sell. 
Keener, who serves on the LMGI's Education Committee and was working on a show at the time, embraced the opportunity. "How could I say no?" she says. "It's sort of, 'I will carve out time to do this' because it's one of those once-in-a-lifetime opportunities that you need to recognize and take advantage of and say yes." 
Their task was straightforward but challenging—build and present a trio of three-day educational workshops in the cities of Amman, Salt and Aqaba for three groups of 15 location professionals. 
The workshops combined practical experience with classroom instruction, and were also attended by film students, producers, assistant directors, as well as geographically knowledgeable tour guides. Keener and Dillinger Davis started with a basic outline provided by the RFC and the LMGI. They collaborated over Zoom and phone calls to flesh out the content, prepare the course syllabus and develop support materials and handouts. 
Dillinger-Davis says they undertook the sheer volume of the project with accessibility in mind. 
"There's so much to digest, we have to look at all this material and figure out how we break it down so that it's a coherent yet engaging workshop."
Keener adds, "We had to craft it so that it was all-encompassing and interactive but at the same time be an exciting introduction to the location management world. I know people who've been in other departments for 30 years and will admit they still don't know exactly what all a location manager does."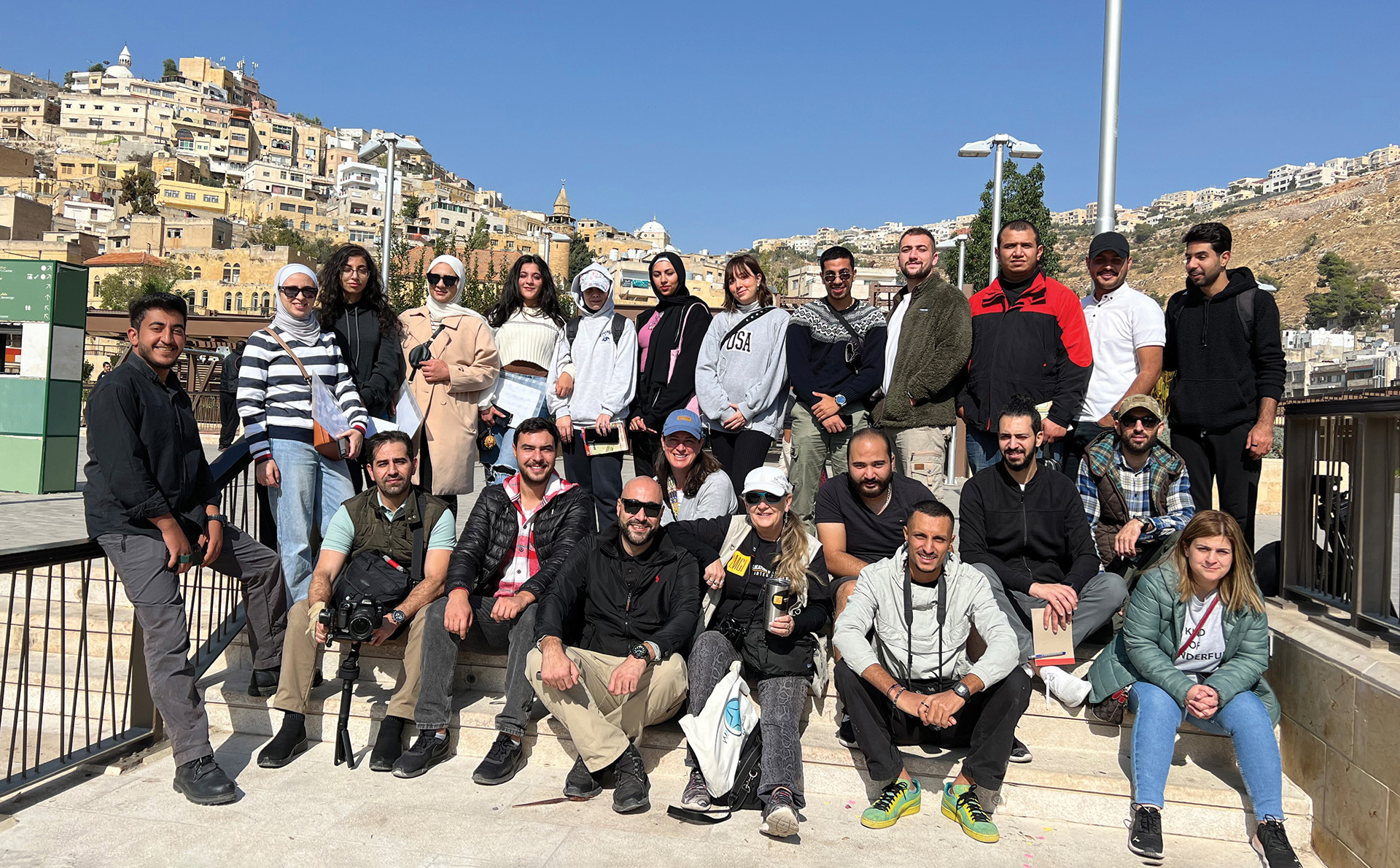 In November 2022, Dillinger Davis and Keener met in person for the first time at the Chicago O'Hare Airport and boarded the 13-hour flight to Jordan. Through their own advanced research and input from the RFC, they arrived with a working knowledge on the area's major locations, historical sites and antiquities, along with permit requirements for each.
The Royal Film Commission Jordan had coordinated a seamless itinerary for the trainers upon arrival, complete with a location management liaison, translators, photographers, drivers and five-star amenities. They were prepped on the area's major locations and foreign-film productions and given a crash course on the legal processes for filming permits so they could customize the seminar materials. 
"Andrea and I were impressed by The Royal Film Commission and staff, because as LM's, we are often the people setting up logistics so there's a drama-free, soft landing for the crew and they can get right to work. The RFC set up and handled the details as if they were the location managers, allowing us to jump quickly and effectively into our workshops. It went off without a hitch," says Kim. 
From the moment they arrived, Andrea and Kim were enchanted by the transportive storytelling power of Jordan's unforgettable environments. "I filmed in the desert in California, but it's a lot different. An hour and a half from Palmdale to downtown L.A. is nothing compared to what you're going to have in Wadi Rum. Essentially, we went to Mars," says Andrea. 
"Our first day in Amman, we scouted the market and I had to remind myself I'm actually here doing a job, and not behave as a tourist," says Keener. "We'd see an alley or a staircase and think about all the scenes that could be filmed there, with all that texture and color. It was a lot of fun and I think it renewed my love of the job because you got to share it with people who were interested."
The first day of the seminar introduced the basics of location management: the department's primary roles within the crew, documenting, planning and negotiating fees, terms and conditions. 
On the second day, the class broke down a 20-page script Dillinger Davis wrote on the fly, then hit the streets to scout and photograph looks and locations. 
Day three saw the attendees presenting their photos and learning the logistics of bringing a large production to town, including budgeting, community relations and the location-specific mechanics behind production. In Jordan for example, filmmakers may face environmental challenges like dust storms, heat or flooding from seasonal rains, along with technical challenges like transporting military vehicles by rail. The RFC also boasts unique amenities, such as an extensive library of military items and equipment for filming, and in 2019, the city of Aqaba created an underwater military museum dive site with sunken battle relics, including tanks and a helicopter. 
They formed a fast bond with RFC liaison and experienced local LM Hassan Al-Amire, whose knowledge of the region and international production experience grounded the course in terms of practical application. 
"He was able to speak in our language of location managers and we were able to laugh quite a bit about each other's stories in the trenches," says Dillinger Davis. "There's so much more that connects us—no matter where you are in the world, as a location manager, you share similar challenges. You're truly part of a large extended family."
Kim and Andrea also forged connections with the seminar participants as they shared their knowledge and relayed the intangibles of the job. Their enthusiasm was matched with questions, ideas and collaborative perspectives from the blossoming directors, producers and creatives. 
"In every class, they were like sponges who really wanted to absorb what we had to say," says Andrea. At the end of one session, a student asked Kim if she could produce her short script she wrote for the workshops.  
The pair made full use of their diverse skill sets to bolster the range and applicability of the seminars. In addition to her feature work, Kim has more than 700 commercial credits to her name, working with brands such as Amazon, Nike and Facebook, while Andrea has primarily worked on long-form series and features with heavy hitters like Shonda Rhimes, Jerry Bruckheimer and Ava DuVernay. 
"We were able to really bring both of those perspectives together and give them a very wide overview of current practices and protocols," says Kim. The participants learned about the differences between the print/commercial realm and the episodic/feature world in terms of resources and responsibilities, and how to maximize production value with any-size budget. "[Their experience] gave the attendees a different perspective on how things are done on a commercial versus a feature film," explains Fantasia. "This was one more example of LMGI members using their varied experiences and knowledge to educate and inform." 
As Andrea and Kim progressed through the workshops, the program's flexibility allowed them to hone their presentations and adapt the material as they went. "It was fluid, it wasn't a regiment. We were able to spend more time on one thing or move ahead with something else, depending on the feedback we were getting from the students. That sort of syllabus and program I think can translate to any other place or country."
Kim and Andrea explored the region in between sessions, visiting a resort on the Dead Sea and traveling to Jerusalem after the last seminar. 
"It's just a beautiful place. The people we interacted with were so friendly—no matter where we went, people were pleasant," Andrea says. "That is one thing about Jordan: Hospitality is their thing, and everybody's so kind." Spa treatments, room service and solo tours offered a quiet counterpoint to the intense eight-hour training days—and the breaks were well earned. 
Keener explains, "I think we're used to a lot of physicality, 14- to 16-hour days sometimes, but it was really interesting to feel the tiredness that comes with the responsibility of really wanting to make this work. There wasn't any time during the 10 a.m. to 6 p.m. that we were interacting with the participants that we weren't 'on.'" 
"There'd be 15 people and you really wanted to be able to give them equal time," Kim adds. "Some are quieter while others are more gregarious and ask questions, so we wanted to pull everyone in."
The pair have stayed in touch with many of the seminar participants on Instagram and WhatsApp, tracking their current production projects and short-film screenings. 
"It's so cool to see what these students are doing now that we've connected with them through social media, to see their eye and what they're creating," Andrea says. "They're fantastic filmmakers." Keener says. She's also kept in contact with their liaison, Hassan, and the program's interpreter.
In addition to the successful RFC partnership, LMGI continues to pursue educational initiatives around the world as governments seek to develop local filmmaking resources.
Fantasia says the goal is accessing folks in the early stages of their career to build knowledge of the location manager role, while setting up formal training structures for increasingly impacted production schedules. He's working with the LMGI Education Committee, film schools, industry groups and governments to assemble more sessions—along with packages geared toward public officials. 
"We hope to bring these classes to location professionals around the world as we endeavor to raise the level of awareness of our work," Mike says. "Most folks don't know what to expect when a movie comes to their city or state until the circus shows up. Not only do we need to train folks in the business, but we also need to train folks outside the business—educate them about what we do and how we do it, and what they can expect in terms of the pros and cons."
"I think we achieved what we set out to do, which is to give them the opportunity to understand the framework, the foundation and the infrastructure in order to be a better filmmaker," says Dillinger Davis. "The best directors and DP's that I've worked with have had either experience or a good understanding of the position of the location manager and the scout and the importance of the role they play. They know the best use of protocols and bring them into the picture and make it a collaborative experience."