Q1 How did you first find out about the LMGI?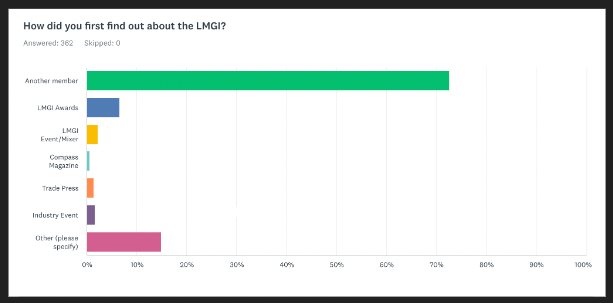 -Clear winner is word of mouth (WoM) at 72%
-WoM = highest source of revenue for the business
-The Awards show does not effectively recruit new members (this may not be the driving intent)
Recommendations
Set yearly performance measures (KPIs) that are tied to member satisfaction so it's prioritized.

Annual surveys to measure member engagement and satisfaction. 

More transparency and authentic engagement with members. Share survey results, what you're doing about it, wins, hindrances, etc. Make them feel included and like their say matters. 

Q2: Prior to joining the LMGI, did you have a community of location or industry professionals that you were a part of?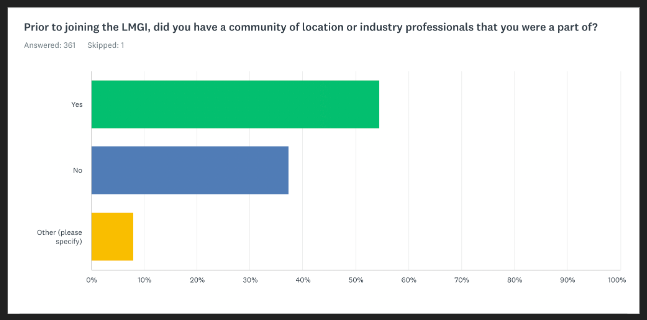 Highest Ranking Communities: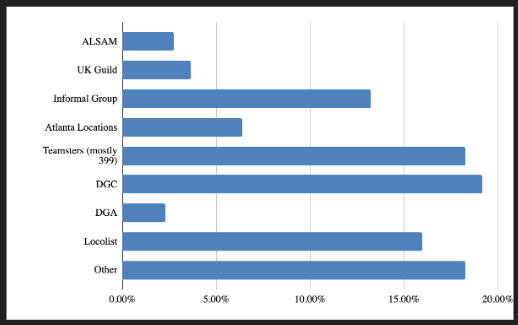 Insights
Click on photo to view full list. 

DGC, Teamsters, and Locolist ranked the highest (besides the misc group of "Others') 
Recommendations
Reference this list for potential marketing and business partnerships/collaborations.




Q3: What sparked your desire to join LMGI? (What outcomes or benefits were you looking for?) Pick your top three.

Insights
-During my initial research, there was a belief that people joined mostly to have their name associated with LMGI badge. Surprisingly, according to these results, that's not entirely true.

Q4: Outside of the LMGI, what other professional organizations, guilds or unions are you a member of? Check as many as apply.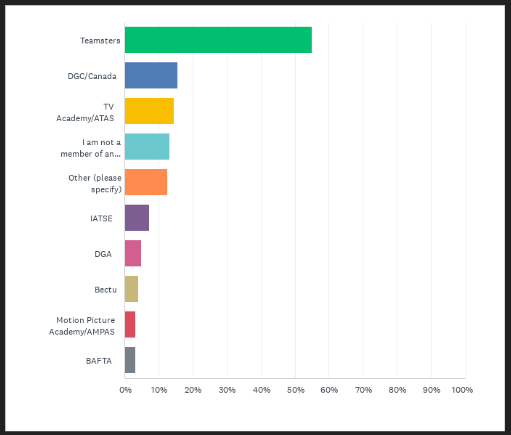 Q5: What are some of the highlights of being an LMGI member? What do you appreciate/align with the most?


Another way to look at the data:

"Personal Recognition" is a common theme across many of these categories (Compass, Awards, Advocacy) = a great motivator to stay in the community:
"Highlights include being interviewed for a 'Compass' feature story about the TV series"
"Being nominated and Winning an award."
"Being featured in an issue of Compass."
Q6:Are there any surprising or unexpected outcomes or benefits you've experienced by being a member? If yes, please list them out

-This question indicates why members like being a part of the LMGI and ultimately stay – even though it's not why they initially joined. Can inform marketing pre- and post- membership activation.
-What are members who get a lot of out LMGI doing differently than those who are indifferent/unhappy? Could be participation-based (are they joining committees?) and/or locale-based. Ex: "Community-wise, I am not getting any benefit. My territory is too far (South Korea based) I guess."
Q7: What would make your experience even better? What do you think is missing?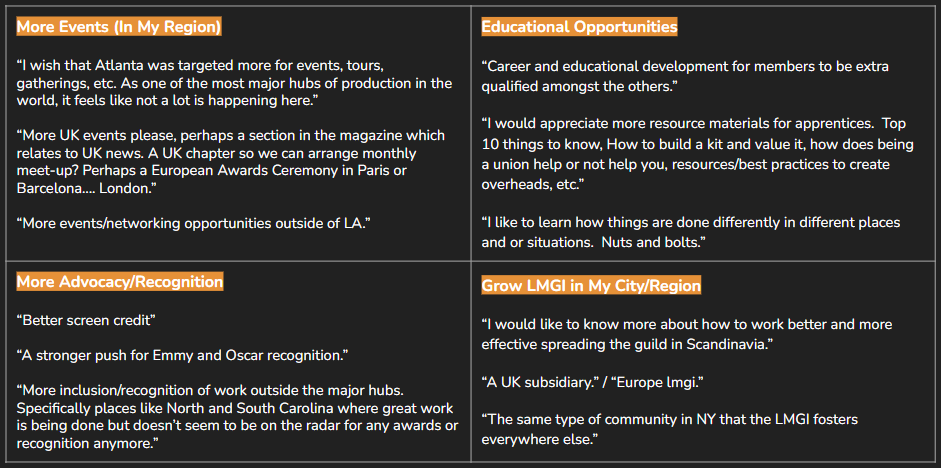 A Greater International Focus vs Grow LMGI In My Region
-These two are slightly different. 'A Greater International Focus' refers to the desire of turning LMGI into a truly global guild with more news, networking opportunities, and Industry development in markets outside of the US and Canada.
-On the other hand, 'Grow LMGI In My Region' were respondents who wanted a stronger sense of LMGI community in their locale, similar to "what LA has."
-Regional sub-committee groups are a solution. Regional groups may also affect the brand book – must be general enough so different countries can customize it to their market – but also specific enough to keep consistency in marketing across countries.
Q9: Using the support of the LMGI, what are you inspired to create in your region?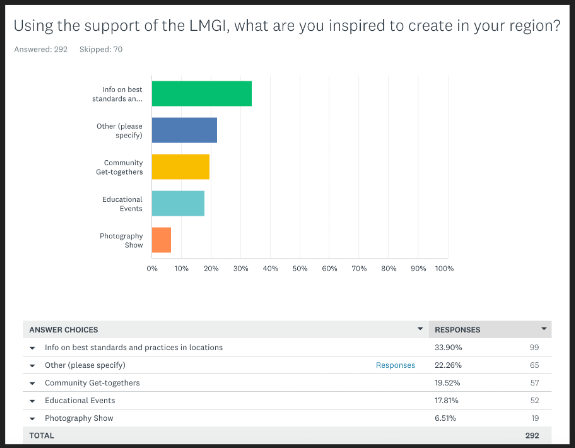 Country of Residence of Respondents

-USA members were the majority of respondents.
-If you're aiming for more international growth, filter survey responses to focus on responses from international respondents when making those decisions.