LMGI Awards Set for Saturday, August 27, 2022
---
Actress and comedian 
Melissa Peterman,
 currently on CBS #1 Comedy 
Young Sheldon
 as 'Brenda Sparks,' will host the 9
th
 Annual Location Managers Guild International (LMGI) Awards on Saturday, August 27, 2022 at the Los Angeles Center Studios, bringing her humor and talent to the star-studded event. The announcement was made by John Rakich, LMGI President and Committee Chair of this year's LMGI Awards.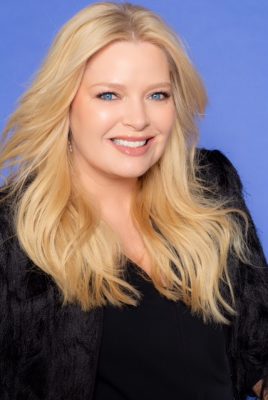 Melissa Peterman has performed in over 600 shows on the comedy and improv scene. Best known for her portrayal of 'Barbra Jean' on the television series "Reba," she is currently shooting "The Hammer" for Lifetime playing sisters with Reba. In addition, she just finished shooting a four week preview of a new FOX game show "Person, Place, or Thing" in which she is an EXP and the host.
Her additional television credits include Bonnie Wheeler in the People Choice Award-winning Freeform series and Working Class, starring alongside Ed Asner. She is a frequent guest co-host on Access Live and Daily POP.  Her first televised comedy special, Melissa Peterman: Am I the Only One?, aired on CMT. She recently created, produced, and co-starred in Valerie's Hot Dish, a pilot for the Food Network with Valerie Bertinelli and Nicole Sullivan.
Peterman made her feature film debut in the Coen Brothers' Oscar-winning movie Fargo. Other film credits include 40 Is the New Dead, Here Comes the Boom, and Dirty Politics. She has toured with Reba McEntire, Kelly Clarkson, George Strait, and Lee Ann Womack. A long-standing guest of the Los Angeles Philharmonic Association, Melissa has hosted the Sing-A-Long Sound of Music at the Hollywood Bowl since 2004. She also hosts the LA Phil's annual Holiday Sing-Along at Walt Disney Concert Hall.
The LMGI Awards honor the outstanding and creative visual contributions by location professionals in film, television, and commercials from around the globe. Outstanding service by film commissions is also recognized for their support "above and beyond" during the production process. For a list of 2022 LMGI Awards nominees, CLICK HERE.
As previously announced, Academy Award®-winning director Martin Scorsese, considered one of the most prominent and influential filmmakers working today, will receive the prestigious Eva Monley Award, presented to a filmmaker whose efforts have demonstrated "above and beyond" support of the work of location professionals.
---
The LMGI Awards are sponsored by Title: Studio Air Conditioning;  Diamond: Board Brothers, Inc.; Platinum:Trilith Studios, Wrigley Media Group; Gold: Classic Tents & Events, Toni Maier On Location, Inc., William F. White International Inc.; Silver: Fresco Film Services – Spain & Portugal, Giggster, Hollywood Locations, Inland Empire Film Services, Los Angeles Center Studios, Magic Rentals, Production Security Services, Reel Health & Reel Security, Reel Waste & Recycling, Riverside County Film Commission, Teamsters Local 399, The Westin Bonaventure Hotel and Suites; Bronze: California Film Commission,Directors Guild of Canada, British Columbia; El Dorado Lake Tahoe Film & Media Office; ON-SET Displays, Savannah Regional Film Commission, The Location Portal; Media Sponsors: The Hollywood Reporter, The Location Guide, SHOOT Magazine, Variety.
For information, contact Erika Howard at awards@LocationManagers.org. For LMGI sponsorship opportunities, please contact Carol Skeldon at LMGIawards@ingledodd.com. This year's awards are produced by Erick Weiss, Honeysweet Creative and IngleDodd Media and written by Shelly Goldstein.
---