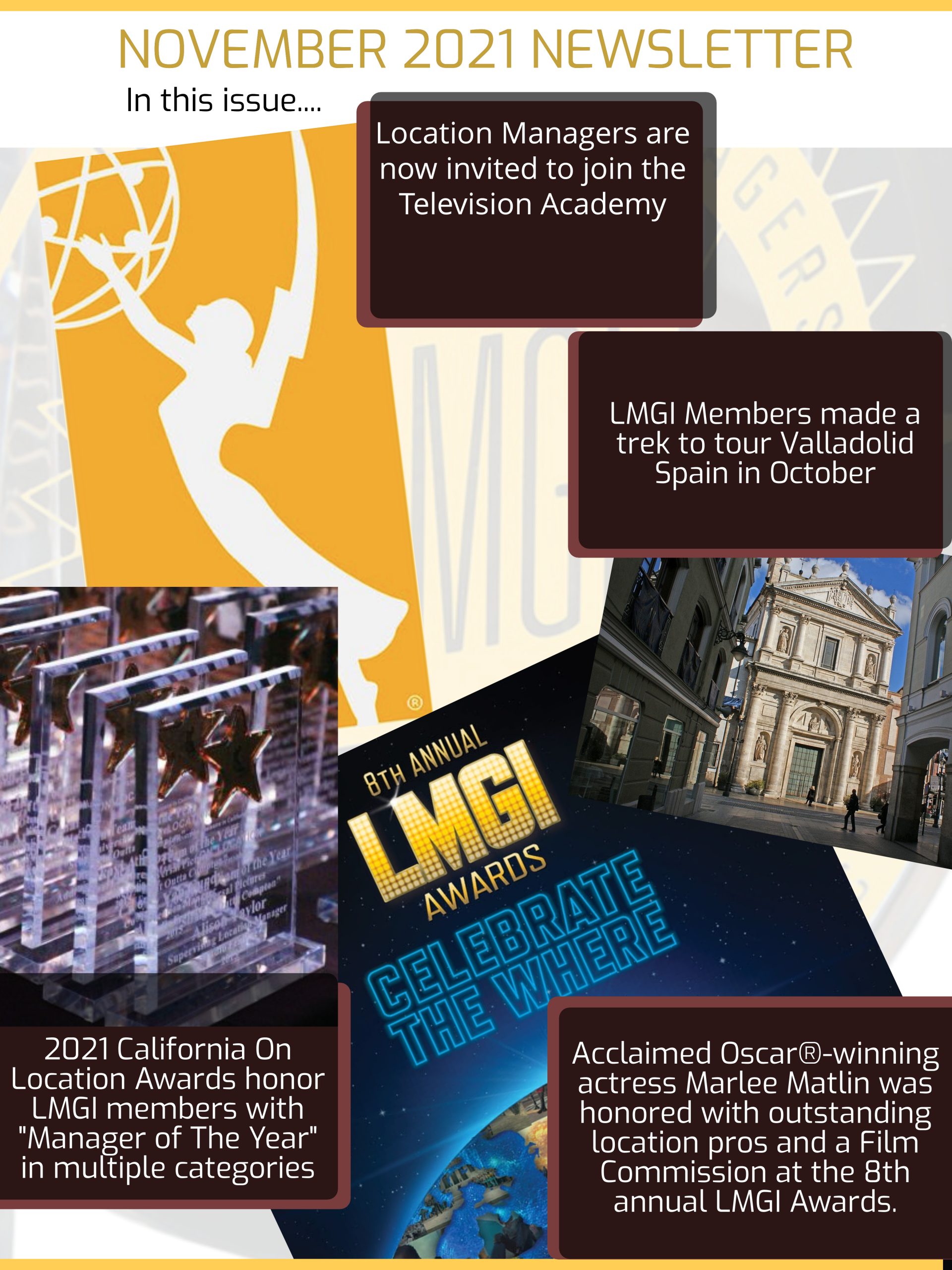 These last two months have been both an interesting and active time for the LMGI. From producing another successful virtual awards show showcasing, to the world, the incredible work we do, to finally being eligible for membership into the Television Academy; all while spending another year coping with a changed world and transitioning into a large-scale return to production. There is a sense of some normalcy approaching, at least. We're not there yet, but there have been a few moments that gave us hope. This year the LMGI had a few successful international Fam Tour trips and opportunities, and we're happy to reconnect with our friends across the pond in London to have presence at FOCUS.
With holidays soon upon us, we should all try to make sure to take a little time for ourselves to rest, reconnect with family and friends and to relax.
Have a safe and happy holiday.
John Rakich
President, LMGI

Membership into the Television Academy
"Since its inception, the LMGI has been working to bring recognition to the creative contributions and the role of Location Professionals (members and non-members alike) in filmmaking for the large and small screens." ~ JJ Levine, LMGI 1st Vice President
On Tuesday, November 9, 2021, Location Managers, Key Assistant Location Managers and Assistant Location Managers who meet the criteria for membership were invited to join the Television Academy for either Active or Associate membership in the Television Academy's newly formed Location Managers Subgroup within the Producers Peer Group. "Location Managers play an integral role in the production, the look, logistics and on-set oversight of producing a television show, and they are a welcome addition to the Producers Peer Group," said Peer Group Governor Tony Carey. Peer Group Governor Keith Raskin added, "These creative and collaborative professionals are indispensable to our business and will bring valuable insight to the Academy."
LMGI members who laid the early groundwork for this achievement include Chair Emeritus Orin Kennedy, LMGI Founder Beth Tate, Kokayi Ampah, Diane Friedman and Stevie Nelson, and 1st Vice President J.J. Levine and President John Rakich led the charge for this successful mission on behalf of location professionals around the world.
"This is a milestone moment, not just for the LMGI, but for all Location Professionals to be recognized as creative contributors within the Television Academy, especially now with the wealth of incredible content being made," said Rakich. "Today we celebrate the synergistic and collaborative relationships that Location Professionals have with Producers to create exceptional storytelling on an international scale."
Applications and requirements can be found here:
Movie Studio Private Screeners
The LMGI often receives movie and television pre-screeners from United Artist Releasing (UAR) and/or Movie and TV Studios. Prior to the LMGI's location professionals receiving invitations to become members in the  Television Academy, our connection to the screeners were purely as "influencers".  These 'For Your Consideration' (FYC) screeners are not LMGI events. Instead, they are invitations to our membership from Studios as a way to expose us to projects in hopes of influencing Emmy (and Oscar) buzz.
Now that the LMGI has been officially invited to join the Television Academy, it is anticipated that the screeners will increase in number because not only are LMGI members "influencers", but now LMGI members who join the Academy can VOTE for Emmy consideration.
Currently, the screeners reflect New York and LA as common locations for the screeners because Academy voting members are heavily active and present in those markets (inactive placeholders exist for London and Atlanta). The screeners will likely skew into other markets as membership increases in those markets. In addition to physical screeners, digital screeners also exist allowing virtual viewing from anywhere a Wifi connection exists.
There is added value for LMGI members to join the Television Academy. Not only does it strengthen your role in the creative process, but it makes us all stronger with 'FYC' opportunities.
Consider joining the Academy.
#LMGIAwards
"It's easy to imagine a scene taking place at any spot on the globe, or somewhere in outer space, or in a world that exists in a post-apocalyptic universe. It's another thing to go out and find it. Every day we, the location professionals, make the impossible possible." ~ John Rakich, LMGI President
On Oct 23, 2021, the 8th Annual Location Managers Guild International Awards Streamed live and location managers and film industry professionals from around the globe gathered to "Celebrate The Where" and honor outstanding creative contributions of location professionals in film, television and commercials. The celebration was hosted by actor and director Isaiah Mustafa and veteran Location Manager and LMGI President John Rakich served as the LMGI Awards Committee Chair. The program was produced by Erick Weiss, Honeysweet Creative and IngleDodd Media and written by Shelly Goldstein.
The Motion Picture winners were Judas and the Black Messiah (Warner Bros – Bill Garvey, Tim Kanieski) and Tenet (Warner Bros – Janice Polley/LMGI, Julie Hannum/LMGI, Klaus Darrelman/LMGI). The Television Series winners were The Queen's Gambit (Netflix – David Pieper/LMGI, Stefan Wöhleke, Matt Graver/LMGI, Fred Kamping), The Crown – Season 4 (Netflix – Mark Walledge, Tate Aráez/LMGI) and Lupin (Netflix – Thomas De Sambi, Valerie Segond). Apple Watch Series 6: It Already Does That (Matt DeLoach/LMGI, Jof Hanwright/LMGI, Brent Gaffen, Galidan Nauber/LMGI) won for Outstanding Commercial and the Savannah Regional Film Commission – The Underground Railroad (Beth Nelson/ LMGI Partner) won for Outstanding Film Commission.
Acclaimed Oscar®-winning actress Marlee Matlin received the esteemed Humanitarian Award, David Yates, acclaimed director of the last four Harry Potter films and the Fantastic Beasts films, was bestowed with this year's distinguished Eva Monley Award, pioneer Location Manager Aine Furey received the 2021 LMGI Lifetime Achievement Award, and location manager Patricia Fay received the esteemed Trailblazer Award,
This year's award presenters were Emmy®-winning actress Camryn Manheim, veteran location manager Sue Quinn, Producer Jeff King, Emmy-winning Production Designer Jim Bissell, and actors Nadine Velazquez, Lesley Fera, Art Hindle, John Brotherton, Harry Lennix, John Seda, Chris Geere and Joel De La Fuente. The preshow was hosted by actor and writer Jim Cashman while actress Aimee La Joie made a guest appearance.
---
 #ICYMI
The 8th Annual LMGI Awards, brought the LMGI the biggest challenge to date after receiving almost three hundred qualified submissions from around the world. Refining the submissions to a field of finalists was a vigorous and challenging process. Enjoy listening to some of the best and brightest that reached nominee status.
---
LMGI Awards – 2021 – Nominee Panel – Outstanding Locations in a Commercial
Moderator: LMGI Awards Committee Member / 2021 LMGI Board Member Angus Ledgerwood. Click to watch
---
LMGI Awards – 2021 – Nominee Panel – Outstanding Locations in a Period Television Series
Moderator: LMGI Awards Committee Member Jill Naumann. Click to watch
---
LMGI Awards – 2021 – Nominee Panel – Outstanding Film Commission
Moderator: LMGI President John Rakich. Click to watch
---
LMGI Awards – 2021 – Nominee Panel – Outstanding Locations in a TV Serial, Anthology, or Ltd Series
Moderator: LMGI Awards Committee Member Meredith Hodder. Click to watch
---
LMGI Awards – 2021 – Nominee Panel – Outstanding Locations in a Period Feature
Moderator: Locations on Two Podcast host Dodd Vickers. Click to watch
---
LMGI Awards – 2021 – Nominee Panel – Outstanding Locations in a Contemporary Feature Film
Moderators: LMGI Awards Committee Member Kyle Carey and DEI Committee Co-Chair Miguel Tapia. Click to watch

LMGI Merch: You get a Box!
You get a Box!
Every member gets a swag box!
As an LMGI member, you are entitled to several member benefits accessed by our updated Member Dashboard! Log in and enter your desired t-shirt size and we'll send a T-shirt, embroidered hat, luggage tag and sticky note pad! Please note only 1 box per member.
Leo Fialho @_leo_fialho on Instagram
LMGI Members win big at the 26th Annual California on Location Awards.
On Sunday, November 14, 2021, The California On Location Awards honored some of the best Location Professionals in entertainment during their virtual 26th annual Awards Show. LMGI is proud to salute you on your latest achievements.
Below is a list of the LMGI members involved with the following categories:
LOCATION MANAGER OF THE YEAR – COMMERCIALS
Florian Schura – Nike – Play New
---
LOCATION MANAGER OF THE YEAR – EPISODIC TV – 1 HOUR 2020/2021
Jeffrey T. Spellman – Rebel
---
LOCATION MANAGER OF THE YEAR – INDEPENDENT FEATURE
Justin Hill – Dog
---
LOCATION MANAGER OF THE YEAR – STUDIO FEATURE
Mike Fantasia – Top Gun: Maverick
---
LOCATION TEAM OF THE YEAR – EPISODIC TV – 1/2 HOUR
Insecure: Diane Friedman, SLM; Alison A. Taylor, Location Consultant; Ana Ibanez, ALM.
---
LOCATION TEAM OF THE YEAR – EPISODIC TV – 1 HOUR 2019/2020
Perry Mason: Jonathan Jansen, SLM; Alexander Georges, LM; Alex Moreno, KALM; Brian Kinney, KALM; Chelsea Lawrence, KALM; Paquita Hughes, KALM.
---
LOCATION TEAM OF THE YEAR – EPISODIC TV – 1 HOUR 2020/2021
Bosch: Paul Schreiber, SLM; Janet Harold; KALM; Alexander Kivlen, KALM; Velvet Graves, KALM.
---
LOCATION TEAM OF THE YEAR – INDEPENDENT FEATURE
Dog: Justin Hill, LM; Brian K. Lee, KALM; Phillip Brooks, KALM; Ehrin Davis, KALM; Elizabeth Reynolds, KALM.
---
LOCATION TEAM OF THE YEAR – STUDIO FEATURE
The Matrix Resurrections: Doug Dresser, SLM; Nancy Haecker, LM; Zachary Quemore, KALM; Heather MacLean, KALM; Saisie M. Jang, KALM; Nancy Wong, KALM; Teddy Alvarez, KALM; Colleen Coviello, ALM; Kelly Tom, ALM; Daniel Branson, ALM; Frances Reyes-Bolinger, ALM; Daniel Lee, Location Coordinator.
LMGI Members tour Valladolid Spain
In partnership with the Spain Film Commission October 21 – 22, several LMGI members were invited to come to Valladolid Spain to participate in the first edition of the Shooting Locations Marketplace at the Feria de Valladolid Exhibition.
Film and television Location Managers and Scouts from the US, UK, Germany, Canada, Romania, Italy and Spain took part in this pioneering project and met one-on-one with more than thirty Film Offices and Film Commissions from Spain, Portugal, Belgium, the UK and Greece. It was an impressive event that included several different Fam Trips across Spain for the attendees. Stay tuned for the next issue of Compass Magazine for more details.
LMGI's Croatian Presence
Numerous foreign and domestic film industry experts participated in the third edition of the film conference, PROFilm Days, organized by the Zagreb Film Office in cooperation with the Croatian Audiovisual Center. Due to the COVID-19 pandemic, all panels were held online so mark your calendars to tune in on December 11th to watch the conference.
LMGI was, once again, invited to participate in the Zagreb Film Offices "PROFilm Days" event and hosted a virtual panel "Location Scouting in the 21st Century" a discussion of the use of new technology. Topics such as Drone Photography and mapping, Matterport and 3D Virtual Scouting and how to adjust to work with Virtual Production were discussed. Moderated by LMGI President, John Rakich, panelists included LMGI members Jeff Hunter and Zach Quemore who were joined by Croatian Film & TV Location Manager, Tomislav Peleski.
The Makers and Shakers awards are brought to you by The Location Guide, makers magazine and FOCUS to Celebrate Excellence in Global Production. And to spotlight the exceptional work of production teams, individuals and production support services who have made a significant impact on the industry through their creativity, innovation and ground-breaking initiatives.
The 2021 winners will be revealed at the live Awards Ceremony taking place December 8th at the newly renovated BAFTA Piccadilly 195 Piccadilly, St. James's, London W1J 9LN. The LMGI is happy to join the expert panel of reputable judges that includes last year's winners, as well as key representatives from Warner Bros, Studio Leavesden (UK), and PACT.
Last December 2020, during the first-ever makers & shakers Awards we were happy to congratulate LMGI member, Daniel Lee who won the Makers and Shakers Award for Outstanding Creative Use of a Location for The Last Black Man in San Francisco.
FOCUS, LONDON

If you are attending FOCUS in London December 7th and 8th, Please join us at our LMGI booth as well as a few of the mixers:
Will your location grace our next LMGI Holiday card?
Location managers and scouts have been known to capture magical images amidst incredible excursions and during times of wanderlust.
Wouldn't you love to see one of your images on the cover of our next Holiday eCard?
We are accepting image submissions for our 2021 LMGI holiday card.
Send your best image today to admin@LocationManagers.org


Red Nation
The Red Nation International Film Festival now through November 30th is the connection to cultural bridging of independent Native Indigenous artists and audiences, amplifying emerging voices and perspectives for the Native Indigenous storyteller. Congrats on your recent execution of the 26th RNCI Red Nation Awards held Sunday, November 14th, at the Fine Arts Theatre in Hollywood, CA. Kudos to LMGI member, Kristen Dewey for your diligence and passion. One year ago, the LMGI and the Red Nation Celebration Institute partnered to promote inclusivity & equity with a Native American film career development program.
Fulton Films Virtual Fair
Our LMGI business partner, representing the largest county in the State of GA, Fulton Films, held their first Annual 2021 RED CARPET Virtual Fair on October 21- 22 in Atlanta, GA. The FREE two-day hybrid event included trainings, workshops, and panels with television and film executives, experts, and influencers and concluded with an Inaugural Fulton Films Red Carpet VIP Reception held at the newly renovated Fulton County Government Center Entry Plaza 141 Pryor St SW Atlanta, GA 30303
Moderated by Shaunya Chavis-Rucker (Director-Fulton Films) and DiDi Rentz-Hughes (Fulton Films), LMGI member Travell Blake shared his expertise as a location manager and scout on the panel "Lights, Camera, Action: Behind the Scenes Film/TV Careers", and Director, Cardellia Hunter, on behalf of our business partner, City of Atlanta Mayor's Office of Film & Entertainment, shared details surrounding their filming process on a panel entitled "Filming in Fulton & the City of Atlanta". LMGI Board Secretary, Jen Farris, spoke at the VIP reception on her experiences of working inside of Fulton County's 13-city-wide zone over the past decade.
Biz Partner Spotlight: Lemke Software (Germany)
GraphicConverter is shareware that runs on both the classic Mac OS and macOS, was created by Thorsten Lemke in 1992, and is maintained by Germany-based LemkeSoft. Today GraphicConverter X / Classic has more than 1.5 million loyal users worldwide from amateur photographers to professional designers and is one of the most used and loved programs on the shareware market. GraphicConverter enables the fast sifting of large image inventories and can import about 200 file types and export 80 Images of which can also be retouched, renamed, metadata edited, and transformed using tools, effects and filters. Furthermore, a wide range of options for batch conversion and processing (e.g. image size, watermark, slideshow mode, image preview browser) makes GraphicConverter unique in its field.  Best of all, it is multilingual – with available languages: English, German, French, Danish, Swedish, Italian, Spanish, Japanese, Chinese (simplified), Chinese (traditional), Czech, Dutch, Catalan and Russian) making it a perfect tool for a jet setting location manager on the go!
When Lemke created the software in 1992, it was the only program that could successfully convert his entire picture collection into one of the then standard Mac formats. "Part of the reason I initially got a hold of GraphicConverter back in the 1990's was, as the name suggests, it has the ability to convert graphic files, from one to another, or simply open files that other programs may not recognize," Lemke says. Since it was made available to the public, it has enjoyed an impressive track record of successes. The business' success continues to grow but Lemke Software maintains the personal touch and reputation for direct customer contact. It allows him to implement customer wishes quickly.
As an LMGI Business Partner, Lemke finds location professionals' work very interesting and wants to engage with them managers and scouts more frequently. The international aspects of location managers' jobs share a commonality with Lemke Software because of its global foundation and mobility as do the ability to adapt to change; something that is initiable on production. Having a software that can adapt to change is key.
When he is not working out of his Germany-based office developing mac-friendly products with staying power and adaptability in an ever-changing world, he is finding balance as a father of three lovely children allows Lemke to do fun things with them In his free time. Lemke reflects, "During the summer vacations we went on a round trip through Finland with fishing, bear watching and other interesting things." Time well spent builds a lifetime of precious memories. Quality products build a lifetime of loyal customers.
Click here for Lemke Software Webpage
Click here for a video tutorial
#LMGISocialLight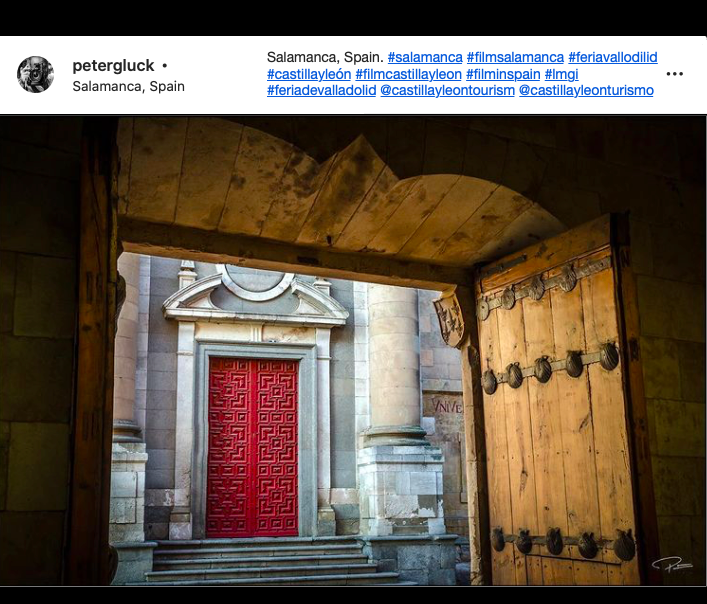 This quarter's LMGI Social Light is shining on Key Assistant Location Manager, Peter Gluck (The Suicide Squad, The Kominsky Method, Malignant) one of our LMGI members recently selected to tour Spain as a part of the Shooting Locations Marketplace at the Feria de Valladolid Exhibition. If you have ever wanted to see Spain, he gives an amazing sneak peek. Follow him on IG for a virtual tour of a lifetime!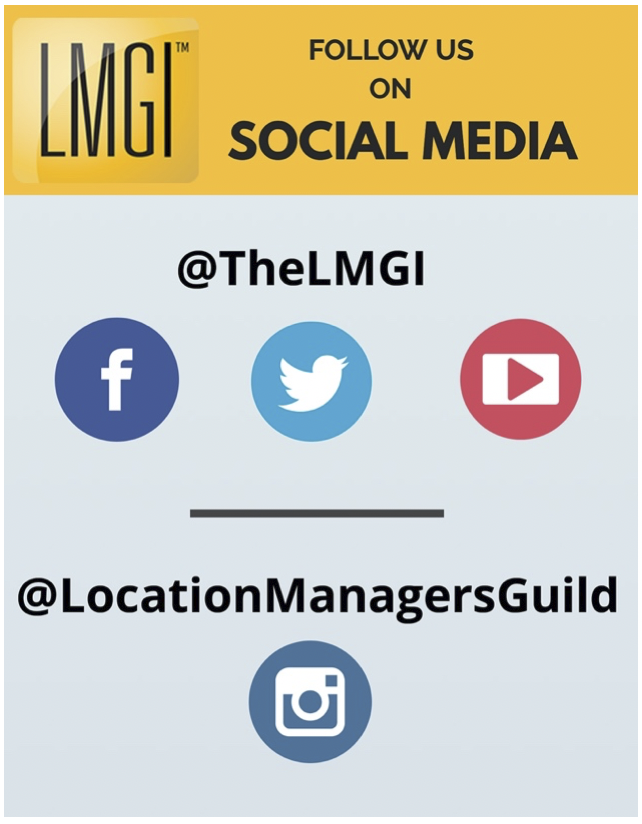 Follow @TheLMGI
on Facebook, Twitter and YouTube
Follow @LocationManagersGuild
on Instagram
---
Hashtag the LMGI on your social media posts:
#LMGI – Organization business
#LMGIAwards – LMGI Awards activities
#LMGISocialLight – Member Accolades
#LMGILife – Member Lifestyle Activities

EDITOR:
JEN FARRIS
CO-EDITORS:
(IN ALPHABETICAL ORDER)
KEN BROOKER
JJ LEVINE
EDWARD MAZUREK
Tell us how we are doing! Join Us! Contact our LMGI newsletter team:
Contact Us
8033 Sunset Boulevard #1017, Hollywood, CA 90046
310-967-2007 contact@locationmanagers.org