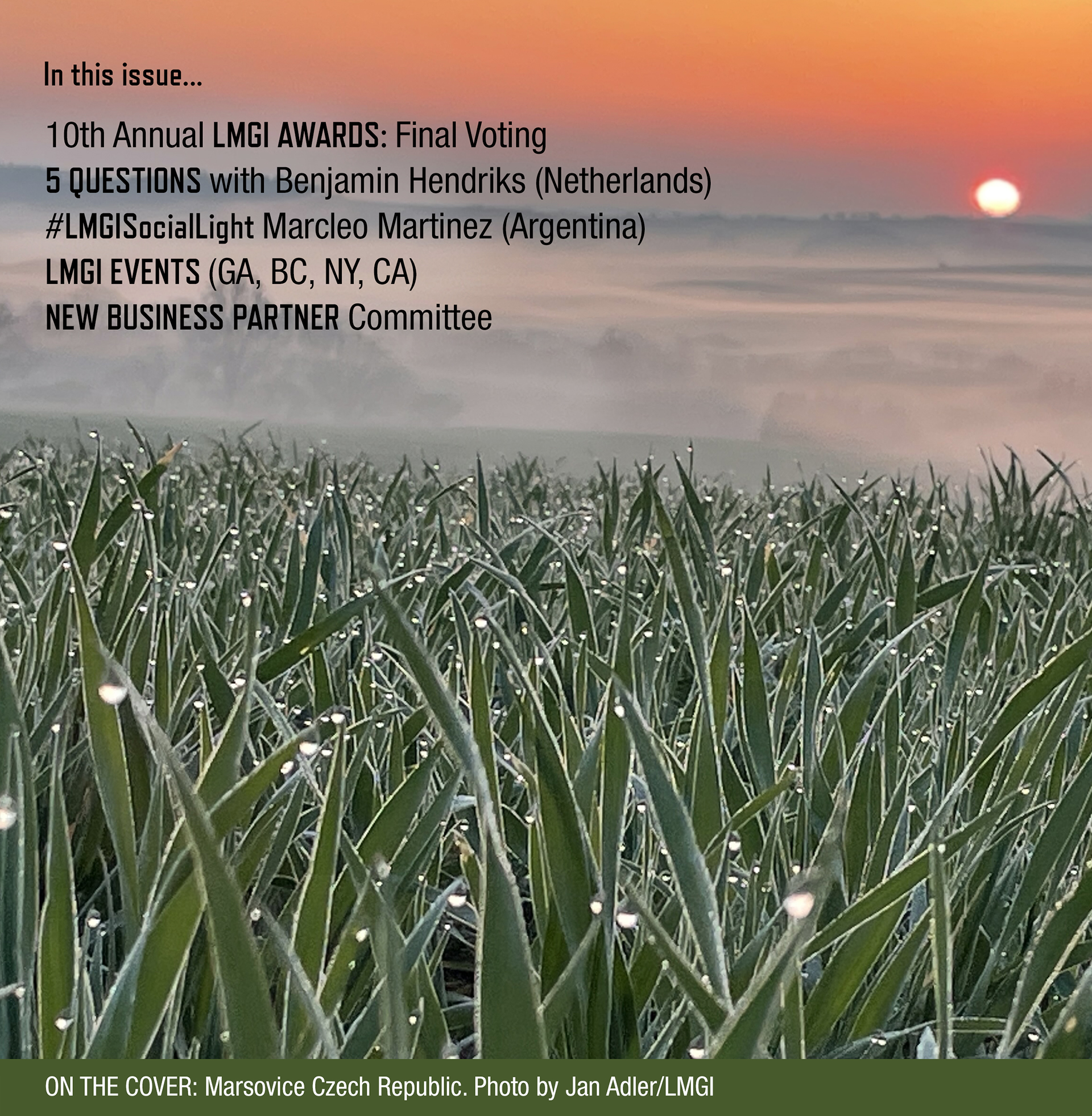 Follow Jan Adler (LMGI) Location Manager, Czech Republic: Instagram @instadler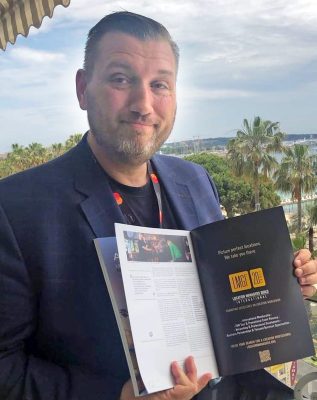 Hello everyone,
Welcome to our latest Quarterly LMGI Newsletter!
We're already underway with our 10th Annual LMGI Awards. The first round of voting is done and we have published the names of our final nominees and ask you all to vote on the winner to be announced at our show on Saturday, August 26th live from Santa Monica, CA. I invite you all to attend either in person or via live streaming on the LMGI YouTube Channel. That's not all! We're also celebrating the 20th Anniversary of the LMGI and there will be much coming your way soon about that and all the other new initiatives that the Board is working on with our partners around the world.
Be on the lookout in your email inboxes for more news and upcoming events from the LMGI. Remember we're only as strong as our membership.
All the best,
John Rakich
LMGI Board President


The Nominated titles have been announced!

View the Nominee list –HERE
View the Trailers on our YouTube Channel – HERE
*Disclaimer: Names of the nominated professionals will be announced after the 10th Annual LMGI Awards
Final voting period is complete (after July 25th, 2023).
Friday, July 14, 2023 – Final voting opens to LMGI members in good standing
Monday, July 24, 2023 (11:59 pm PDT) – Final voting closes.
Saturday, August 26, 2023
 Winners announced at LMGI Awards held at
The Eli and Edythe Broad Stage Performing Arts Center
1310 11th St, Santa Monica, CA 90401.
Click here to be a sponsor and/or advertiser
Contact Erika Howard for further information about the LMGI Awards, awards@locationmanagers.org
Follow social media hashtags #LMGI and the #LMGIawards.
---
Thursday, August 10, 2023
LMGI Business Partner Committee Meeting via ZOOM
9 am PDT
Click Here for your call link.


Happy Anniversary LMGI
Get into the spirit for our LMGI 20th anniversary by adding our 20th anniversary signature tag to all of your outgoing emails. Click here to download the anniversary icon, and while there, click here to enjoy exclusive member benefits.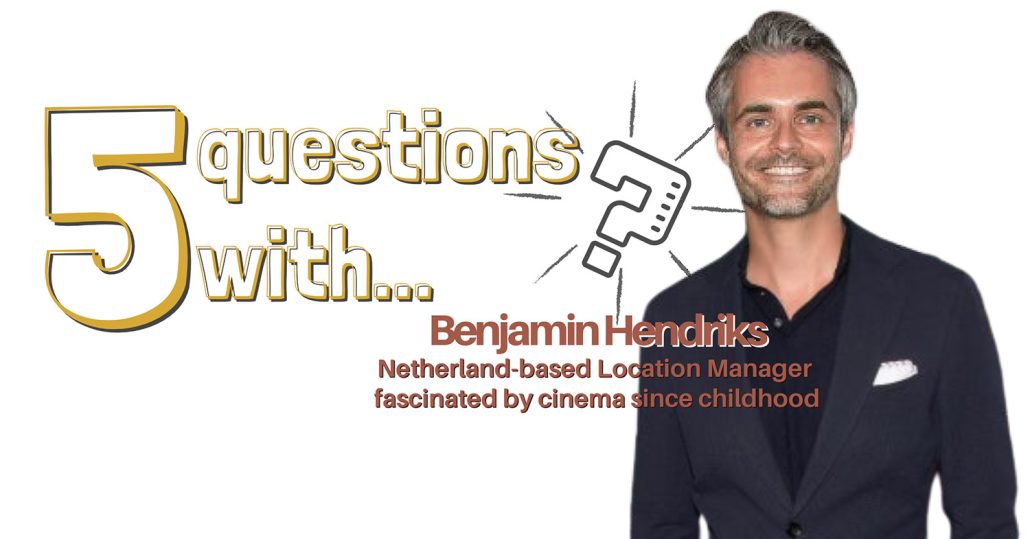 By Jen Farris
I recently caught up with Supervising Manager, Benjamin Hendriks, after his return from the Cannes Film Festival's premiere of Occupied City, a Steve McQueen-directed documentary in which he location managed.
Benjamin. How are you doing? First, welcome to LMGI! It's nice to have you in our membership representing the Netherlands. What lead you to The Location Managers Guild International?
Last year I got happily surprised with a nomination for my work on ATLANTA Season 3. I had heard of the LMGI, but never considered becoming a member because I thought it wouldn't add much to my work in the Netherlands, but I went to LA to attend the 9th Annual LMGI Awards ceremony and spoke to many other location professionals. I decided, then, to join the LMGI and it turned out to be a very nice way to stay in touch with colleagues and learn more about the job. The Netherlands is very small, so it is very nice to exchange war stories from people from all over the world and seeing the hard work of location professionals being recognized. As far as I know I'm the only Dutch LMGI member. This interests me to bring the LMGI under the attention of colleagues and perhaps help elevate our profession by expanding the network.
Expanding our outreach into The Netherlands is an amazing opportunity. Location professionals around the world share so many common threads. I must also say that it was a pleasure meeting you in Los Angeles, California during the nomination process of ATLANTA Season 3. Working as a location scout on that series was amazing, and it was an honor to texturally match the locations you initiated in Amsterdam with locations in Atlanta, GA after the characters transitioned into the USA. How did you come to be a location manager and supervising location manager?
For the past 5 or 6 years I've mainly worked as a supervising location manager overseeing projects but have been a long-time location manager for many years now. In addition to ATLANTA and Occupied City I've had the opportunity to work on the Dunkirk feature directed by Academy Award nominated Christopher Nolan, and the TV Series, Modern Love Amsterdam. I've worked on both smaller Dutch projects and bigger American ones. I honestly like both. It remains a fun challenge to accommodate a crew of 300 with their trucks in the small streets of Amsterdam, but with small crews (Dutch crews tend to be around 40 – 50 people) it can be very efficient to get things done quickly and professionally without losing precious time.
My start in the business began back in the day, after my film studies in Antwerp, Belgium, I had to bridge a 4-month gap and decided to apply for a small job as a production coordinator for a Dutch police series. I believe it was around 2010. I got the job, was asked to be an assistant location manager afterwards, and after two projects as an assistant, I started as a location manager. I wasn't afraid to make the jump that quickly, and I have been working as a location manager ever since. As a location pro I would say: "Let's all stay calm, put our heads together and solve this problem!".
Leaps of faith are also the best way to leap! Clearly, early-on, someone saw something special in your work to ask you to transition in such an amazing capacity. By the way, I love that Europe has so many countries in a cluster. How is work life in Amsterdam, and do you ever get to work in neighboring countries?
I'm based quite strategically. I live in a quiet neighborhood with my family in a city called Den Bosch but can be found in Amsterdam most of the time when filming. The Netherlands is a very small country and from my place it usually takes no more than 1-hour to the other big cities (or even parts of Belgium, Germany or Luxembourg).
Our work can be very demanding at times, so every couple of years I decide to take a break from work for a few months to gain new insights and gain some fresh energy. Also…to spend time with friends and family, of course, which I don't see too often while working. I think it's important to keep a good balance and not being lost in the job. But, at the same time, I like my work a lot, and when someone calls to discuss a new project, I always pick up and hear what they have to say. I often find it difficult to say no, as I'm always looking for a new challenge.
Den Bosch looks like a quaint and lovely place. Does it spark creativity, and would you say that you have always been a creative person surrounded by creative work?
I've not always been a creative person per se, but I've always been fascinated by cinema and had a passion for it.  I remember watching Jurassic Park on the big screen (3 times) as a kid and being impressed with the power of cinema. When all my classmates in school were watching cartoons or teen movies, I was watching independent European films. I have always found all forms of cinema interesting, and this unconsciously shaped my choice to help making films eventually. And perhaps to let people experience the same as I have experienced as a kid watching dinosaurs come to life on the big screen.
Children's passions are often a common thread in [our] adult lives.  I have found that many of the LMGI location managers I have met over the years have stated they were curious children and love exploration and new adventures. How can like-minded pros stay in touch with you from afar? Are you on social media?
I don't have any social media actually, not even a website. I have my IMDb Pro page with contact info and my LMGI membership. If anyone would like to reach out, just text or mail me or give me a call! Or better; come to Amsterdam and I'll be happy to show you around town with a nice cup of coffee (or a cold beer)!
Click Here to follow Benjamin on IMDb

LMGI member, Marcelo Martinez, is a location manager hailing from Buenos Aires, Argentina. He joined LMGI shortly after speaking on the "Locations Behind the Oscars" panel for his location management work on the film Argentina 1985 which was, at the time, nominated for Best International Feature Film at the 2023 Academy Awards.
"This group photo was taken with me and my location team with director Santiago Mitre right after the emotional last take of the last day of shooting in Buenos Aires.' says Martinez. Yes, estábamos muy cansados (we were really tired)."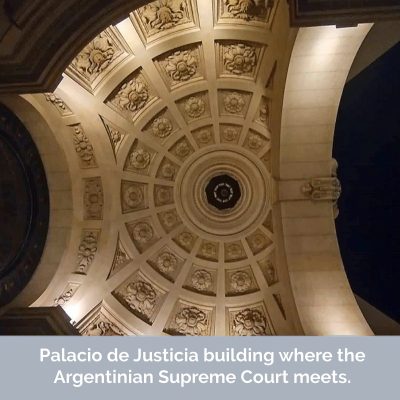 Argentina 1985 was a special film for everyone who worked there. During the whole process I got to spend a lot of time in downtown Buenos Aires, especially in El Palacio de Justicia de la Nación (The Palace of Justice of the Nation), the building where the Argentinian Supreme Court works and where the trial shown in the film took place. It's a beautiful French Academicist building with lots of details.
This photo was taken during one of our tech scouts there.
It is obvious that Marcelo Martinez is passionate about storytelling, loves what he does and can push his imagination to find new ways to tell stories in spaces already traveled.
"I love films, I always say that I started working in the movie Industry as a clerk in a cinema in 1999. I went to film school and thought that the best way to see a director work was by working in the AD team. When I started to get jobs as an apprentice I got bored really quickly, but then a Location Manager invited me to join his team as an apprentice and never looked back. Working in the locations department how I got to see a Director at work. Working in the locations department gave me not only the professional experience but also some of the life experience I lacked because of being locked in my room watching films!!  I always try to get jobs that allow me to explore places that, even if I scouted them before, I try to Infuse them with the feelings I received from the screenplay or the vision I got from the director or production designer (or both!)."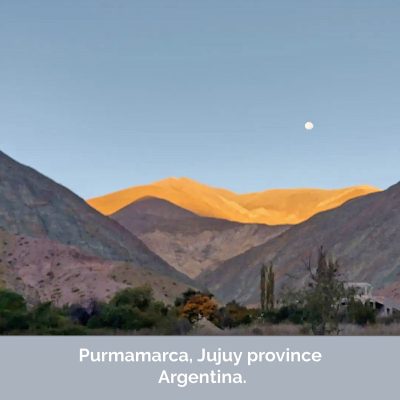 He has had the pleasure of seeing vast terrains and surfaces in South America from high, low and everything in between. "I live in Buenos Aires, and I usually work in the city. Last year, however, I got to scout the north of Argentina and visited Purmamarca, a village in the Jujuy province of northwest Argentina. It was one of the most inspiring places I've scouted and is located 2,324 meters above sea level. Yes, you get headaches at first but it's a beautiful place to visit."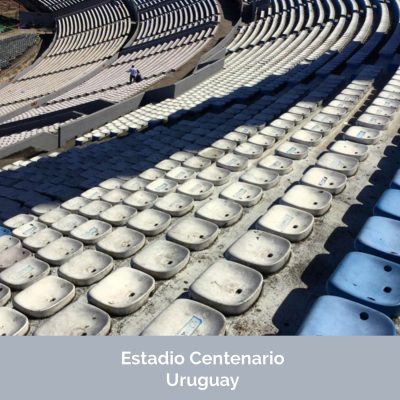 Scouting in Uruguay led Martinez to something special to his heart – football (soccer). "Football is a very important thing for us. This photo was taken in the Estadio Centenario, a stadium in the Parque Batlle of Montevideo, while I was location scouting in Uruguay. It was in this stadium that the first FIFA world cup final was played in 1930 and is a temple for South American Football. This photo speaks a lot about who we are here in South America."
In 2020 Marcelo Martinez became a founding member of APPLAA (Asocación De Productores y productoras de locaciones audiovisuales De Argentina), an association of location managers that unite to raise awareness of our work in the industry. Follow him on Instagram @el_pelucon_de_la_gente


GEORGIA

---
LMGI Board of Directors Retreat and Members Celebration
From Friday, June 9 to Sunday June 11, 2023, the LMGI Board of Directors spent the weekend meeting in-person at a board retreat in Atlanta, GA to discuss strategic planning for the year ahead for both the Guild and how to best serve and grow our membership.
On Saturday, June 10, 2023, the LMGI hosted a Member Event at the Hilton Atlanta Downtown Hotel. Over eighty local members gathered during this LMGI's 20th Anniversary year to enjoy the Atlanta hospitality with the members of the board in attendance allowing the membership a great opportunity to meet everyone.
Erika Howard, Mac Gordon & Ryan Schaetzle did an amazing job at pulling it all together for everyone. Many thanks to Director of Sales and Marketing, Michelle D. Bradley at The Candler Hotel Atlanta and Cindy Mann from the Hilton Atlanta for their generous hospitality.
—Recap by Lisa Scope, Location Manager (LMGI) Board of Directors, Secretary
We would like to thank our generous sponsors!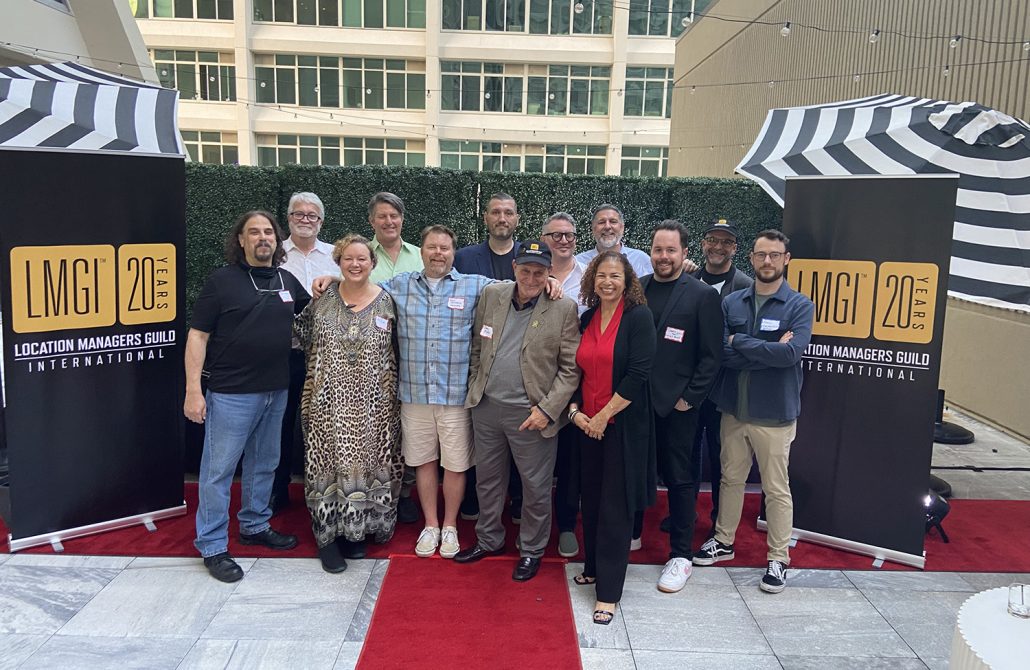 Here are a few shots of our members and partners enjoying the party!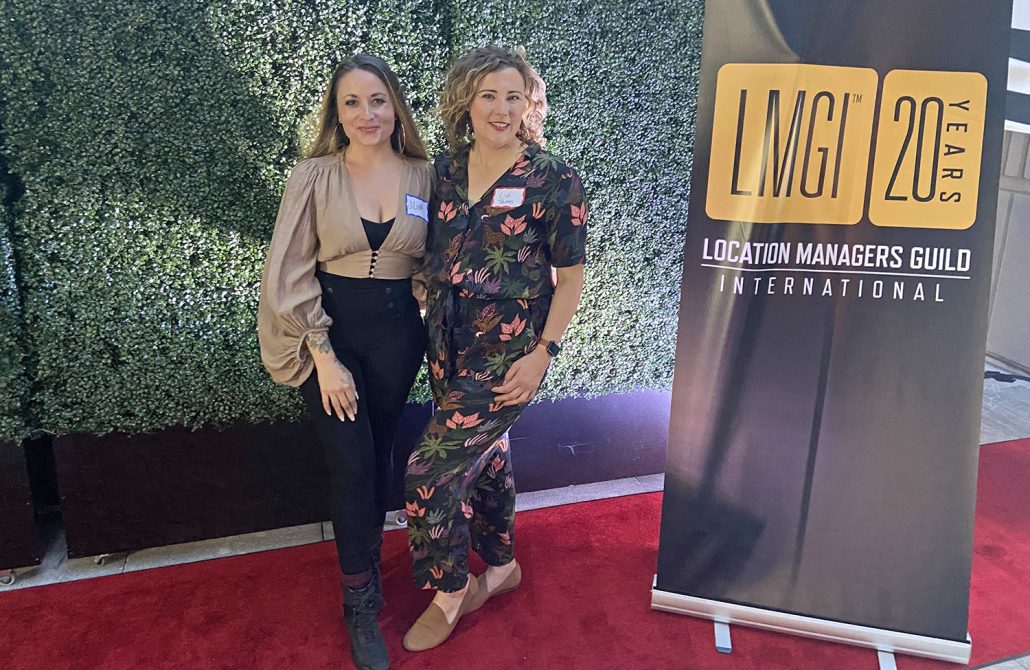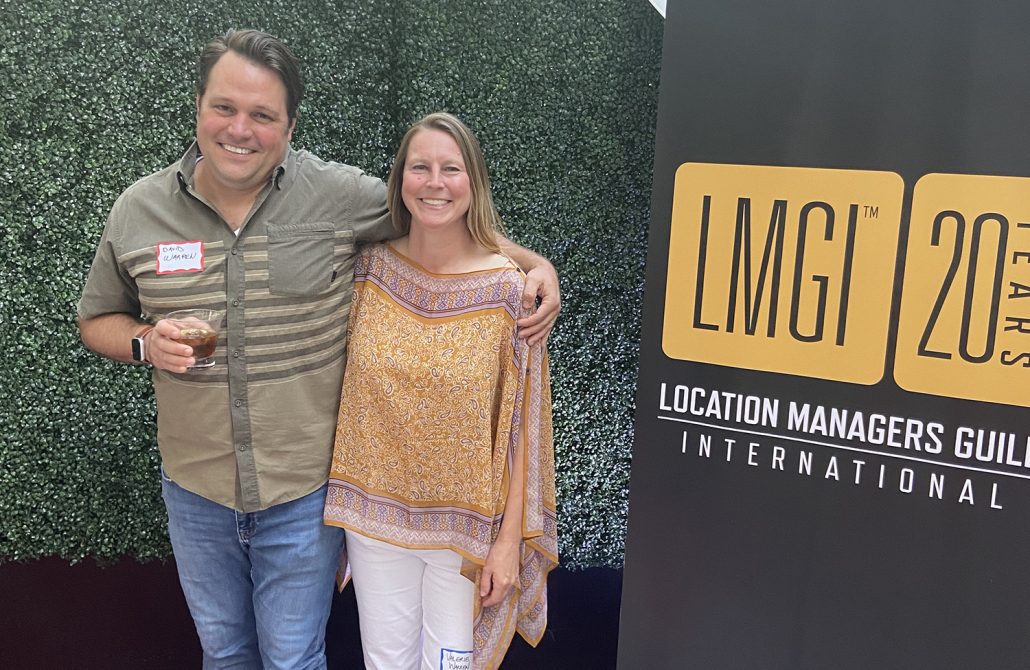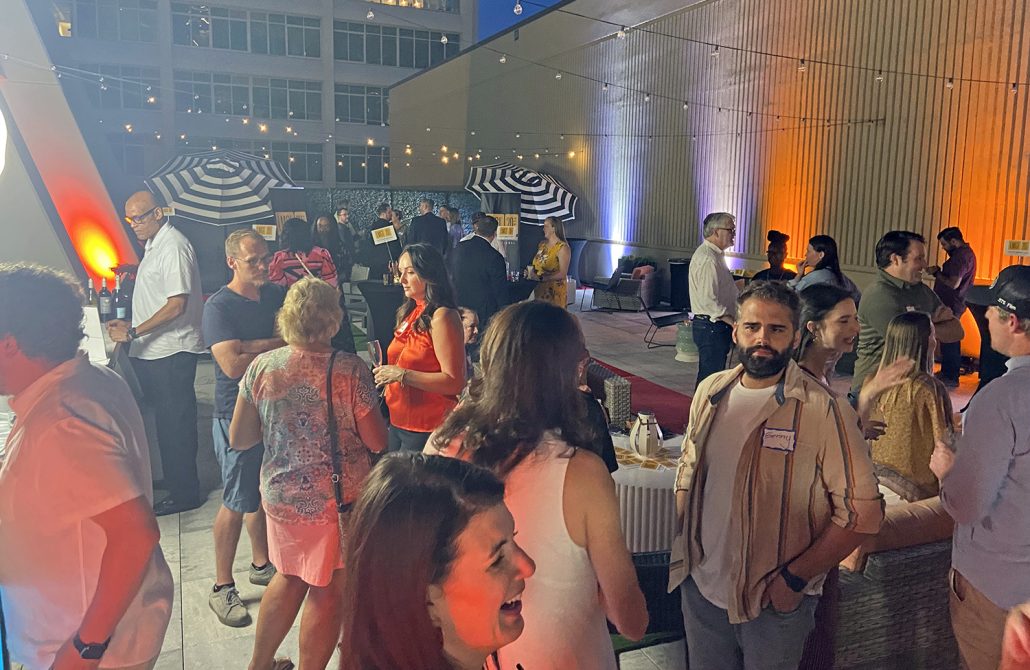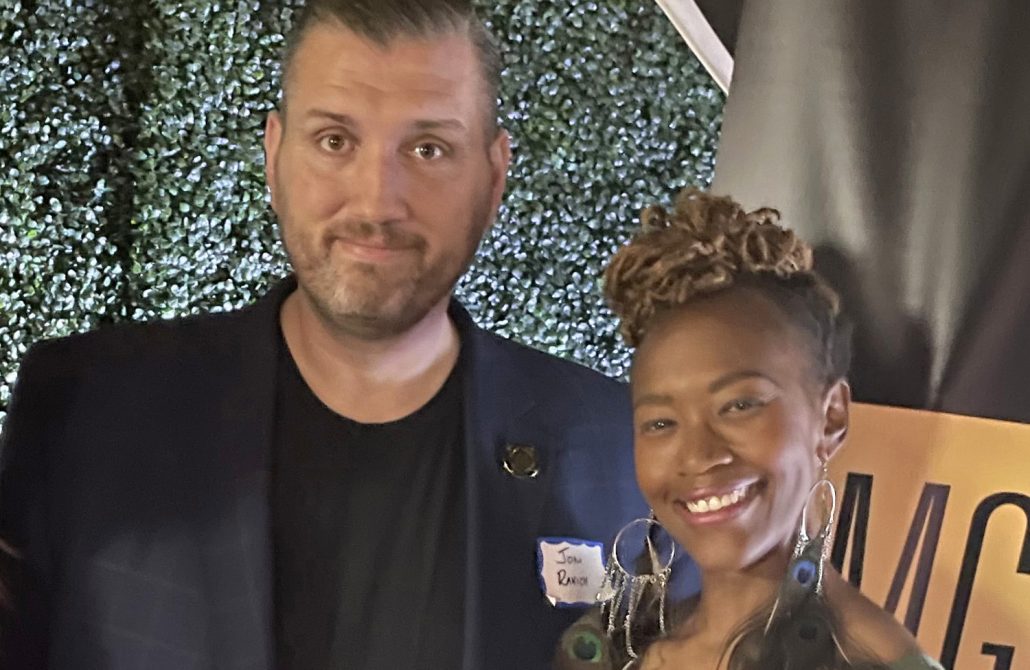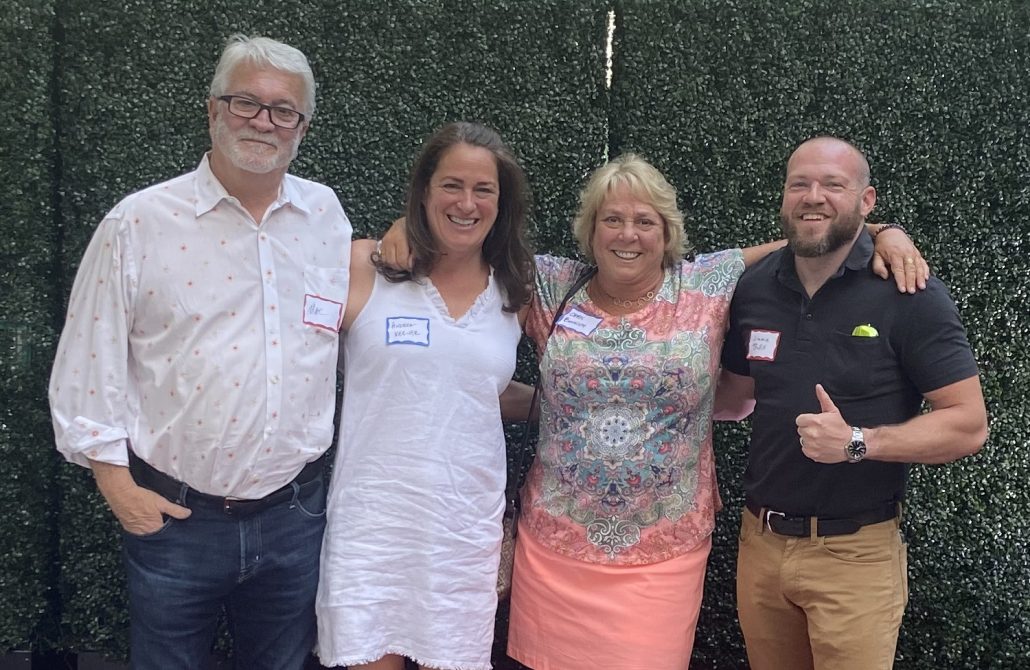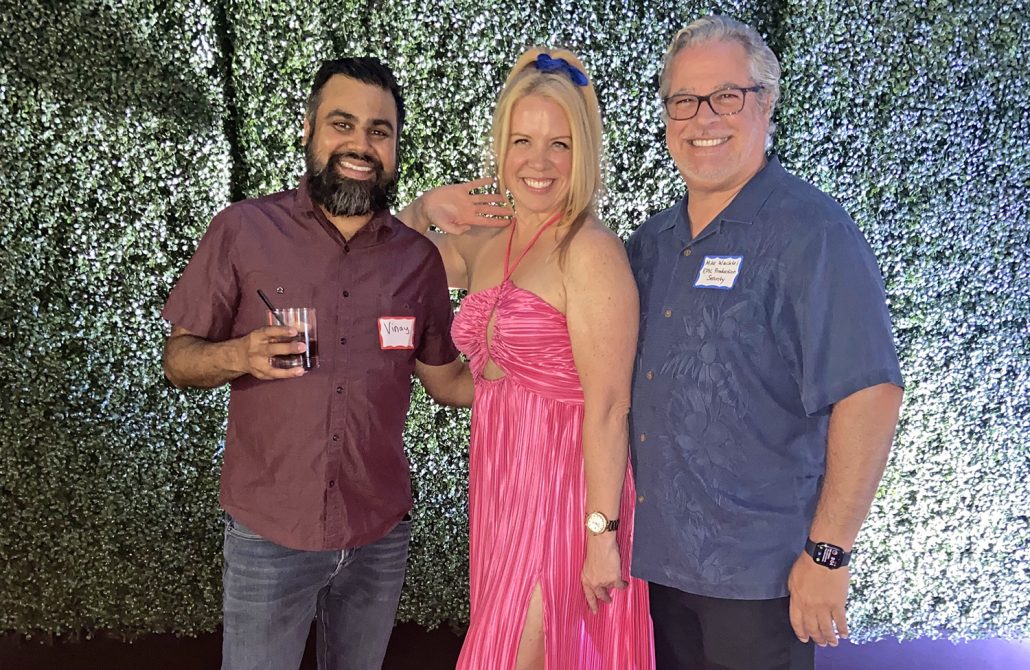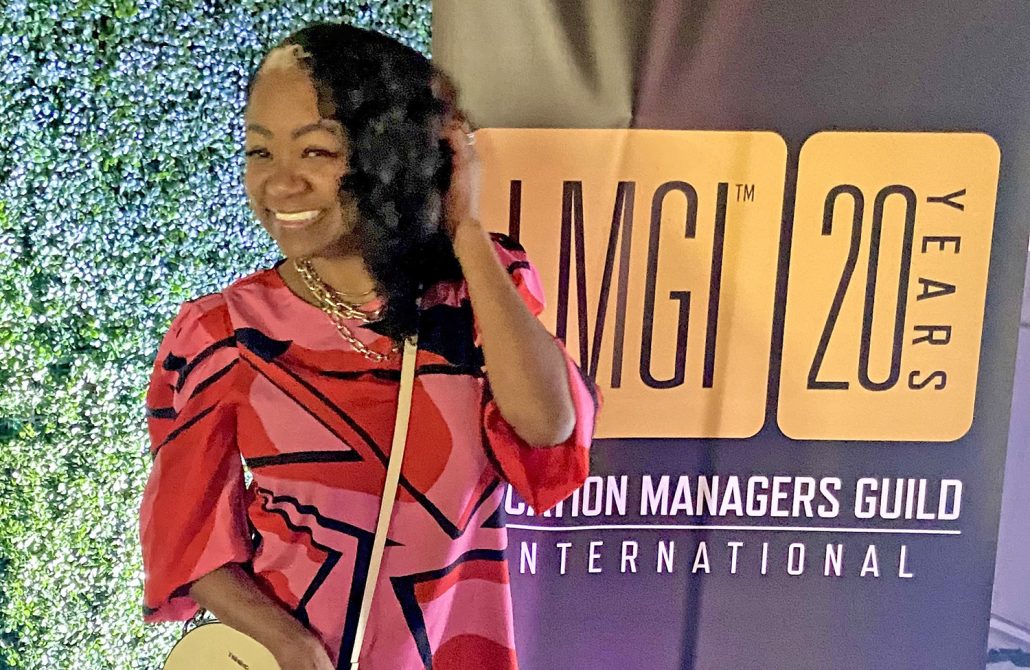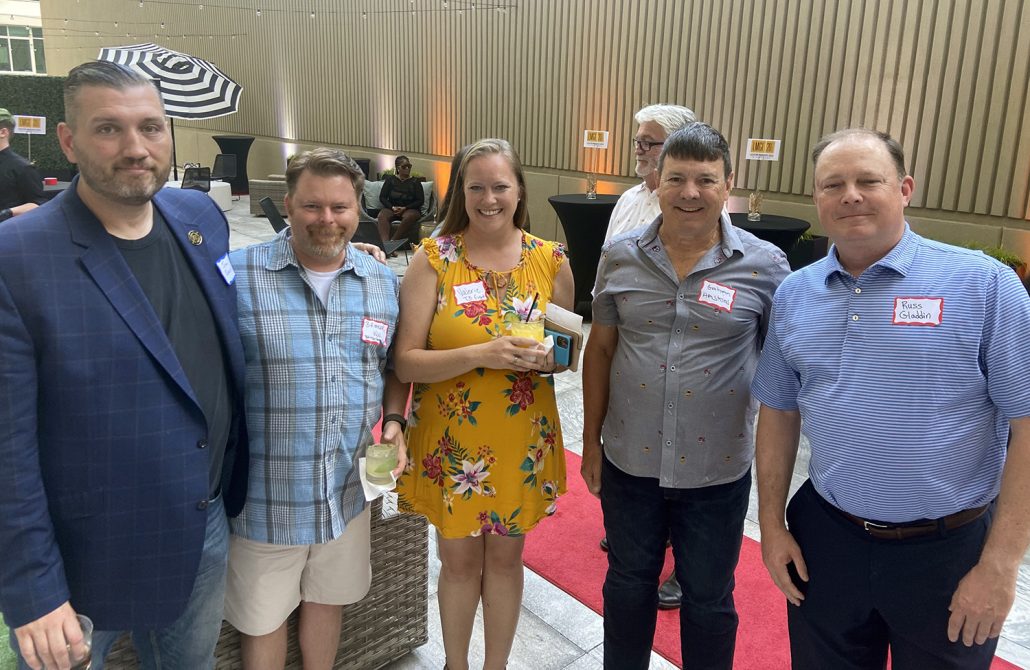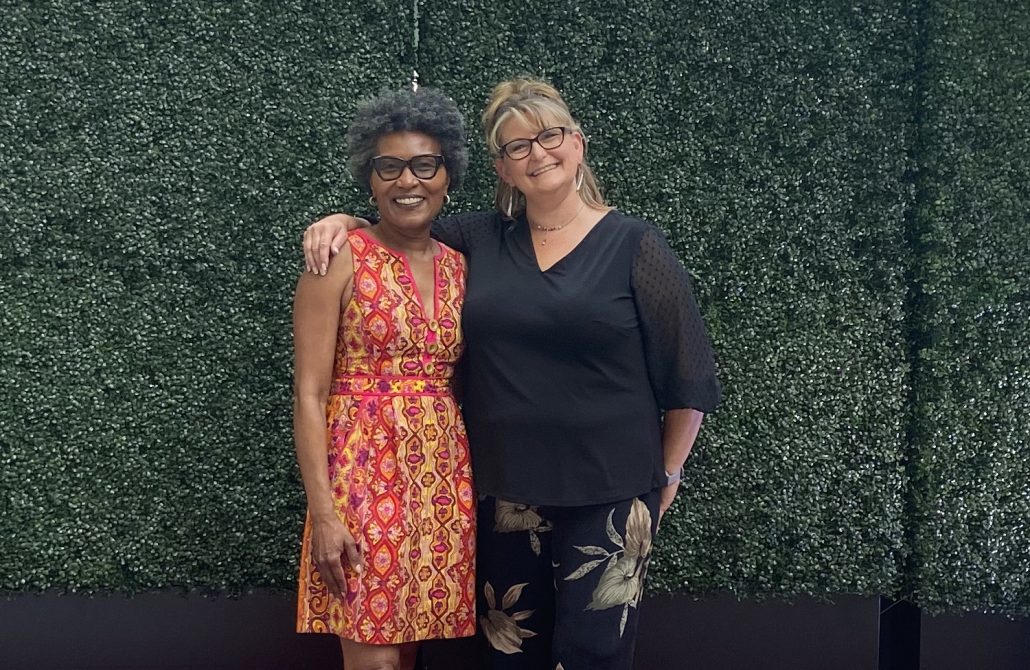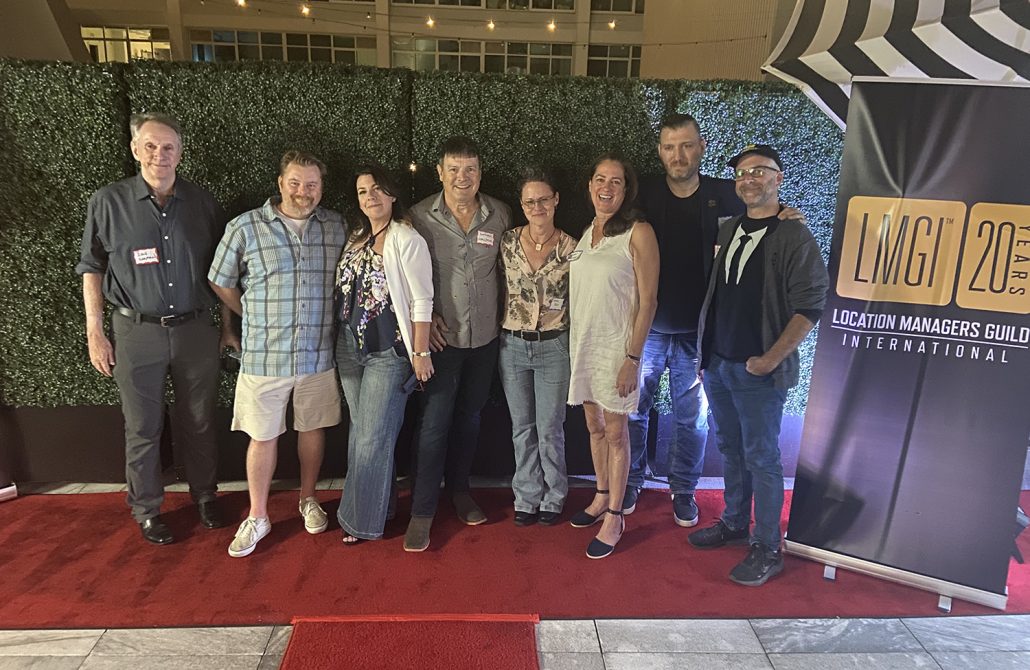 CANADA

---
Juried Photo Competition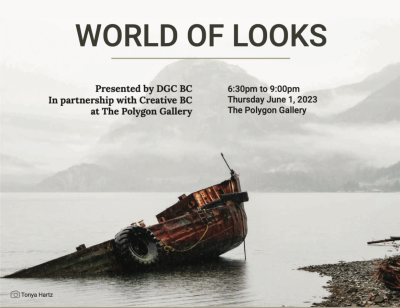 On Thursday, June 1st, 2023, LMGI co-sponsored the World of Looks photography competition for location scouts in British Columbia, Canada.
Presented by the Directors Guild of Canada BC District, in partnership with LMGI Business Partner, Creative BC, the event was held at The Polygon Gallery – the largest non-profit photographic gallery in western Canada.
The sold-out private evening took time to recognize its first-generation pioneers and their service in the motion picture industry.
Tonya Hartz, Project Creator and lead, DGC (LMGI) was joined by Korey Petrie DGC (LMGI), Courtney Ashforth, DGC (LMGI), Evan Chan DGC (LMGI), Matt Palmer DGC (LMGI), Ken Brooker DGC (LMGI), Cameron Tremblay DGC (LMGI), David Beamish DGC (LMGI), Mike Santos DGC, and Sarah Whitlam DGC in the top 25 of the 130 images submitted in the first round of voting.
Eight LMGI members made it to the finals with three of the top five images being won by LMGI members – Tonya Hartz (2nd & 3rd Place Prizes) and Korey Petrie (5th Place Prize) Congratulations!!
This first-of-its kind event was a hit and made possible by the generous support of close to 50 industry partners, including another LMGI Business Partner, Martini Film Studios.
PHOTO CREDIT: Twinography Studios.
Please Click Here to see our winners and their featured images.
Follow a few of our participating LMGI members below:
@tonyahartz
@brooker.ken
@courtneyashforth
@filmtourist
@evanchan314
@mattpalmer_photography
@tremblaycam
@martinifilmstudios
Creative BC on Facebook
NEW YORK

---
Cinelease Partnership Brooklyn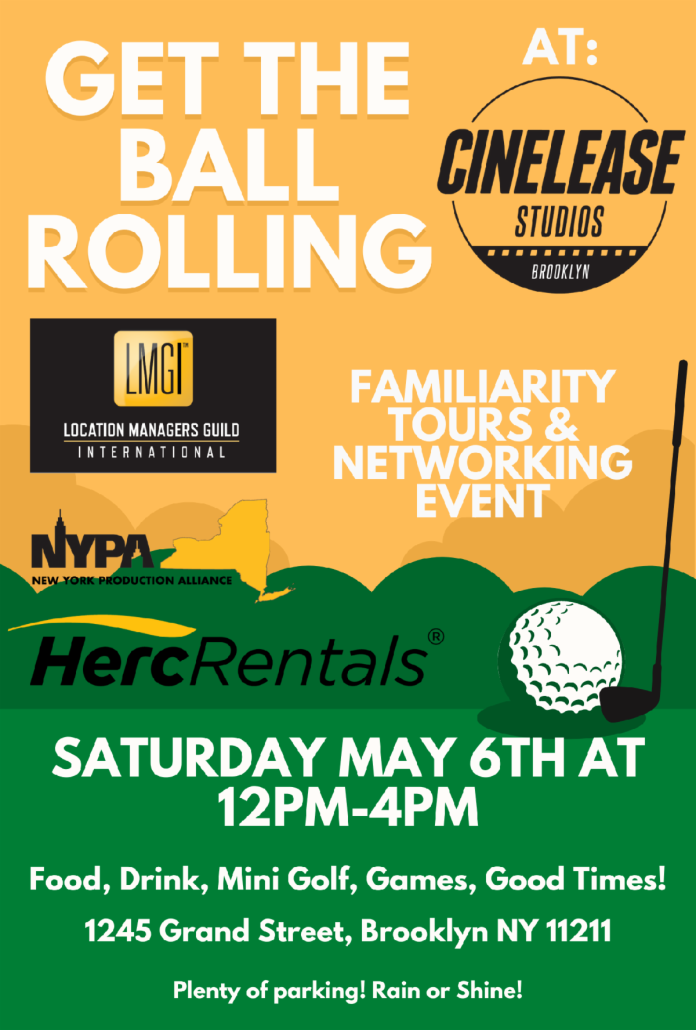 On Saturday May 6, 2023 from 12PM – 4PM EST, LMGI, New York Production Alliance and Herc Rentals at Cinelease Studios Brooklyn joined forces to host a Familiarity Tour & Networking Event with mini golf, games and food at the newest Cinelease Studios to open at 1245 Grand Street Brooklyn, NY 11211. The family-friendly industry event introduced their brand-new Bushwick location, a much larger space than their previous Greenpoint location. After greeting us with delicious Mexican tapas, sliders, drinks and snacks, they cleverly took us through the space by having us play through mini golf courses constructed with various grip equipment and Herc Rentals gear. This clever presentation emphasized Cinelease's partnership with Herc Rentals, a company dedicated to production rentals ranging anywhere from booms, to lifts to AC/heating units, and more!
Various Cinelease locations throughout the country were also showcased, making their availability known to film, TV, commercial and photography projects of all sorts regardless of their project's home base. A wonderful event indeed!
—Recap by Karen Salva (LMGI) and Eric B Klein (LMGI)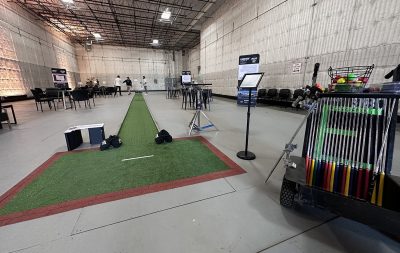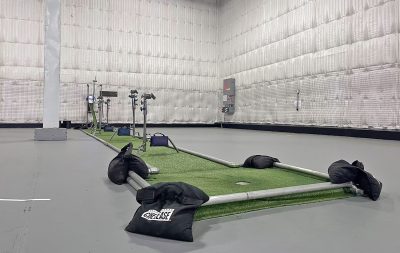 CALIFORNIA
---
Cinelease Partnership Los Angeles
On May 20, 2023, LMGI Business Partner, LA North Studios LLC, and their partners, HERC Rentals and Cinelease, hosted over 500-people comprised of location managers, producers, production designers, studio executives, city and county officials inside of their 50,000 square foot stage. Together, their partnership offers one-stop shopping with five buildings, 14 stages and over 450,000 square feet of certified stage space in Santa Clarita, CA.
This event was held to not only thank the city and county officials who worked so hard to help LA North Studios get online, but also served to introduce the stages to hundreds of people in the film industry.
The stage was decorated with film memorabilia and equipment. Cinelease's beautiful lighting complemented the DJ's music, kids frolicked in the game truck (and the older kids in an axe-throwing booth!), food trucks provided a variety of fare and the guests mingled inside and out. Two veteran Los Angeles newscasters were emcees and presided over raffle prizes valuing over thirty-thousand dollars including vacation getaways, golf clubs, tool packages and audio equipment.
As usual, Erika Howard ably staffed the LMGI popup tent, answering inquires and handed out our COMPASS magazine to all who passed by.
—Recap by Mike Fantasia (LMGI)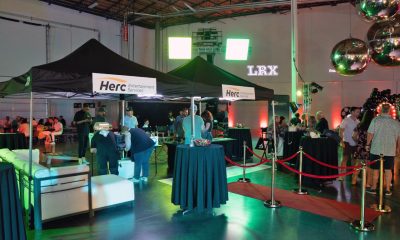 BUSINESS PARTNER COMMITTEE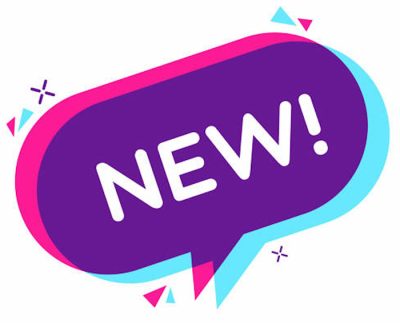 The LMGI Board of Directors formed a Business Partner Committee with the purpose of uniting our valued, dynamic Business Partners around the globe. LMGI wants to encourage Business Partners a chance to participate with the Guild in customizable ways and to facilitate involvement in events where partners can network with valued clients – location professionals.
For now, the committee will be meeting bi-monthly via ZOOM. Business Partners from around the globe gathered for our first zoom meeting held Thursday, June 8, 2023. Over time, the plan is to grow Business Partnerships in all LMGI Regions, with the understanding that the cornerstone of each Chapter's success is having Business Partners actively participating.
RSVP for our next LMGI Business Partner Committee Meeting via ZOOM
Thursday, August 10, 2023
9:00 am PDT
Click Here for your call link.
As an active LMGI Business Partner, please take a moment to log into the LMGI dashboard and:
Set up your LMGI profile page in the LMGI Website Directory.
Download the LMGI 20th Year Anniversary logo for your email signature block.
Join LMGI social media pages (see handles below) and tag #LMGI on your social media posts whenever possible. LMGI will give shout outs on social media to Business Partners who do this.
Enjoy your complimentary COMPASS Magazine subscription.
Enjoy your logo placement and link in every LMGI Newsletter.
Enjoy discounted awards and event sponsorship opportunities, and more!
See you at the next meeting,
David McKinney and John Rakich, Co-Chairs, LMGI
Heather Ross, Partner Co-Chair, The Location Portal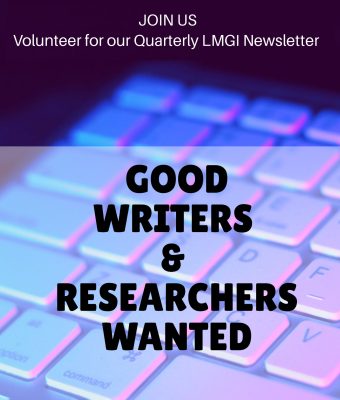 The Quarterly LMGI Newsletter welcomes additional writers and researchers to gather content from our amazing global membership, business partners, events and celebrations of LMGI. The next two issues of 2023 are September and November. Join us!
Reach out by clicking here.
---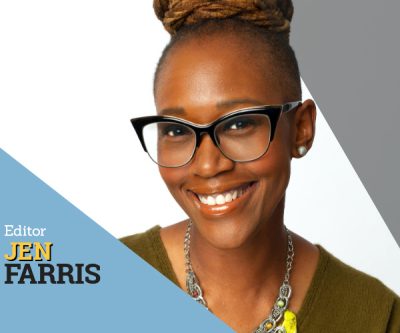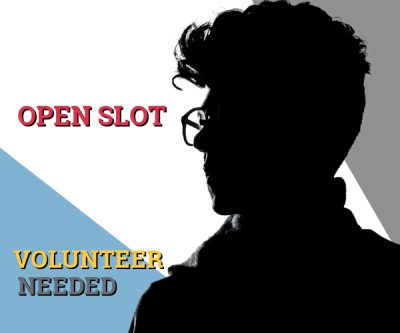 ---
EDITOR: JEN FARRIS
CO-EDITOR & CONTRIBUTORS: OPEN SLOTS
CO-EDITORS AT LARGE:
ERIKA HOWARD
JJ LEVINE
Share your feedback or ask to join our LMGI newsletter team here.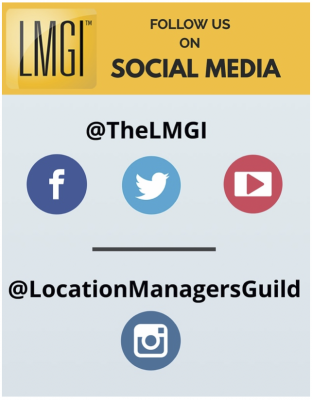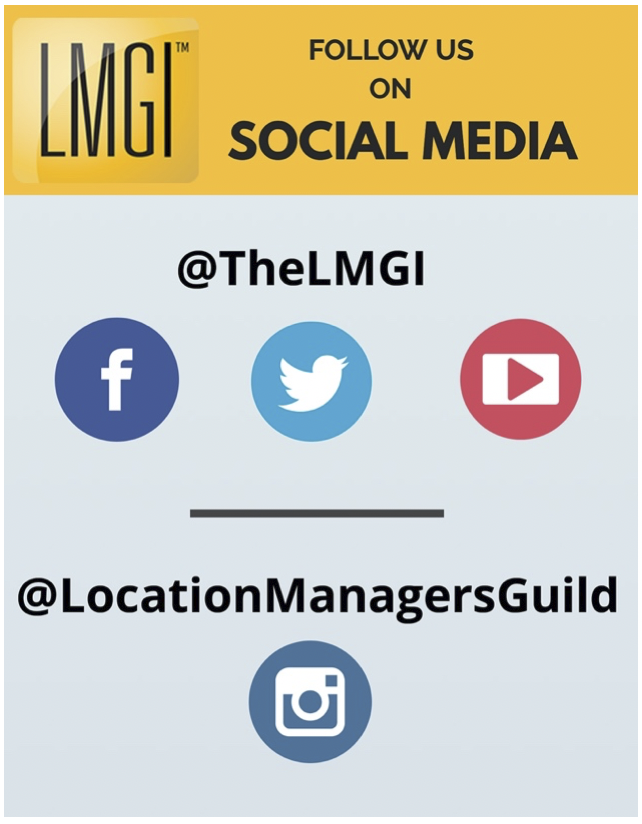 Volunteer & Follow The LMGI
Instagram (@locationmanagersguild)
---
Hashtag the LMGI on your social media posts:
#LMGI – Organization business
#LMGIAwards – LMGI Awards activities
#LMGISocialLight – Member Accolades
#LMGILife – Member Lifestyle Activities
ABOUT THE LOCATION MANAGERS GUILD INTERNATIONAL (LMGI)
The Location Managers Guild International/LMGI is a global organization of career location professionals in the motion picture, television, commercial and print production industries, dedicated to upholding the highest ethical standards. Through local commitment and international strength, we support strong relationships between production and government agencies, businesses, and communities. We promote awareness of the location professionals' place in the entertainment industry as indispensable creative collaborators through a variety of innovative programs. The LMGI was founded in 2003 as a 501(c)(6) non-profit corporation as the LMGA and rebranded in 2016 to reflect its growing international membership. The LMGI is not a labor union and does not represent Location Managers or Scouts in wage or working condition negotiations.