by Paul Messana

All photos by Frances Reyes Bolinger/LMGI, except as noted
---
They're young, smart and enthusiastic about what they do. In this occasional column, KALM Paul Messana, a genXer himself, talks with the upcoming generation of location professionals on the rise.
---
PROFILE ON: FRANCES REYES BOLINGER
HOME BASE: San Francisco, California
POSITION: Key Assistant Location Manager
---
PAUL MESSANA: So let's start from the beginning. Tell me about where you are from and what got you interested in locations.
FRANCES REYES BOLINGER: I'm from the Bay Area in Northern California—I was born in Newark and have lived in San Francisco for the past 16 years. That's where I "fell" into locations. I had an international business degree from the University of San Francisco, Class of 2009. I knew I wanted to travel but graduating during the time of the economic crash meant I had to find a job.
I worked with a small company that originally did government contracting bids for the Department of Defense. They focused their efforts on unmanned air vehicles—which we now know as drones. I worked on proposals for government contracts, as well as running the office, handling bookkeeping and HR. It took a long time for these government contracts to fund, so the company's CEO and President wanted to try a new source of revenue and decided to make a movie.  
My bosses and I had no experience in the film business. One boss had taken a five-week course on digital filmmaking and hired Alexander Fletcher, a DP he had met teaching the class. Alex brought in a small crew of five, and I somehow managed to produce my first full-length feature—a legal thriller, no less! My skills running the company's day-to-day operations really helped. The film crew encouraged me to quit my job and get into the film industry. The DP's girlfriend was a loc pro, and in less than 24 hours, she helped me get a job as a PA despite me not having a car or a laptop at the time. I was only a day player, but I am forever grateful to her. 
Prior to this, I had never considered a job in the entertainment industry. I had a theater background from high school and college, and I was lucky to meet a lot of encouraging working professionals who were very generous in helping me get started.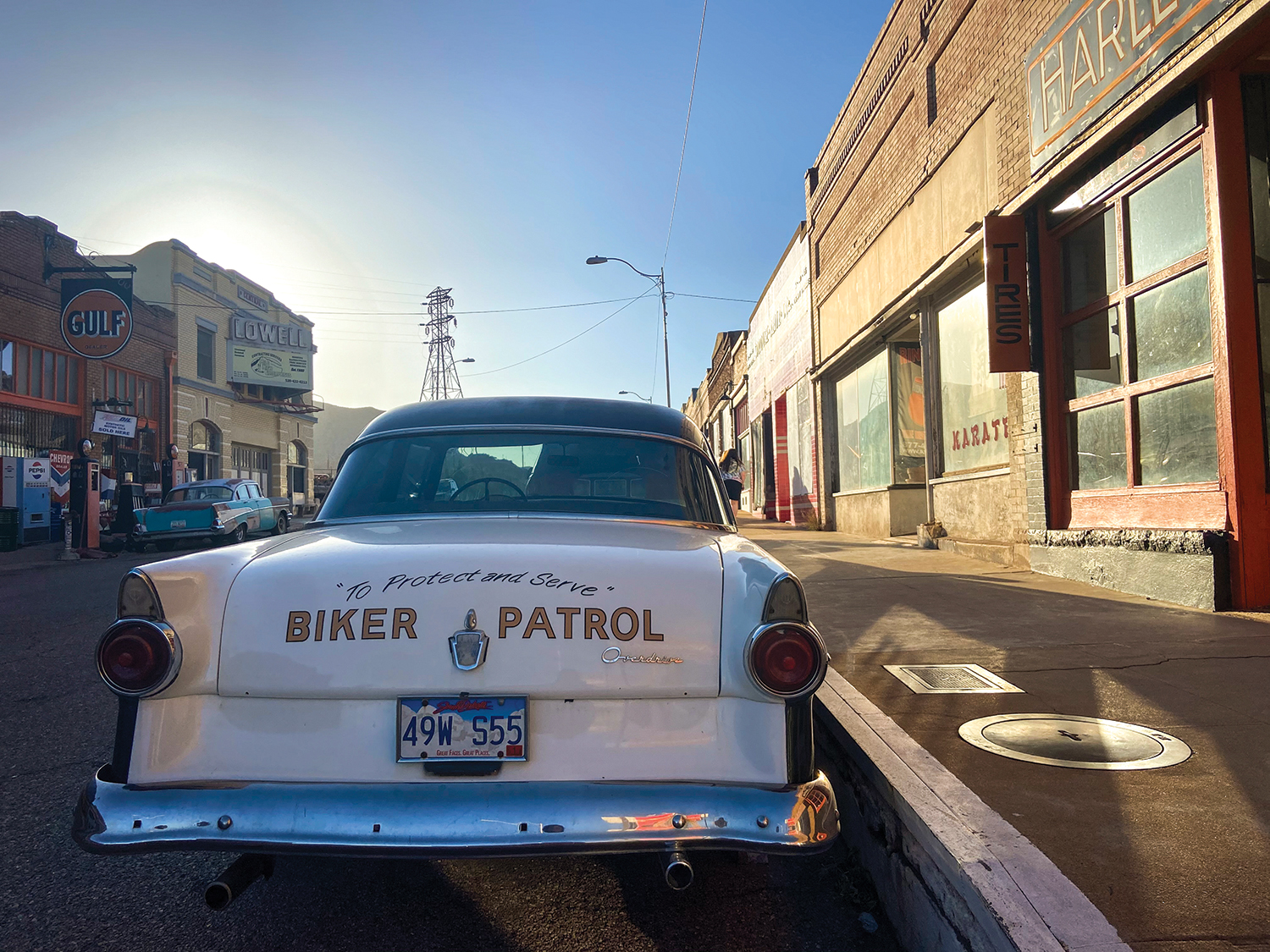 PM: How long have you been working in locations and what do you primarily work on?   
FRB: My first location job in 2011 was the one with Heather MacLean/LMGI as a PA. She and Alex are now married with a family, by the way. The TV series was Alcatraz, produced by JJ Abrams. My first task was leafletting San Francisco's Chinatown. The first set I oversaw was on Hyde and Filbert watching greensmen build a lush landscape from a dirt patch in a day—just to take it all down at wrap! But my first union job as an ALM was HBO's Looking, under the mentorship of Matthew Riutta and Dan Kemp/LMGI. They were the team who helped me get into Teamsters Local 2785. I'll always have fond memories of how much fun we had! 
I primarily work on whatever projects came to the Bay Area—whether it's a feature, TV series or a commercial. Most recently, I worked on Netflix's 13 Reasons Why, which filmed in Vallejo and Marin County for three seasons. Now as a Teamster 399 KALM, I'm excited to expand my experience and skill set in Southern California and beyond.
PM: Was there a particular moment while scouting or assistant managing that really made you think about this field as a long-term career worth pursuing? Are there particular people or productions that have inspired you to take this current career path?   
FRB: One validating moment was the first time I did the deals for a residential neighborhood for the SF unit of Sense8 Season 1. It was a narrow street, and I managed to buy enough garages for holding, equipment and crafty so production was able to squeeze in nicely. Many of the residents came out to watch and got to meet their neighbors for the first time. Being able to help them come together as a community was heartening. Watching location managers tackle great passion projects makes me proud to be in this line of work—particularly what Daniel Lee/LMGI accomplished in Last Black Man in San Francisco and Heather MacLean's work in Diary of a Teenage Girl. 
One of my favorite teams to work with was The OA Season 2, San Francisco unit under Jonathan Jansen/LMGI and Alexander Georges/LMGI with Kelly Tom/LMGI, Rashod Edwards/LMGI, Allison Cox and Ismael Castillo. I laughed every day of that job because of the strong camaraderie.
PM: So what's next? Is there anything you are aspiring to do in locations?
FRB: I'm really enjoying working on locations and learning about new places, especially places where filming is uncommon. The goal is to explore as much as possible and experience working in as many places as possible. Right now, I'm prepping a pilot in Tucson, Arizona. I'm really enjoying my time out here in the Sonoran Desert. I'm learning a lot about Tucson, border culture, neighboring indigenous nations, and the life and history of the Southwest. The light hits the desert beautifully during golden hour and monsoon season brings about a very dramatic sky. The people here are very friendly and community-based, which is what makes Tucson really special. The wildlife here is also very different from what I'm used to in the Bay Area. 
PM: What have you found to be the most enjoyable part of your job?  
FRB: I get really invested in the locations and the people in the neighborhoods that I manage. I enjoy it when folks have a positive experience as a film location, or by being close to one. Also, having grown up in the industry in the Bay Area, I love being on a scout when a crew member sees how beautiful a lesser known neighborhood can be. Every hill of the 42 in San Francisco offers a beautiful view.
PM: What have you found to be the most challenging?   
FRB: It's important to learn how to cope with the stress of the job. I try to find humor in any situation and try not to expend energy on what I cannot change.
PM: Do you have any advice for any young assistants just starting out?    
FRB: I would say know what your strengths are and don't be afraid to show them! Always be on time or earlier. And remember that you are part of a team. A great location team is greater than the sum of its parts and can tackle the hardest challenges together. 
PM:  What's the best locations advice you've received?  
FRB: Always put lots of effort into a strong prep. The more prepared you are come the shoot day, the easier it is to handle all the unforeseen circumstances. Thanks, Rory Enke!
PM: What are your tools of the trade? What car or tech gadget or tool can't you live without?  
FRB: My top favorite tools include my Leatherman, laser-measuring device, multi-color ink pen, plus a little notebook, sunscreen and a good sun hat.
PM: What do you like to do on your time off?  
FRB: Aside from catching up on sleep, I like to be a student of life. I love being out in nature, especially the forests and the beach. I also love traveling, going to museums, taking various dance classes, learning new dishes to cook, riding my road bike, reading and learning about the various communities I get to work in. 
This is also the first year I'm a commissioner of an all-ladies fantasy football league called "Ladies Who League." Last year, I was supposed to go to Rome and Croatia before the world shut down due to COVID. I hope to make that trip happen once it's safe to travel overseas again and then eventually make my way to Korea. 
PM: What made you decide to join the LMGI?
FRB: Two of the most influential mentors in my work are LMGI members. Let me give a shout out to Stevie Nelson and Nancy Haecker for their support! They sponsored my membership when I decided to join the Guild and I am so proud to be a part of it!