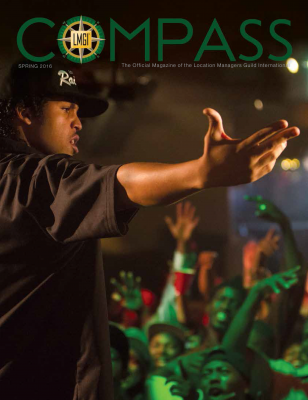 "Without continual growth and progress, such words as improvement, achievement, and success have no meaning."
—BENJAMIN FRANKLIN
What's in a name? Welcome to the Location Managers Guild International rebrand! We are excited about our continued growth, welcome our new members and join them in celebrating excellence on location worldwide.
Rebranding is more than a name change. We are building a more authentic brand, with more direct outreach and impact to our growing worldwide membership. But we can't do it without you! A big world becomes smaller when you connect and share your experiences with fellow members by joining an LMGI committee online. We are truly a global community, and the Guild is an invaluable tool to our profession, encouraging dialogue across borders, transcending different unions and diverse cultures.
This is reflected in this year's nominations for the LMGI Awards, to be held in Los Angeles on Saturday, April 23. Please join us in congratulating our members in "And the Nominees Are …"
In "Gently Speaking," Claudia Eastman travels north of Lon- don in search of the popular BBC series Inspector George Gently. In "Rock and Roll Is Here to Stay," we enter an amaz- ing UK time machine, traveling back to the music's heyday through the lens of location pro Mick Ratman who was shoot- ing in clubs at the ripe old age of 15.
In our cover story, reporter Nancy Mills profiles location man- ager Alison Taylor and chronicles her team's efforts to bring the LMGI-nominated, box-office hit Straight Outta Compton to the screen.
This issue's departments include an inside look at Calgary for "In My City," "Career Focus," "In the News" and the "Martini Shot."
As always, we encourage your ideas for articles and photog- raphy submissions. We invite you to join the Guild in making 2016 a year of moving forward, getting involved and making a difference in our location community. See you at the LMGI Awards on Saturday, April 23!
Always a pleasure, never too busy,
Ken Haber, Lori Balton and Stevie Nelson