"Impossible is just a big word thrown around by small men who find it easier to live in the world they've been given than to explore the power they have to change it."
—MUHAMMAD ALI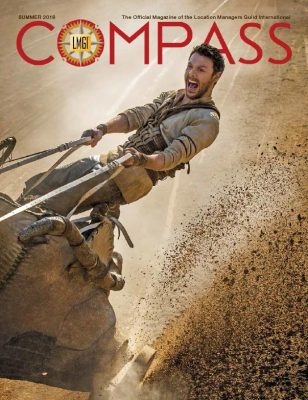 The power to affect change. That's what strength in numbers— the formation of the Guild has granted us. We have elevated location management from a job to a respected creative career. Since our last publication, our ceaseless lobbying of IMDb fi- nally came to fruition with its creation of a separate "Location Management" category—the migration of all location professionals' credits from the "Miscellaneous" category to one of our own is happening as we go to press. This long-overdue recognition illustrates the ongoing efforts of the Guild to raise the profile of location professionals everywhere.
At the 3rd Annual LMGI Awards, industry directors Wes Anderson, Michael Mann, Christopher Guest, Brad Silber- ling, Melanie Mayron and Jillian Armenante paid homage to the work of location professionals. Read all about the show in "Location Location Location."
Our cover story, from location manager Mike Meehan, takes us behind the scenes of Ben-Hur for the job of a lifetime "In bocca al lupo … Epic Italy." 'Impossible' is not in Meehan's vo- cabulary. Nor is it a familiar word to location pro Sean O'Brien. In "Location Manager in a War Zone," Diane Friedman exam- ines O'Brien's tour of duty embedded with combat troops in Afghanistan … oh, the places you'll go!
To accompany all this travel, Nick Jamison offers sage advice on how to fly like a location scout. And in "A Moving Experience," business member Laura McHolm from NorthStar Moving Company offers advice on how to pack things up on the job, and put them back without leaving a trace.
We also follow up with Mark London Williams on the second part of our continuing series on safety. With so many moving parts to this topic, part three is already in the works.
Our columns include a personal tour of Sydney, Australia, from location pro Colin McDougall, "In the News," "Martini Shot" and "Career Focus," spotlighting NY commercial scout and LMGI Board member Jimmy Ayoub. As always, we encourage your ideas for articles and photography submissions.
This issue marks the last issue with LMGI Compass editors on the LMGI Board—on which all of us are happy to have served. Also stepping down is three-term LMGI President Nancy Haecker. This is an open invitation for new volunteers to step up—and continue to achieve the impossible.
Always a pleasure, never too busy,
Ken Haber, Lori Balton and Stevie Nelson