Message from the out-going LMGI President Mike Fantasia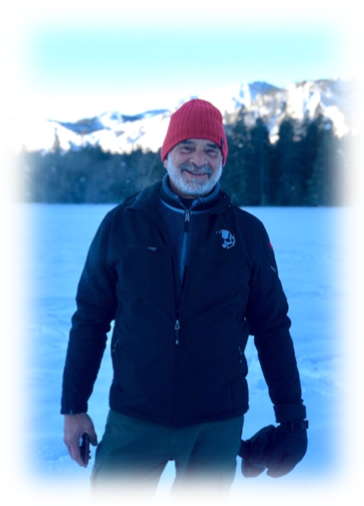 The LMGI Newsletter staff has compiled another informative issue for your enjoyment. Articles range from saluting our newly elected LMGI Board of Directors to saluting our location managers whose projects distinguished themselves at the 93rd Academy Awards.
My three years as President will end as this newsletter is released. It's been three years of growth and diversification for the Guild, and I'm proud to have been a part in it. We expanded our membership in every area where we have a presence; streamlined committees; added a Diversity, Equity and Inclusion committee; held over sixty Coffee Tuesdays; and held three virtual fam tours.
Despite our considerable success, the Board still struggles to enlist people to volunteer on committees. The biggest problem we have is when everyone is working, committees that aren't well-staffed often languish, while those that have enough people pick up the slack and thrive. Participating in committees is a great way to meet your peers, help support and further the Guild's objectives, initiatives and projects and prepare yourself for a seat on the Board. I encourage all of you to consider joining a committee to promote the Guild's activities.
While I'm stepping down as President, I look forward to working with the Regional and International Committee on familiarization (FAM) Tours, and with the Education Committee on the various educational programs.
It's been an honor to serve as your President.
Mike Fantasia
President, LMGI

The Location Managers Guild International (LMGI) is proud to announce its Board of Directors for the 2021-2022 term. We're also grateful to our departing Board members, Wes Hagan (CA) and Georgette Turner (UK) and founding member and LMGI President Mike Fantasia (CA).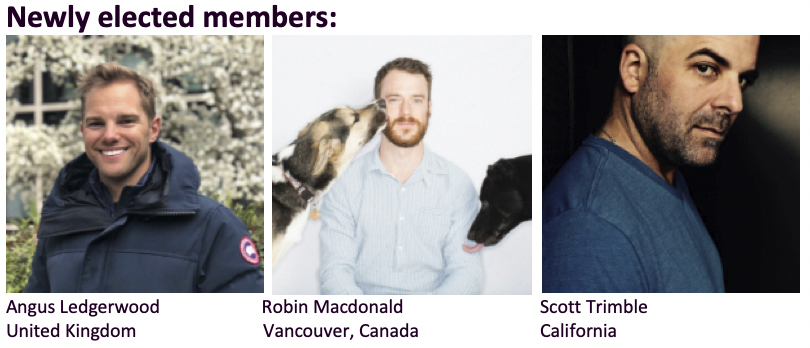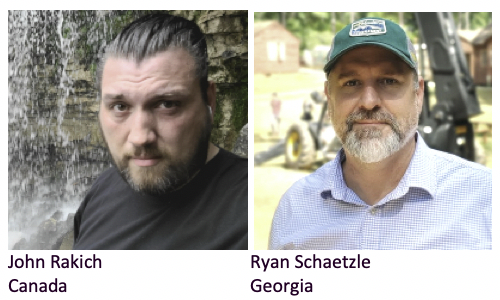 The 2021 LMGI Board of Directors met on May 16th, 2021 and voted the current Officers on the Executive Committee: President John Rakich, 1st Vice President JJ Levine, 2nd Vice President Alison A. Taylor, Treasurer Ken Haber and Secretary Jen Farris.
Newly elected LMGI President Rakich states: "I am honored and humbled that the board has trusted me to lead the LMGI and am proud to carry on the incredible work done by our past presidents and board members, all equally responsible for bringing the Guild to where we are today. I look forward to working with this dedicated group of international location professionals, to have us grow larger and stronger than before; to show the world who and what we are, that we are not just indispensable creative collaborators but, in these days, recovering from the global pandemic that we have all been proven to be leaders as well."
Outgoing LMGI President Fantasia adds, "It's somewhat bittersweet to step down from a Board that I had the privilege to serve on for well over a decade. I do so with the knowledge that the Guild is poised for even bigger accomplishments under the able guidance of John Rakich and the newly formed Board. I will still be involved in various Guild initiatives involving education, recruitment and retention, and I look forward to continue serving it in any way I can."
---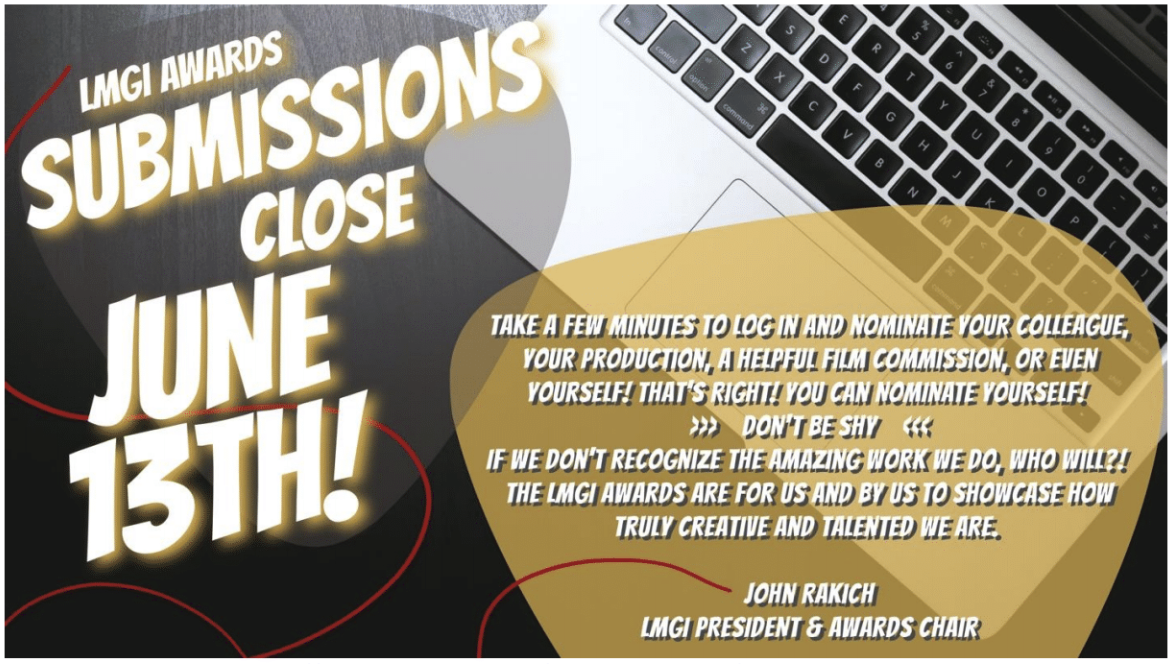 8TH ANNUAL LMGI AWARDS PREPARATION – Happening Now
#LMGIAwards
Sunday, June 13, 2021, at 11:59 pm PST – Entry Submissions close
Friday, August 20, 2021 – Nominees announced
Friday, September 10, 2021 – Online voting will open
Friday, September 17 at 11:59pm PST – Voting closes
Saturday, October 23, 2021 – Winners announced at the streaming LMGI Awards Gala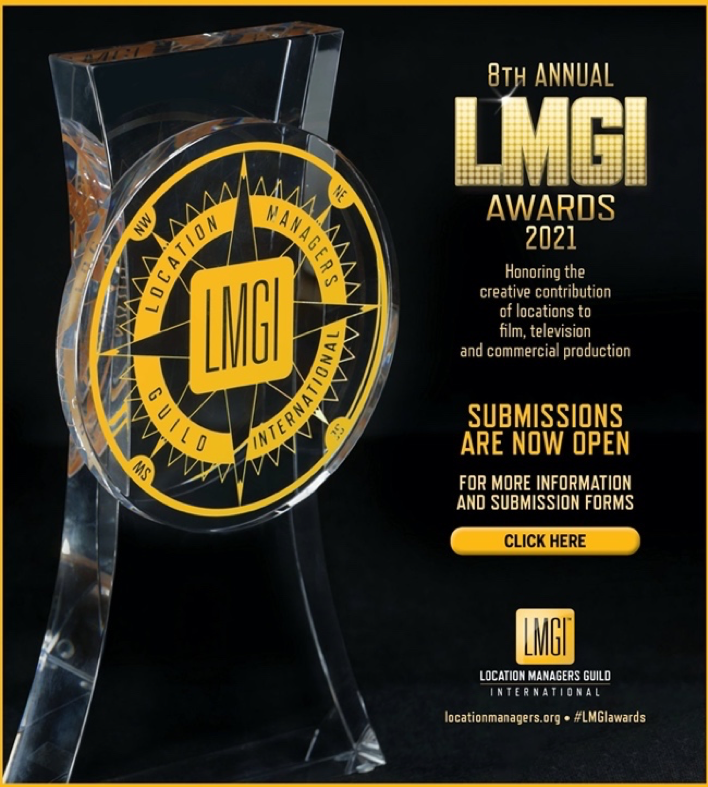 Click the graphic to nominate our amazing LMGI members, film commissions, and trailblazers!
LMGI AWARDS CATEGORIES
Outstanding Location Awards will be presented in the following categories:
CONTEMPORARY FEATURE
For any released feature length live-action motion picture.
PERIOD FEATURE
For any released feature length live-action motion picture. The film must portray a time period at least 20 years prior or at least 10 years after the current award year.
PERIOD TELEVISION PROGRAM
Includes MOW and SVOD.  Must portray a time period at least 20 years prior or at least 10 years after the current award year.
CONTEMPORARY TELEVISION SERIES
Includes MOW and SVOD (Streaming Video On Demand).
TV SERIAL PROGRAM, ANTHOLOGY, MOW OR LIMITED SERIES
For any multi-episode or serialized program on any platform contained in its narrative/stories/arc to single season.
COMMERCIAL
For a single advertising spot with a minimum length of 15 seconds.
FILM COMMISSION
For exemplary and creative work performed above and beyond the usual service provided to location professionals on a specific feature film, television series or commercial.
HONORARY AWARDS include the Humanitarian, Lifetime Achievement, Trailblazer and the Eva Monley Award.
View the the 7th Annual LMGI Awards & Pre-show (2020) Livestream here
Contact the Awards Committee here
---
Thursday, July 22nd – Sunday, July 25th
Comic-Con International AT HOME
This year's July 2021 Comic-Con International will take place in a virtual space allowing you to safely enjoy online.
Annually, the LMGI produces the Comic-Con International panel LMGI- Hollywood Location Scouts. Moderated by John Rakich/LMGI President and Scott Trimble/LMGI Board, enjoy listening to members of the Location Managers Guild International discuss creative and logistical aspects of their jobs and discuss exciting anecdotes.
2020 Featuring: Jen Farris, Jeff Hunter, James Lin, Emma Pill, Asha Sharma and John Rakich.
2019 Featuring: Robert Boake, Josh Dillard, Mike Fantasia, Cat Kagan, Dustin Pitan, and John Rakich.
2018 Featuring: Scott Alexander, Duncan Jones, Manny Padilla, Golden Swenson, Scott Trimble, and Georgette Turner.
2017 Featuring: Kokayi Ampah, Robert Foulkes, Shani Orona, Laura Sode-Matteson, Scott Trimble, and Tommy Woodard.
2016 Featuring: William Doyle, Douglas Dresser, Leann Emmert, John Rakich, Alison A. Taylor, and Scott Trimble.
2015 Featuring: Nick Carr, Stephenson Crossley, Stacey McGillis, Kei Rowan-Young, Scott Trimble, and Steve Woroniecki.
2014 Sizzle Reel Featuring: Chris Baugh, Mandi Dillin, Ann Goobie, JJ Hook, Michael John Meehan, and Scott Trimble.
2013 Featuring: Becky Brake, Caleb Duffy, Scott Logan, David Lyons, Rebecca "Puck" Stair, and Scott Trimble.
Contact the Comic-Con Committee here
---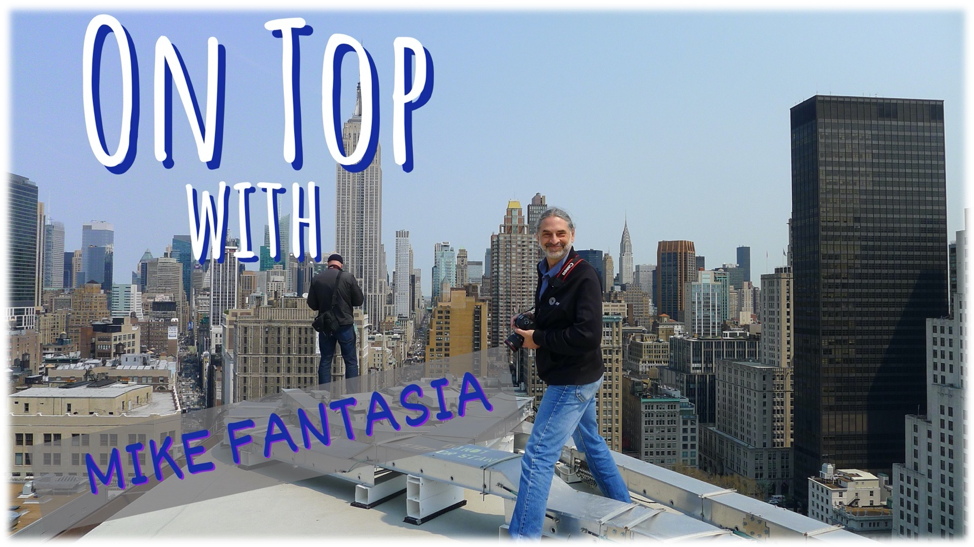 Mike atop NYC's Flatiron Building for The Amazing Spider-Man
By Jen Farris /LMGI
In the 1990s, Mike Fantasia did not foresee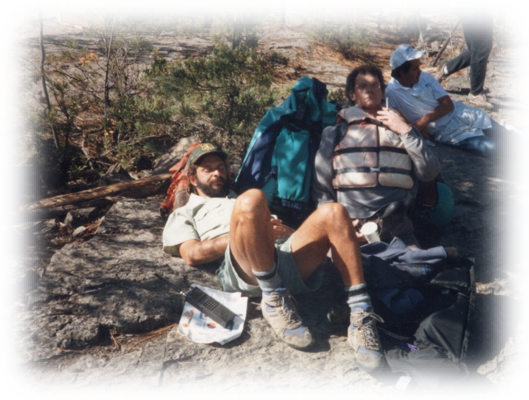 being the President of the Location Managers Guild International. In those days, he was focused on protecting coastal wetlands and national forests. However, thirty years ago, the dawn of his new career occurred on the back end a three-month leave of absence ending in January, 1991.  After years working as a cartographer and realty specialist for the US Fish and Wildlife Service, the fresh-faced Fantasia packed his Environmental Science degree into his back pocket and pivoted into a new calling. He discovered his expertise in geography and geology was transferrable in Hollywood.
Who would have believed the National Forest would be an entrée for a divine encounter with Patricia Fay, a location manager for a Steven Spielberg film?! Well, it was! Fantasia's knowledge of the forest service's inner workings coupled with his daily use of photography, map making, research, negotiation, legalease and long and short-term planning transitioned into his first film project in Portland, Oregon, thanks to a referral from Fay.  As they say, the rest is history.
Now, as he reaches the end of his term as President of the LMGI, Mike is grateful to reflect back on the many places his career in location management has taken him and the many wonderful location professionals, business partners, film commissioners, location owners, and government and military leaders he has met along the way.
"I'm one of the last of the LMGI founding members, and it's time for me to step aside and let new blood take the Guild into its third decade," says Fantasia. "it's time to turn over the reins to the next generation, both in the Guild and as a location manager. There are a lot of good, young location managers and assistants out there who are ready to lead the location profession to greater things."
As President, Mike is proud of Guild's accomplishments, especially considering the global COVID pandemic met him head-on in the middle of his tenure. Change met technology and innovation met opportunity. One year into the pandemic, the LMGI became more streamlined on some respects, while at the same time, broadened its reach to evolve with the times.
"The Guild has increased international members, and we have a new Diversity Equity and Inclusion (DEI) committee that's done great things. We launched virtual FAM Tours as a way to continue showcaseing amazing destinations, and also launched the recurring virtual program Coffee Tuesdays, which has become a favorite benefit of members around the world."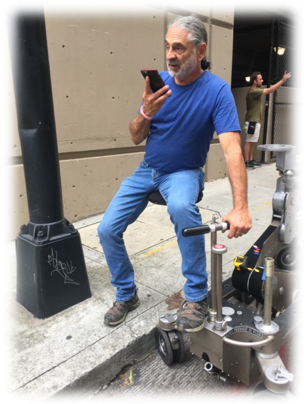 "As I step away from being President and John Rakich transitions in, the best advice I can give is to not bite off too much actual day-to-day committee work and to concentrate on long-term planning and organizing, member recruitment and retention, and expanding into areas where production is present but where membership has room to grow", says Fantasia. "The job of President is very demanding and it takes a lot of time. As the guild grows, I can see the job morphing into more of a figurehead position, with the day-to-day management, planning, strategizing, fundraising and implementation of policy being a paid position."
Wrapping as President does not mean wrapping with the Guild. Education is front and center. Mike wants to continue to work on projects for the LMGI starting with a soon-to-launch continuing education project with the Association of Film Commissioners International (AFCI), the first of what LMGI hopes will open the door to many new learning opportunities.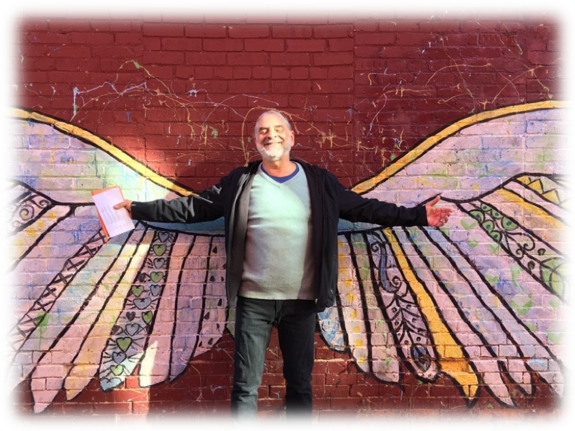 Three decades following his departure  from the US Forest Service, Mike is still on top and on-location for the Martin Scorcese film Killers of the Flower Moon in northern Oklahoma. After wrapping, he winding down on managing features in a full-time capacity. He can envision offering his expertise and consulting services to studios who need help rescuing troubled projects and also selectively working part-time on films based only in new, exciting places. "There's a big world out there!", Fantasia says with a grin. "Places I've been that I want to return to as well as places I've always longed to visit and hope to get to on my recently-renewed passport".

[/vc_section]

Contact Us

8033 Sunset Boulevard #1017, Hollywood, CA 90046

310-967-2007 contact@locationmanagers.o