Iconic Venue Is Reimagined in Glendale
LMGI members and friends flocked to the newly renovated Solar Studios, a well-known Glendale filming location on the corner of Central Avenue and an alley just west of San Fernando Road. Those attending the Sunday brunch on October 3 were surprised to find a modern multi-storied residential building where the free-standing iconic brick warehouse with its distinctive arched windows once stood. 
The two-story interior space has been relocated to the back of the new building and redesigned to showcase a boutique studio with an elegant European residential vibe complete with a sweeping staircase leading to a balcony and sitting room, a two-story glassed-in modern loft, and a small stage with a three-walled cyc and lighting grid. 
Rebuilt using original early 1900's red Simons bricks, the space also features an authentic reconstruction of the windows that have always been the soul of Solar Studios.  
Working with the city of Glendale, the reconstruction of the original space was seen as a neighborhood enhancement. "In order to get his permit, the developer had to incorporate an art and commerce element that would be ideal for this newly emerging neighborhood," explains Peter Cohn, the facilities owner and host of the event. "The city was very supportive to have Solar Studios incorporated into the plan. I was able to reimagine the space with inside and outside features that supersede it being just a cool old brick building."
Cohn paid attention to every detail that would make this venue attractive for filming, even noting the position of the sun streaming through the clear glass windows, and creating an outside-covered arcade and gigantic castle doors leading into the space. "This 'shoot zone' is off the street and can play for so many things—shop windows, the interior and exterior of a restaurant—the imagination is the limit!" says Cohn. "With the help of the city, I have taken the pain out of getting a permit and can also offer support spaces and some parking on property."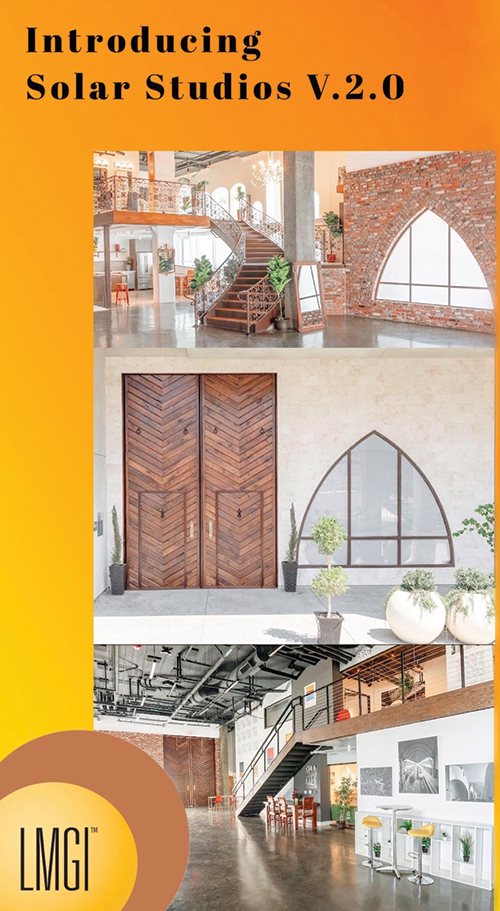 Closed for almost six years during the construction, Cohn planned the event with the LMGI to reconnect with location professionals he has known for more than 20 years and to also meet new ones. The brunch featured an Australian barbecue, a bountiful Armenian buffet, a coffee station and an open bar in the outside arcade. 
Cohn says, "I want to say to all my friends in the location community: 'We are back!"'
Call or text Peter at 310.489.7801 or email solarstudios@gmail.com