CELEBRATING EXCELLENCE ON LOCATION WORLDWIDE
THE 2021
LOCATION MANAGERS GUILD INTERNATIONAL AWARDS
STREAMING
Saturday, October 23, 2021
Pre-show: 1:30 PM • Show begins 2 PM PDT
THE LMGI AWARDS are an Internationally recognized celebration of the outstanding contributions of location professionals in feature film, television and commercial advertising. The Awards spotlight our craft, honoring productions in which the creative use of filming locations sets the tone, enriches the character and inspires the storytelling narrative. Film commissions are celebrated for their exemplary service.
This year brought the LMGI our biggest challenge to date! We received almost three hundred qualified submissions from around the world, each one better than the next in its capacity to demonstrate how locations enrich the art of filmmaking. Refining these submissions to a field of finalists was a vigorous and challenging process. We heartily applaud them all — and wish each and all of the nominees below the best of luck!
Disclaimer:  Names of the nominated professionals will be announced after the 8th Annual LMGI Awards voting period is complete on September 17th.
---
THE NOMINEES FOR THE 8th ANNUAL
LOCATION MANAGERS GUILD INTERNATIONAL AWARDS
---

OUTSTANDING LOCATIONS
IN A
PERIOD TELEVISION SERIES
Bridgerton– Netflix
Paul Tomlinson /LMGI
The Crown – Season 4 – Netflix
Mark Walledge, Tate Aráez /LMGI
Fargo – Season 4 – FX
Nick Rafferty /LMGI
The Nevers – HBO
Jethro Ensor /LMGI, Elena Vakirtzis
Ratched – Netflix
Robert Foulkes /LMGI, Adam Robinson /LMGI
Snowfall – Season 4 – FX
Manny Padilla /LMGI, James Gierman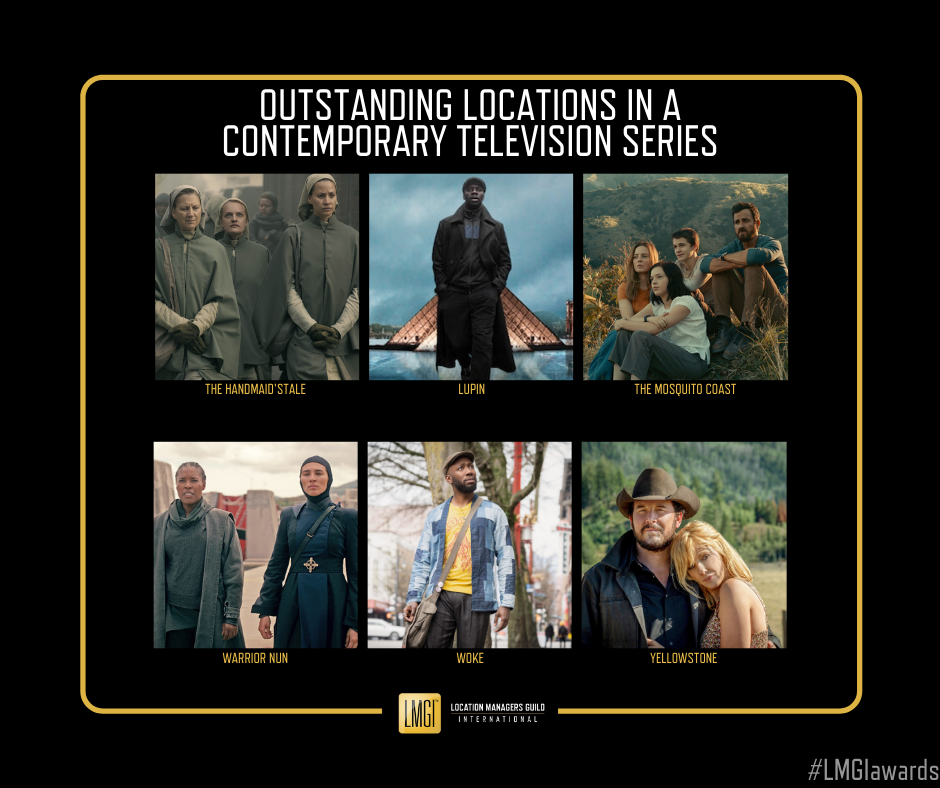 OUTSTANDING LOCATIONS
IN A
CONTEMPORARY TELEVISION SERIES
The Handmaid's Tale – Hulu
Anne Richardson /LMGI, Jeremy Pinard /LMGI
Lupin – Netfilix
Thomas De Sambi, Valerie Segond
Mosquito Coast – Apple TV Plus
Eric Stangeland /LMGI, Horacio Rodriguez /LMGI, Bob Lepucki /LMGI, Isaias Galicia Morales
Warrior Nun – Netflix
Tate Aráez /LMGI, Kico Aráez
Woke – Hulu
Kent Sponagle /LMGI, John Alexander /LMGI
Yellowstone – Season 3 – Paramount Network
Charlie Skinner /LMGI, David Zachary Heine /LMGI
---

OUTSTANDING LOCATIONS
IN A
TV SERIAL PROGRAM, ANTHOLOGY, OR LIMITED SERIES
Halston – Netflix
Christopher Britton, Amanda Foley-Burbank
Mare of Eastown – HBO
Brian O'Neill /LMGI
The Queens Gambit – Netflix
David Pieper /LMGI, Stefan Wöhleke, Matt Graver /LMGI, Fred Kamping
The Serpent – Netflix
Poj Udomsong Aram, Thitikorn Sriborisut
The Stand – Paramount+
Matt Palmer /LMGI, Courtney Ashforth /LMGI, Mitchell Gutman /LMGI
The Underground Railroad – Amazon Prime
Alison A. Taylor /LMGI, Angie Morrison
---

OUTSTANDING LOCATIONS
IN A
CONTEMPORARY FILM
A Quiet Place 2 – Paramount Pictures
Mara Alcaly, Joe Mullaney /LMGI, John Hutchinson /LMGI
Black Is King – Disney Plus
Jason Wisch /LMGI, Vincent Vanni
Concrete Cowboy – Netflix
Christopher Gormley, Staci Hagenbaugh
Nomadland – Searchlight Pictures
Nathan D. Harrison
Tenet – Warner Bros
Janice Polley /LMGI, Julie Hannum /LMGI, Klaus Darrelmann /LMGI, Enrico Latella /LMGI,
Colin McDougal /LMGI, Amanda Stevens
---

OUTSTANDING LOCATIONS
IN A
PERIOD FILM
Dreamland – Paramount
Ashley Valdez /LMGI, Clay DeVelvis
Enola Holmes – Netflix
Bill Darby /LMGI, Jess MacDonald
Judas and the Black Messiah – Warner Bros
Bill Garvey, Tim Kanieski
Mank – Netflix
William "Bill" Doyle /LMGI, Walter Roshetski
The Trial of the Chicago 7 – Netflix
Nick Rafferty /LMGI, Dennis Vozkov
---
OUTSTANDING LOCATIONS
IN A
COMMERCIAL
It Already Does That, Apple Watch Series 6 – View Here
Matt DeLoach /LMGI, Jof Hanwright /LMGI, Brent Gaffan, Galidan Nauber /LMGI
Awareness About Organ Transplantation, Match – View Here
Hernan Dal Maso, Jose Varamo
For When It's Time, Extra Gum – View Here
Daniela Aguilera, Debi Castro, Carlos Cofré, Carlos Simón Santis
Create the Beyond, Sony – View Here
Alfred Gislason, Gudfinnur Ymir Hardarson, Birkir Bibbi Grétarsson
Play New, Nike – View Here
Florian Schura /LMGI, Michael Dennehy /LMGI, Michael Fricke, Travis Diener, Steve Kovacic,
Alistair Vlok
---
OUTSTANDING
FILM COMMISSION
Bath Film Office, Bridgerton
Estonian Film Institute/Film Estonia, Tenet
Hamilton Music and Film Office, Umbrella Academy
Liverpool Film Office, Tin Star:  Liverpool
Savannah Regional Film Commission, The Underground Railroad
Screen Queensland Australia, Love and Monsters
---
HONORARY AWARDS
Trailblazer Award – Patricia Fay
Lifetime Achievement Award  – Aine "Onya" Furey /LMGI
Eva Monley Award – David Yates
Humanitarian Award – Marlee Matlin
---
---
Gold: Film Liaisons in California Statewide (FLICS), Honolulu Film Office, Reel Health & Reel Security, Trilith Studios, William F. White International; Silver: Cherokee Nation Film Office, Directors Guild of Canada Ontario, Film US Virgin Islands, Fresco Film – Spain & Portugal, Hollywood Locations, Los Angeles Center Studios, ON-SET Disposals, Reel Estate Partners, Reel Waste & Recycling, Teamsters Local 399, Zio Studio Services; Bronze: Cinespace Film Studios, City of Toronto, Classic Tents & Events, Cool Locations Supply, Inc., Directors Guild of Canada, British Columbia, HBO | HBO Max, Inland Empire Film Services, Pacific Production Services, Pacific Traffic Control, Premier Event Tent Rental, Production Security Services, Savannah Regional Film Commission, Sunset Supplies; Media Sponsors: The Hollywood Reporter, Creative Handbook, The Location Guide, SHOOT Magazine | SHOOT Online, Variety.
For Award Sponsorship opportunities, please contact LMGIawards@ingledodd.com.
View our 2021 Media Kit HERE
7th Annual Awards Show Highlights: VIEW HERE