Hello fellow members,
As we all adjust to working under the safety protocols dealing with the COVID-19 pandemic, this year looks to be one of our busiest with production ramping up around the globe.
Similarly, we've been seeing increased activity within the Guild; our Virtual Fam Tour program has rolled out to film commissions and offices with considerable interest coming back.  The premiere of our AFCI Education Program kicks off our education agenda, and we've just had members in Greece to instruct and teach, with similar opportunities on the horizon. If you want to be considered for any of these opportunities, update your personal profile on the LMGI website.
We've also had our first regional event, a remarkable virtual panel on the topic of parking, with our business partners in British Columbia.  And there's many more regional events to come.
The nominees for our 8th Annual LMGI Awards will be released at the end of August with voting soon after. We have another fantastic mix of international submissions this year.  Our show will broadcast online Saturday, October 23rd.  Save the date, please vote, and plan on watching.  This is a show by LMGI members for LMGI members celebrating all fantastic work we do.
I'd like to thank the Board for electing me as guild President.  I'm looking forward to working with our Executive Committee – JJ Levine, Alison Taylor, Ken Haber and Jen Farris- to guide the Board over the next year. I'm also looking forward to working with newly elected LMGI Board Members Angus Ledgerwood, Robin Madonald and Scott Trimble, along with returning Board Members Jimmy Ayoub, Edward Mazurek, Mac Gordon, Ken Brooker, Dan Connolly, Eric Klein and Ryan Schaetzle.  I am proud we are all working together to further the mission of the LMGI.
Many thanks to departing Board Members Wes Hagan, Georgette Turner and Mike Fantasia for their years of hard work and dedication.
As always, the Board welcomes your suggestions and contributions in shaping the Guild's future. Please don't hesitate to reach out. Join and participate in one of our committees – they are all listed on our website.  It's a great way to meet your fellow location professionals from around the globe and help the Guild promote excellence worldwide!
We look forward to your active membership in our growing group of amazing, creative professionals.
You belong here.
John Rakich
President, LMGI

IT'S #LMGIawards SEASON!!!!
The LMGI AWARDS nominees were announced on Friday, August 20. 
Voting begins in a few days for this internationally recognized celebration of the outstanding contributions of location professionals in television, commercials and feature films. Film commissions are also celebrated for their exemplary service and additional honorees include recipients of the Eva Monley, Humanitarian Award, Lifetime Achievement and Trailblazer Awards.  Active members have from Friday, September 10 until Friday, September 17 to vote online.
Our LMGI Awards Gala night will be live streamed on Saturday, October 23.
View the LMGI Awards Archives here
The Nominees for the 8th Annual 
Location Managers Guild International Awards
---
OUTSTANDING LOCATIONS IN A
PERIOD TELEVISION SERIES
Bridgerton – Netflix
The Crown – Season 4 – Netflix
Fargo – Season 4 – FX
The Nevers – HBO
Ratched – Netflix
Snowfall – Season 4 – FX
OUTSTANDING LOCATIONS IN A
CONTEMPORARY TELEVISION SERIES
The Handmaid's Tale – Season 4 – Hulu
Lupin – Netfilx
Mosquito Coast – Apple TV+
Warrior Nun – Netflix
Woke – Hulu
Yellowstone – Season 3 – Paramount Network
OUTSTANDING LOCATIONS IN A
TV SERIAL PROGRAM, ANTHOLOGY, OR LIMITED SERIES
Halston – Netflx
Mare of Eastown – HBO
The Queens Gambit – Netflx
The Serpent – Netflx
The Stand – Paramount+
The Underground Railroad – Amazon Prime
OUTSTANDING LOCATIONS IN A
CONTEMPORARY FILM
A Quiet Place 2 – Paramount Pictures
Black Is King – Disney+
Concrete Cowboy – Netflix
Nomadland – Searchlight Pictures
Tenet – Warner Bros
OUTSTANDING LOCATIONS IN A
PERIOD FILM
Dreamland – Paramount
Enola Holmes – Netflix
Judas and the Black Messiah – Warner Bros
Mank – Netflix
The Trial of the Chicago 7 – Netflix
OUTSTANDING LOCATIONS IN A
COMMERCIAL
It Already Does That, Apple Watch Series 6 – View Here
Awareness About Organ Transplantation, Match – View Here
For When It's Time, Extra Gum – View Here
Create the Beyond, Sony – View Here
Play New, Nike – View Here
OUTSTANDING FILM COMMISSION
Bath Film Office, Bridgerton
Estonian Film Institute/Film Estonia, Tenet
Hamilton Music and Film Office, Umbrella Academy
Liverpool Film Office, Tin Star:  Liverpool
Savannah Regional Film Commission, The Underground Railroad
Screen Queensland Australia, Love and Monsters
---
CATEGORY DEFINITIONS:
Outstanding Locations in a Contemporary Film – For any released feature length live-action motion picture.
Outstanding Locations in a Period Film – For any released feature length live-action motion picture. The film must portray a time period at least 20 years prior or at least 10 years after the current award year.
Outstanding Locations in a Contemporary TV Series or Program – Includes MOW and SVOD (Streaming Video On Demand).
Outstanding Locations in a Period TV Series or Program – Includes MOW and SVOD. Must portray a time period at least 20 years prior or at least 10 years after the current award year.
TV Serial Program, Anthology or Limited Series – For any multi-episode or serialized program on any platform that is contained in its narrative/stories/arc to single season.
Outstanding Locations in a Commercial – For a single advertising spot with a minimum length of 15 seconds.
Outstanding Film Commission/Office (worldwide) – For exemplary and creative work performed above and beyond the usual service provided to location professionals on a specific feature film, television series or commercial.

By Jen Farris/LMGI
As a kid, being raised in a landlocked urban city inspired me to find every opportunity to talk to anyone who lived near amazing landscapes, especially the ocean, to 'tell me all about it'. In the breaks between traveling, my sole outlets were National Geographic magazines, an occasional atlas, or the Encyclopedia Britannica. Thanks to technology and time, I've graduated from the mags and the heavy hardcovers to find myself spending hours immersed in the abyss of social media, liking every glistening ocean water post and every reflection of a sunrise or sunset. Exploration is my addiction (even when physical travel is not an option) and I have a confession: I will always find ways to affix myself to wanderlust.
It's not only me. Several are members of The Location Managers Guild International have been bitten by wanderlust. It's no wonder so many of us love to location scout.  One member, in particular, is current President of the LMGI, John Rakich, whose social media account radiates with footage and stills of mysterious landscapes, marine ship wreckage, treasure troves and places gently traveled by human foot, and whose footprints are quickly erased by fallen leaves and fresh snow.
Exploration is fun for him, and his career as a location manager and scout for features and TV projects, has been quite exciting over the last twenty years, notably on projects such as See, American Gods, Hemlock Grove, Pixels, and Shadowhunters. He is a veteran colleague and board member of the Directors Guild of Canada in the Ontario District Council. Not bad for a person who stumbled into the entertainment business as an office PA after a tip from his sister put him in position to accept his first on-set location PA job from Location Manager, Richard Hughes.
---
"I'm the son of a custodian and a factory worker. Never in my wildest dreams, growing up, did I think I'd be where I am now.
I'm happy to see where this road I've chosen, takes me!" – John Rakich
---
John is a first-generation Canadian, born of humble parents of Croatian heritage. A little-known fact: he was The LMGI's first Toronto-based member. He calls Toronto, Ontario home, yet still hops a plane from time-to-time, to visit family in Europe. Fortunately for him, he can stay in Canada for work since Ontario, British Columbia, Quebec and Montreal are heavy in productions that play off of their vast array of geographical landscapes and natural environments. Canada is often selected for the serenity of the flat prairies, the picturesque shorelines of the Eastern Provinces, the mountains of British Columbia, and the lakes, escarpments and endless forests of Ontario and Quebec.
Although he does not often travel across all parts of Canada, he does manage and scout some amazing places, many of which are captured on his drone cameras. Often times, the footage he captures is multipurposed to aid with the pre-visualization of a location or shot, to digitally map exterior locations, or to render a 3D model with a software called Drone Deploy.
"I've been on See for 2 seasons straight and it's been the first show that I've heavily incorporated using my drones for work. Before drone cameras, I would have been using stitched panoramic shots while trying to squeeze as much as possible inside of a 16:9 frame," says Rakich. "Drones offer me the flexibility of getting further back and higher than with any handheld camera; especially, angles you wouldn't be able to physically get like reverses off of ledges or to create footage that skims along the edges of waterfalls. They also allow me capture the size and scale of ship wreckage, for example, more than a still camera would be able to."
Drones and other advanced technologies have certainly moved the needle on the various ways location professionals execute their craft and gain new levels of access to spaces never imagined. As President of The LMGI, Rakich recognizes the enormous wealth of knowledge, creativity and expertise inside of LMGI's global member base. Many have successfully pivoted their skillsets as technology evolves. Taking what the LMGI already does well and expanding the organization's awareness through existing platforms like the annual LMGI Awards and the quarterly printed Compass Magazine can only seed positive results.  There is a large desire for the LMGI to create educational programs, and Rakich believes this is where the future of the organization rests. He envisions increasing participation on virtual and in-person local and international platforms, training sessions, panels and workshops. He even envisions growing the audience for Comic Con's LMGI: Hollywood Location Scouts Panel. "It is one of the cooler things that we do – spending time with the people who consume all the content we create," says Rakich. He can see expanding this type of educational panel, originally conceived by Board Member Scott Trimble in 2013, to engage with additional large, popular arts conventions throughout the world.
Listen here to learn more about our current LMGI President on from the podcast archives of Locations on Two: John Rakich with Dodd Vickers.We are divided by land and by sea, but thanks to technology, we are, in many ways, boundless. We share common bonds as location professionals and the world is LMGI's oyster.  As LMGI President, Rakich is plans to take advantage of the tools readily at our fingertips and find ways to best highlight our strengths, streamline our experiences, showcase our value and educate others about our experiences in television, film and on commercial productions throughout the globe. "It is exciting to show the world who and what we are", says Rakich. "Not only as indispensable creative collaborators but also as proven leaders and trailblazers." Exciting times are ahead. Strap in and enjoy the ride.
Follow LMGI President John Rakich on Instagram @johnrakich
SENDING LIGHT
We want to send love and light to veteran Location Manager, Michelle Latham, one our LMGI founding members who is in a battle to win the fight against Cancer.
She has worked on projects The X-Files, The Mindy Project, House, and Flashforward and we look forward to seeing her back in the driver's seat of many more projects to come. While she is taking a moment to heal, we invite you to visit and support her GoFundMe page here.
By Jen Farris/LMGI
Photo Credit Richard Rosser
The beautiful thing about artists is they typically see art in just about everything and can create art anywhere they go. Take a composer for example.  Composers are associated with music and their scores help to tell stories in film, TV, video games or stage productions. A good composition, flawlessly performed and arranged, has style, determines the tempo of the action, and conveys an appropriate mood and emotion for the backdrop of a scene. Interestingly, as a way to decompress after a stressful day, LMGI Member and location manager, Stephen Weissberger (This Is Us, Bones, Judging Amy), in many ways exhibits the actions of an artist and composer.  He hooks up his iPhone to his dashboard with the assistance of tripod mounts by JOBY Gorillapod and JOBY GripTight™ Action Kit and captures images and videos around the downtown Los Angeles area that evoke a common theme and vibe. In several instances, he adds original musical scores to the final product to help further the story.
---
"On my way to work or on my way home, I'm always looking for interesting people and compositions—I feel inspired when the light is just right, and I come upon an interesting subject and background." – Stephen Weissberger
---
Most people would end with the photo and video capture, but artists continue to create. Stephen carefully overlays images atop one another with the help of an app called Fused. During the editing process his energy shifts and decompression withers away end-of-the-day stress until he has crafted and scored several mini vignettes. When asked if he sees himself as an artist, the answer wasn't an official YES, as his artistic expression is more about channeling energy in a positive direction as a means to relax.
When Stephen isn't creating his vignettes and photo art, he has, for thirteen years, used his creativity as a location manager, but it didn't begin that way. Originally from Long Island New York and Boston, a physical injury caused a life-changing shift that brought him to LA in 1993. While healing, he was reading a horror movie magazine and stumbled upon an ad promoting a SFX Makeup school near Universal Studios in California.  He set out Westbound for a new life as a student, but instead, landed in television as an office PA.
Location managers on more than one occasion enticed him into the location department but he didn't immediately jump at the opportunities. "Two location managers who wanted to hire me years earlier saw something in me that I was not aware of," Stephen recalls.  Ultimately, he dove in. Now over 230 TV episodes later, he has mastered the ability to keep TV Series fresh by motivating scouts on his team to remain creative and artistic. He states, "We make even the most filmed locations in Los Angeles look different every time. Even places that I've filmed many times have different areas that we haven't seen before or used in the same context." His advice: Read each script with a fresh set of eyes, and when scouting, centrally park and walk. He believes, "So much more can be discovered by walking."
As a lover of moving subjects, architecture, light, and texture, maybe one day he will have an opportunity to string several mini vignettes into a larger piece of art. Until then, take a dive into his creative perspective on the streets of LA.
Follow his Instagram account at @Stephen_Weissberger
KNOW YOUR RIGHTS
PHOTOGRAPHY ISSUES & LOCATION SCOUTING
The Legal Handbook for Photographers, by intellectual property attorney Bert Krages, discusses photographers shooting in public vs private as well as copyright issues.
Visit our website to read more.

London based location manager Tom Howard joins host and LMGI Member, Dodd Vickers to discuss his love for architecture, location scouting and his career in film and television. Tom has 'made magic happen' for many years in the industry and has collaborated on such productions as Howard's End, Taboo, The Night Manager, and served as the Supervising Location Manager for The Secret Garden, the 2020 feature film based on the timeless best-selling novel.
In case you missed it, Tom's project, The Secret Garden covered the Summer 2020 LMGI Compass Magazine. Click here to enjoy a feature story about him and the project.

Locations on Two is a podcast hosted by LMGI Member, Dodd Vickers, and features lively banter and
stories from the trenches of production with the people behind some of your favorite movies and television shows.
Click here to listen to podcasts.

Launched in the spring of 2017, Martini Film Studios is a full-service production facility of over 250,000 square feet of space currently on two campuses serving and supporting clients in turning their incredible creative visions into reality.
Martini Film Studios was born of the Martini family's entrepreneurial spirit to repurpose their glass factory into state-of-the-art sound stages in support of Vancouver's thriving film and television production hub. Asked about what attracted them to the industry, CEO Gemma Martini said, "It was a great opportunity that came at the right time.  I never hesitated when the suggestion was made to convert our empty warehouses into studios and spent the next 9 months doing a major conversion of those buildings.  It was a crazy time.  If I think back, it was such a leap of faith that this new endeavor was the right thing to do.  And I never had a moment's consideration that we were spending so much money on something that was not a guarantee.  Somehow, I knew it would all work out. I feel so fortunate to be a part of this industry and to have a great team who is helping us grow!"
Identifying what drives their team, Martini said, "The variety of every day, the creativity each department puts into creating magic, the passion people have in telling captivating stories through their contributions.  Also, meeting new people and the friendships that come from those meetings, walk-throughs, running into each other on campus, helping out a production with any challenges they encounter, sometimes just randomly.  I personally get my energy from collaborating with others to make change and to achieve great things in a short period of time. There is no other industry that I know of that does exactly that on a daily basis!"
Asked about how MFS has been managing through Covid, the CEO responded, "As you know, Covid devastatingly affected every business, but having said that, the entertainment/production sector bounced back even bigger than it was before here in the Metro area.  It was months of collaborating with the unions, Creative BC, government and our client's parent companies, all the lower mainland studios, etc., on coming up with a plan that could be implemented across the industry to make it safe for crews to come back to work.  And very much like our MFS motto, we made it happen, together!"
While relatively new on the scene, Martini Film Studios has been quick to get involved in leadership roles in the film community. MFS has been active in leading the way forward with supporting the Reel Green Initiative, focused on working with productions in implementing extensive recycling programs, food donation programs, on-site power drops for circus and work trucks, to name a few. "We are fortunate in BC that our power is considered "clean energy" because it is produced by Hydro.
What's next for Martini Film Studios? Following a very successful launch of its first two campuses, MFS is expanding!  Martini Film Studios is about to break ground on a new production campus with 16 purpose-built soundstages totalling 350,000 square feet, accompanied by 225,000 square feet of support space and 135,000 square feet of office space on a state-of-the-art 30-acre campus at the intersection of Highway 1 and 216 Street in Langley. In advancing their green-initiatives, the Studio has sought help to create a state of the art, energy-conscious design incorporating clean hydro, renewable natural gas, improved insulation in all buildings and other sustainability-conscious choices baked right in from day one. In explaining their approach, Ms. Martini stated, "Working with our energy consultants has provided us with a GHG emissions value of 1 kgCO2e/(m2.year).  This is referred to as "Nearly Net Zero". We have also designed the new site to be solar panel ready so we can easily install an array of solar panels to reach our ultimate objective of Net Zero!" MFS is also currently in the process of building a formal back lot.
What attracted Martini Film Studios to the LMGI? Martini states, "It's mutually beneficial. We love working together with the people and companies that build and thrive in what we do in the industry.  Success is in community, and this is an extraordinary community to be a part of."
Phone: 604-546-0306
Website: martinifilmstudios.com
Instagram: @martinifilmstudios
Twitter:  @FilmMartini
Facebook:  Facebook.com/MartiniFilmStudios
LinkedIn: Martini Film Studios
Locations Behind the Emmys® Panel
On Saturday, August 21 from 9:00 am – 11:00 am PST to coincide with the EMMY® festivities, the LMGI produced a special panel comprising of LMGI members and Location Professionals spotlighting the instrumental role of locations in setting tone, revealing character, and enhancing the storytelling narrative in eight of this year's #Emmy nominated TV shows. Moderated by J.J. Levine /LMGI 1st Vice President and Miguel Tapia/LMGI, panelists included Taylor Boyd /LMGI (Blackish), Anne Richardson /LMGI (The Handmaid's Tale), Jonathan Jansen /LMGI (Perry Mason), Jennifer Dunne /LMGI (The Mandalorian), Kyle "Snappy" Oliver /LMGI (The Kominsky Method), Brian O'Neill /LMGI (The Mare of Eastown), Duffy Taylor /LMGI (This is Us), and Drazen Baric /LMGI (The Boys).
Click here to watch the panel discussion "Locations Behind the Emmy's®"

The LMGI Explored Location Filming in Greece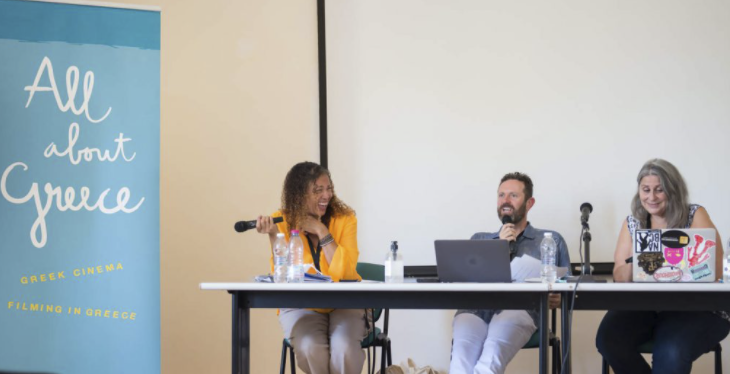 LMGI Board Members, J.J. Levine, 1st Vice President (USA), Alison A. Taylor, 2nd Vice President (USA) and Dan Connolly (UK) represented The LMGI at a location workshop given during the 10th Aegean Film Festival on Spetses Island, Greece, on July 20-21, 2021.  Organized by the Hellenic Film Commission of the Greek Film Centre and the 10th Aegean Film Festival, the 2-day seminar explored the crucial role location managers contribute to the success of productions. They discussed their catalytic role in the promotion of international productions and co-productions in Greece and ways to enhance the skills of those involved in Greek cinematography to better attract and facilitate international producers. The workshop, part of the framework of the Location Greece Conference, included Greek and foreign location managers, production managers and producers who wish to expand their contacts and develop their skills for demanding international productions and co-productions in Greece.
On the 2nd night, the LMGI panelists were joined at the dais by LMGI member Ravi Dube, who was filming in Greece and spoke to attendees 'real time' about his experiences in the country.  LMGI member Julie Hannum, also filming in Greece, managed to also join in the festivities.
While in Greece, the Hellenic Film Commission of the Greek Film Centre organized a FAM TOUR for the panelists, exploring Athens, Vikos Gorge, Spetses, Sarakiniko Beach, Milos Port and the Adamas World War II Bomb Shelter, Kaiki Beach, Anargyreos & Korgialeneios School of Spetses–AKSS, Bentonite mine Aggeria in Milos Greece, Santorini, Monodrendri, Vikos National Park, Adamas, and the Sarakiniko Caves.
Aerial tours over Napflion, Evrostina, Kalabaka, Acheloos, Heki, Folegandros, Kiranidi, Egnatia, Gulf of Corinth, Anatoli, Anavara Neochori, Agnanta, Domnista, Nemea, Iraklia, Chalkida, and Karpenisi were completed by helicopter.
Click here to explore more photos from the Greece FAM TOUR.
#LMGISocialLight
Done something awesome recently? Want to be featured as the next #LMGISocialLight?  Email a 300dpi+ image, a hyperlink to your social media handle along with a brief synopsis of your spotlight story to the newsletter team here.
---
Kudos to Assistant Location Manager, Lexi Sisk on being nominated for a profile in SHOUT OUT LA! Keep representing us well!
Read the article HERE!
Click here to Follow Lexi Sisk on IG
It's great to see supervising location manager, Leann Emmert (Terminator 3: Rise of the Machines, Minority Report, Ray Donovan, Pacific Rim: Uprising) masked up and ready to go!
She has so much to share in her career as a supervising location manager / manager / scout, and earlier this year sat down with Michael Fishmann (Roseanne), host of Fish's Call Sheet to chat 'locations'.
Follow Leann on Instagram @leannemmert
Watch her interview here.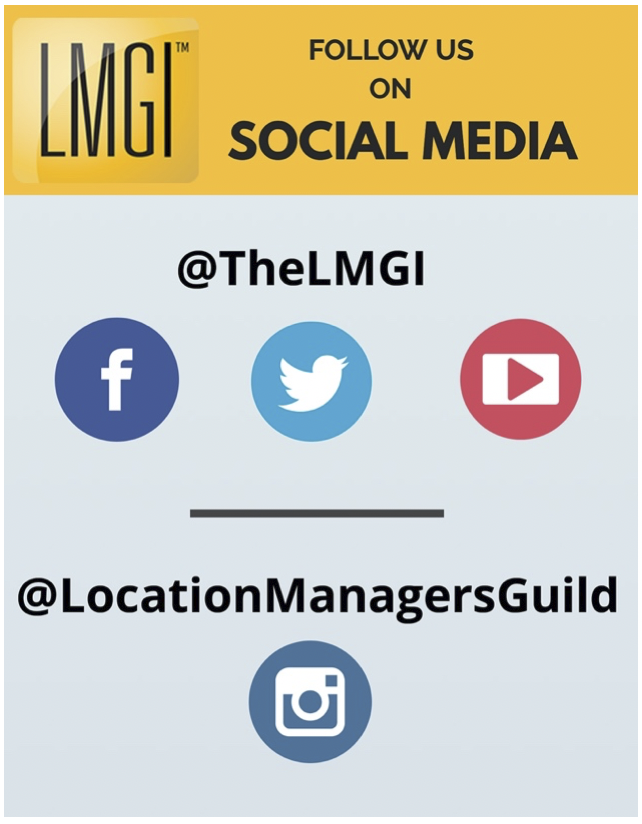 Follow @TheLMGI
on Facebook, Twitter and YouTube
Follow @LocationManagersGuild
on Instagram
---
Hashtag the LMGI on your social media posts:
#LMGI – Organization business
#LMGIAwards – LMGI Awards activities
#LMGISocialLight – Member Accolades
#LMGILife – Member Lifestyle Activities
GOOD WRITERS WANTED!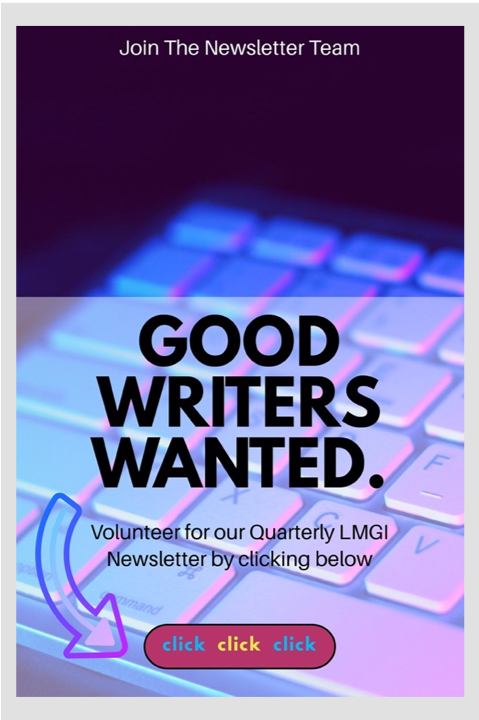 The newsletter team seeks organized writers, interviewers, and researchers.
Quarterly, we reach out to our members via social media, phone and/or email to stay in touch the old-fashioned way.
We are excited to feature and spotlight our members from around the world, so join in the fun!
Contact our LMGI newsletter team here to get involved for upcoming issues.

EDITOR:
JEN FARRIS
CO-EDITORS:
(IN ALPHABETICAL ORDER)
KEN BROOKER
JJ LEVINE
EDWARD MAZUREK
Tell us how we are doing! Join Us! Contact our LMGI newsletter team:
Contact Us
8033 Sunset Boulevard #1017, Hollywood, CA 90046
310-967-2007 contact@locationmanagers.org