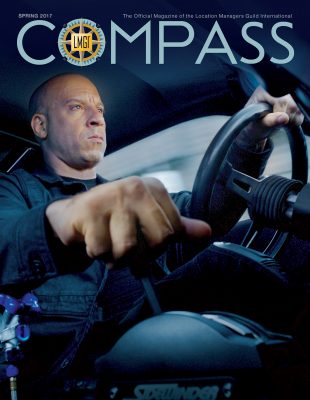 "The will to win is worthless if you do not have the will to prepare." —THANE HOST
"So many of our dreams at first seem impossible, then they seem improbable, and then, when we summon the will, they soon become inevitable." —CHRISTOPHER REEVE
We spent 10 years preparing for our LMGI Awards and have just enjoyed a wildly successful fourth annual gala. Kudos to all of our nominees and winners. Among the winners? Each and every LMGI member, for we have built an impressive international community in a very short period of time. It was great to see so many of you grinning from ear to ear while celebrating our craft. Read more about our sold-out affair captured by former Sedona Film Commissioner, Judy Schultz.
In keeping with the importance of preparing and the pleasure of accomplishing the impossible, The Fate of the Furious crew was the first major production to shoot in Havana, Cuba. In our cover story, supervising location manager Eric Hooge and manager Matt Prisk share their once-in-a lifetime experiences with reporter Nancy Mills.
Mills also ventures to Montreal with member Adrian Knight to explore the demanding schedule of 19-2 , the popular Canadian cop drama that is always on location, pushing budget limits with creativity and hard work in "19-2 : Chasing the Puck."
In our featured columns, "In My City" invites us to join location manager Ariel Leon Isacovitch for an intimate look at Santiago, Chile. Location pro Laura Sode-Matteson traces her journey from the Hawaiian Islands to Hollywood in "Career Focus."
In the News" details the LMGI's debut at the Sundance Film Festival and our triple crown participation at this year's AFCI Location Trade Show. Sasha Denisoff checks in with fellow member Kokayi Ampah as he starts a new producing chapter in his storied career. Denisoff also catches up with members JJ Levine and Rebecca "Puck" Stair as they journey to the Dominican Republic and visit LMGI Business member Lantica Media. And we are very excited to welcome the LMGI's new Administrative Director, Kikelomo "Kiki" Akinrele.
On a sad note, we mark the passing of our friend, Michael Cassidy. As the head of the LMGI sales efforts, Michael was a critical collaborator in the growth of the Guild once we joined forces with IngleDodd Media. He will be greatly missed.
Looking forward, the LMGI Board annual elections will be coming up in May. All active and retired members are encouraged to run for a seat on the Board. The Board is organizing a strategic planning session this summer to chart the Guild's course in the coming years. The Guild exists to serve its members. Please be sure to respond to the strategic planning survey that will be going out to members so that your voice can be heard as we plan for our future!
Always a pleasure, never too busy,
Ken Haber, Lori Balton and Stevie Nelson